What Stanford and Iowa have in common: watershed games against Northwestern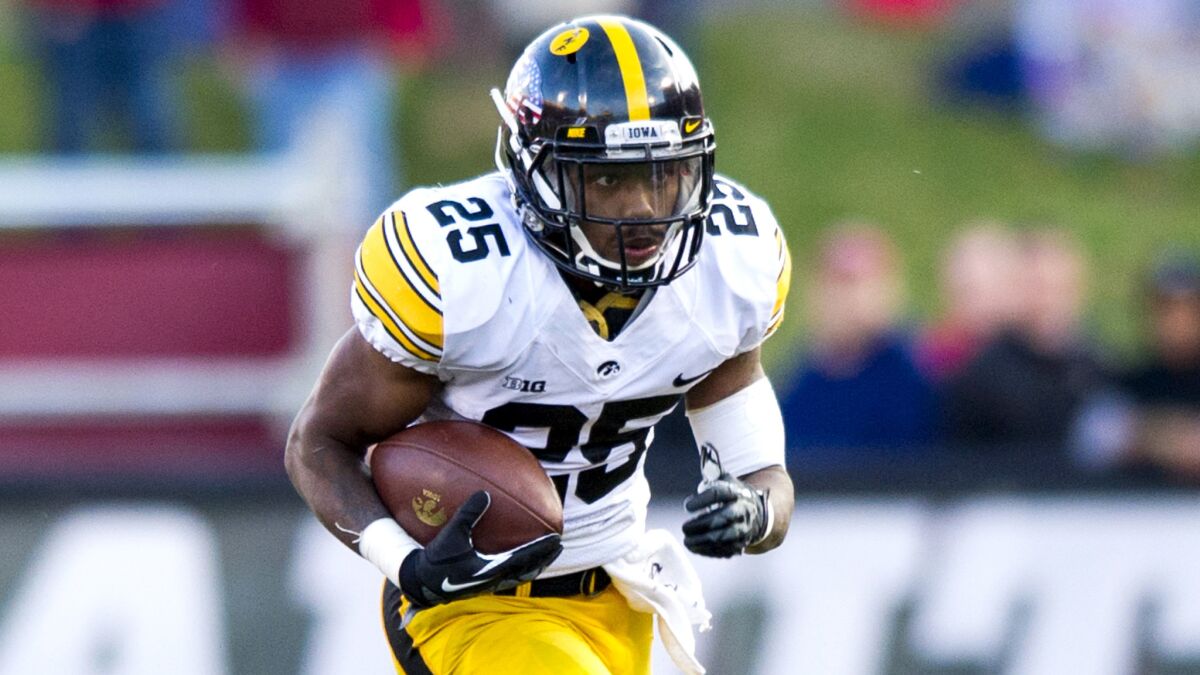 The paths of the Iowa and Stanford football teams will finally cross Friday when the Hawkeyes and Cardinal, whose programs date to 1889 and 1892, respectively, meet for the first time in the 102nd Rose Bowl game.
Though there is no history between the teams, they did share a common rallying cry this past fall on the road to Pasadena: "Remember Northwestern!"
Both the fifth-ranked Hawkeyes (12-1) and sixth-ranked Cardinal (11-2) traveled to Evanston, Ill., for what turned out to be watershed games in 2015 — though for different reasons.
Stanford "laid an egg," in the words of Coach David Shaw, in a season-opening 16-6 loss to Northwestern, providing the wake-up call many players said was needed and the impetus for an eight-game win streak that vaulted the Cardinal into College Football Playoff contention.
Iowa center Austin Blythe pointed to a 40-10 win over Northwestern on Oct. 17, a game in which third-string running back Akrum Wadley rushed for 204 yards, as the moment "it really clicked for us, and where we really understood what we could do as a team, especially with the injuries we were dealing with," he said.
Iowa won its next five games, over Maryland, Indiana, Minnesota, Purdue and Nebraska, to complete its first undefeated regular season since 1922 and move to No. 4 in the nation before a gut-wrenching 16-13 loss to Michigan State in the Big Ten Conference championship game.
"We just banded together as a team and got it done that day," Blythe said of the Northwestern game.
Stanford had an altogether different experience. The Cardinal entered the season ranked 21st in the nation, and with a high-powered offense led by senior quarterback Kevin Hogan and explosive sophomore running back Christian McCaffrey, expectations were high.
Whether it was the 11 a.m. Central time kickoff at Northwestern — 9 a.m. body time for Stanford players — or a bit of complacency, the Cardinal came out flat and played its worst game of the year.
When you do all that work and your first game hits you that hard, you have to take a step back and say, 'OK, we need to do something about it right now.'
— Blake Martinez, Stanford linebacker on season-opening loss to Northwestern
McCaffrey, who went on to set an NCAA single-season record with 3,496 all-purpose yards and finish second in Heisman Trophy voting, rushed for 66 yards. Hogan passed for 155 yards and had no completion for more than 16 yards. Stanford, with ultraconservative play-calling, converted three of 15 third downs.
"We had one of the best off-seasons I've ever had at Stanford, and throughout fall camp we thought, 'Hey, we're a good team, we just need to go out and play the game the way we know how to play,'" senior linebacker Blake Martinez said.
"Then, all of a sudden, we went boom, straight into a brick wall. When you do all that work and your first game hits you that hard, you have to take a step back and say, 'OK, we need to do something about it right now,' because we don't want this to be another 8-5 season like last year."
The following Monday, the six Cardinal captains, including Hogan and Martinez, called the team to the Andrew Luck Auditorium for a players-only meeting.
"Each captain got up and said, 'Hey, you need to work on this, we need to work on this, this is what we're not doing,'" Martinez said. "We said, 'We're the captains, but every single person on this team is a leader. If someone is not giving their best, go up to them and let them know. Or if I'm not giving my best, tell me.'"
With its focus on fundamentals sharpened, Stanford went on an eight-game winning steak in which the Cardinal averaged 41 points a game.
The Rose Bowl game isn't until 2 p.m., but tailgaters started early. But it was the Iowa fans who got going really early.
Included in the run was a 41-31 win over then-sixth-ranked USC and a 56-35 thrashing of 18th-ranked UCLA. A 38-36 loss to Oregon on Nov. 14 snapped the streak, but the Cardinal closed with wins over bowl-bound California, then-No. 4 Notre Dame and USC in the Pac-12 title game to earn its third Rose Bowl berth in four years.
"That first game was a shock to the system," senior receiver Devon Cajuste said. "It humbled us immediately. It change the team's mentality because you know you don't have any more chances."
Iowa's win at Northwestern wasn't so much a slap in the face as it was a shot in the arm. The Hawkeyes were 6-0 at the time, but they needed a 57-yard field goal by Marshall Koehn as time expired to beat Pittsburgh, 27-24, on Sept. 19, and they barely got by Wisconsin, 10-6, on Oct. 3, and Illinois, 29-20, on Oct. 10.
Second-string running back LeShun Daniels did not suit up for the Northwestern game because of an injury, and starter Jordan Canzeri left late in the first quarter because of injury.
But Wadley stepped in and rushed a career-high 26 times and scored four touchdowns — two of them in the third quarter, as Iowa extended a 16-10 halftime lead. The Hawkeyes scored 24 unanswered points and held Northwestern to 80 yards in the second half.
"If there is one moment I could point to" where he started to see this team was capable of something special, "it's probably the game at Northwestern," Iowa Coach Kirk Ferentz said. "We've had a lot of injuries this year — I thought we went into that game a little thin — and then Jordan Canzeri went down early.
"That was not reassuring, but these guys responded, and they've been doing so all season. One guy may have to carry the load one day, and the next week it may be someone different. To me, that's the essence of teamwork.
"The going gets a little tough, and they find a way to do something special."
Twitter: @MikeDiGiovanna
---
Get our high school sports newsletter
Prep Rally is devoted to the SoCal high school sports experience, bringing you scores, stories and a behind-the-scenes look at what makes prep sports so popular.
You may occasionally receive promotional content from the Los Angeles Times.