Racing legend John Force is making up for lost time with his family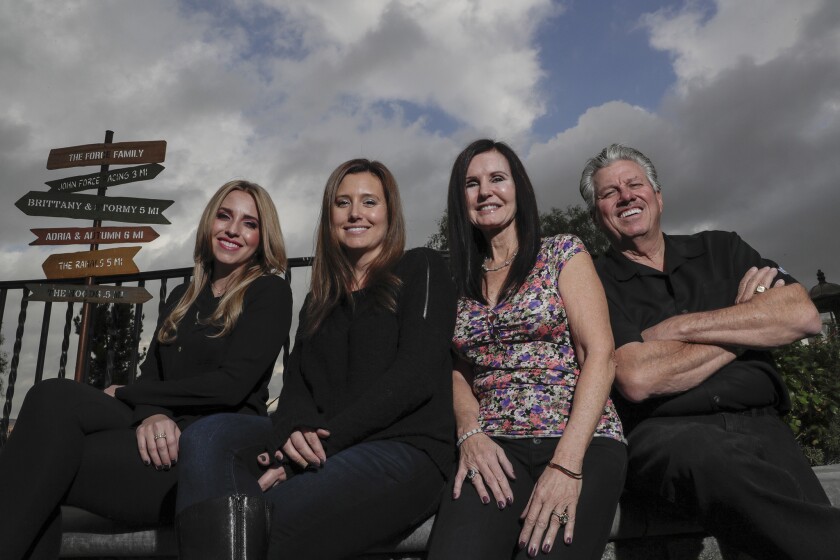 The winningest driver in motorsports history and the most successful team owner in drag racing has a confession to make.
"I failed as a father, miserably," John Force says.
Failure and John Force don't normally appear in the same sentence. The 16-time funny car series champion has collected enough National Hot Rod Assn. trophies to cover a 1,000-foot drag strip. And last year, the four-driver team he heads collected national titles in two divisions, with daughter Brittany winning in top fuel and son-in-law Robert Hight winning in funny car.
But now that he's reached the top of the mountain — literally, since his palatial mansion, which sprawls across a Yorba Linda hilltop, offers views of Catalina Island as well as the Santa Ana, San Gabriel and Santa Monica mountains — Force is pausing to reflect on what that climb cost him.
He'll enter his 47th season in a funny car when the NHRA season begins this week at Auto Club Raceway in Pomona. Along the way, he's made more money than he'll ever spend, set records that will never be broken and pushed the sport into the mainstream by opening a museum, founding an entertainment division and starring in his own reality show.
But at 68, it's what Force lost that occupies his thinking.
"I had rough times," said Force, a father of four daughters from two marriages who missed as many dance recitals and cheerleading competitions as he won races. "It used to be that when dad wins, he walks in the door and says, 'We're going to Disneyland tomorrow. Nobody's going to school.'
"And then when I'd come home and I was really depressed and things went bad. I drank too much. Had a fit because somebody would say something."
After his daughters grew up and moved away, the sport reunited them. Two of them drive for John Force Racing, two others work for the company. They travel together now as a racing team, if not a family, sharing big dinners and long nights they missed the first time.
"Racing has kind of brought us all back together," said Courtney, the youngest of the four sisters, who finished third in the funny car standings last season. "It is kind of weird. Not being able to see him a lot as a kid and now I get to see more than enough of him as an adult. We definitely have a closer relationship now than we did when I was little.
"[But] I think he's still trying to learn how to be a dad."
Force, who speaks in a raspy voice, has a personality that can fill a room. He's loud, engaging and unrestrained — when he's in a good mood. But he can also be as combustible and unpredictable as the nitromethane that fuels his race car.
"We used to have friends come over and he'd be on the phone punching holes through walls, screaming at the top of his lungs," Brittany said. "Our friends would call their parents, crying, to come pick them up. So it was just always the rule: If dad's home, no friends come over."
Once he came home from a long racing trip and told daughter Ashley she had a 9 p.m. curfew. Ashley was in college at the time.
Another daughter was taking a welding class in high school, something her father had to learn from a friend since he never bothered to read a report card or take an interest in their studies.
"He just really didn't know how our childhood was going," Courtney said.
::
Ashley Force, the first daughter from Force's second marriage, had a college degree, a calm demeanor and a level head — making her, by every measure, the opposite of her hot-tempered father — the first time she put on a fire suit, strapped into a funny car and hit 317 mph down an asphalt drag strip.
That was when she finally understood her father.
"The racing makes you crazy," she said. "We had a little more empathy for dad once we started racing. It is hard to leave it all behind and come home and be cheerful if you just lost. It's hard to let that go."
Ashley, 35, who stopped racing seven years ago when she had her first child, was bit by the racing bug at an early age — though it was years before she realized she'd been infected.
She was attending Cal State Fullerton during the week and following her dad to the track on weekends when she began racing super comp cars for fun. She quickly moved up the ranks, to alcohol-fuel dragsters before turning pro in a funny car in 2007, beating her dad the first time they faced off.
"After that win, she made a T-shirt," remembered Laurie Force, the girls' mother and the matriarch of the driving Forces. "It said 'Dad' — he had won like 147 [races] so she had all those tally marks, 147. Then she put 'Ashley, 1'."
Brittany, 31, was teaching middle school when she was coaxed into a top-fuel dragster. The rush of that ride was something she never found in the classroom.
But driving a dragster full time also meant working for her dad, who did not have the patience to teach them how to handle a stick shift when they were learning to drive at 16.
"That was huge in all of them deciding whether they wanted to go on and do racing," Laurie said. "When she was deciding, in watching [Ashley], it was not 'how is she doing in the car?' but 'how is she doing with him?' Because he's out there running the show, being their boss. So both Courtney and Brittany observed her.
"If she survived and got through it and was still game for going on to the next level, then they thought 'maybe I can do this,'" added Laurie, who met her future husband at the wedding of a mutual friend; he was the best man, she the maid of honor. "But if Ashley had caved and he'd been too much or whatever, I doubt either would have gone into racing."
Both did, although they hit speed bumps along the way. Two years after Brittany became a top-fuel driver, the team had to hire champion driver and owner Alan Johnson to help shield Brittany from her father. That arrangement paid off last year when Brittany became just the second woman, and first since Shirley Muldowney in 1982, to win the top-fuel title.
"The last few years we've been butting heads," she said. "He sometimes yells at you. And I can't handle that.
"In meetings, are you talking to your dad or your boss? That's where it's tough. How do you find that balance?"
If Force's two eldest daughters followed a circuitous route to racing, Courtney's journey was as straight and flat as a drag strip. When she was in kindergarten, she made a Father's Day card that featured a picture of her in her dad's fire suit and race boots under the caption "one of these days I'm going to fill these shoes."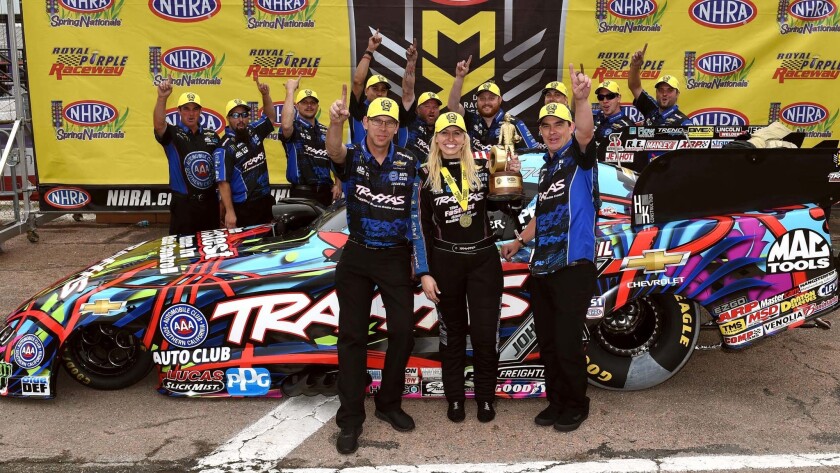 At about that same time, she drew a picture of herself racing her dad, making sure the bumper of her funny car was slightly ahead of her father's. She made good on those predictions, beating her dad in the points standings twice since 2012 while becoming the winningest woman in funny car history.
"I knew when I was probably 7 [that] I was going to grow up and be a race car driver," she said. "Because I loved it."
Her dad wasn't so sure.
"I don't think he really thought girls would be doing this. His own daughters," Courtney said. "He always thought it would be a phase and we'd grow out of it."
Truth is, John Force never wanted daughters.
"After we were done having kids, I said, 'Why was it so important? Why did you want to have a boy?" Laurie remembers asking Force, who replied by saying he wanted a son to follow in his footsteps.
"And I remember thinking, 'Oh, thank God that didn't happen,'"
Instead, he got four girls from two marriages — and they all followed his footsteps into drag racing.
Adria Hight, the only child from Force's first marriage, is the chief financial officer for the race team and is married to Robert Hight, who won the funny car title for John Force Racing last year.
Ashley was NHRA's rookie of the year in the funny car division in 2007, but retired from racing in 2011 to raise a family. For the last six years, she has been president of her dad's race-related entertainment division.
Brittany and Courtney are still driving, as is John, who says he has a lifetime contract and no desire to terminate it early. And why should he? The kid who grew up hobbled by polio, then quarterbacked Bell Gardens High to 27 consecutive losses, is having the time of his life as he nears his eighth decade.
Mostly, though, he's making up for lost time. Oh sure, he knows how to be a champion driver and run a successful racing team. But now he's also becoming a successful dad. So when Brittany clinched the top-fuel title on the final day of racing at Pomona in November, John Force dropped to the track and began blubbering.
For the first time in his life, he was speechless. That's progress.
"NHRA is a family sport. That's what I love about it," he said. "Drag racing took me away from my family and Laurie basically raised them. And I was living on the road.
"But drag racing, NHRA, brought them all home to me. Brought us back together because it brought them racing. I don't know how that ever happened. I'm totally amazed. Never thought they'd do it."
Twitter: @kbaxter11
---
Get the latest on L.A.'s teams in the daily Sports Report newsletter.
You may occasionally receive promotional content from the Los Angeles Times.