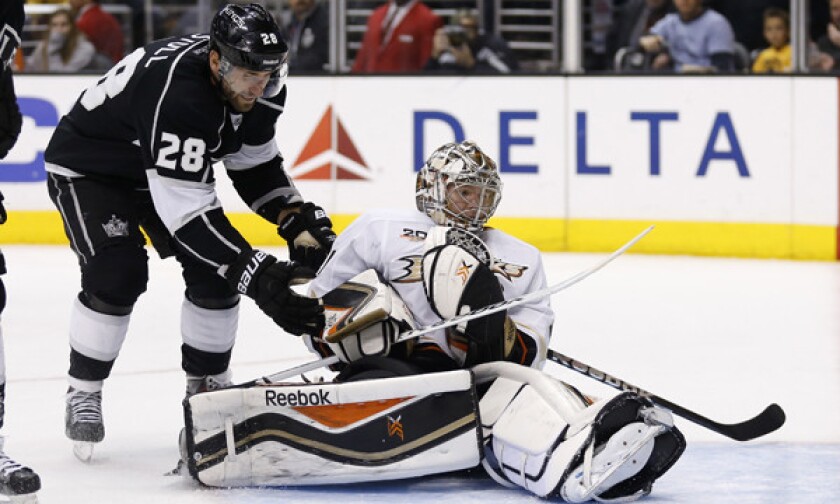 The stretch run has such a way of magnifying the good and the bad.
For instance, a puck banks off the skate of Kings defenseman Jake Muzzin past his goalie Martin Jones and a segment of Kings fans want Muzzin put on the next plane back to the minors.
The Ducks beat the Kings, 2-1, Saturday night at Staples Center, putting together consecutive victories after Wednesday's loss at Calgary. That 7-2 pratfall against the Flames now appears more like a wake-up call at a key time rather than a precursor of doom.
Anaheim felt as if it was able to find its identity again in the last two games. The Kings, who face Phoenix on Monday night, have lost twice since the Olympic break, and it is exactly the same with the Ducks, who are off until Tuesday against Washington.
"Last night, was sort of a microcosm of it because we made two really soft plays in our zone that cost us two goals against," Coach Darryl Sutter said Sunday after practice. "If you want to be a playoff team, win in the playoffs, you don't do that. It's very simple. We had plenty, lots of opportunities to score and just didn't quite get it done."
The Kings often hit the right balance during their recent eight-game winning streak, getting unexpected offensive contributions from the likes of forward Trevor Lewis and defenseman Alec Martinez, as well as strong sustained play from the line of Dwight King-Jarret Stoll-Dustin Brown. That line struggled against Toronto on Thursday and Brown sat out Saturday's game because of illness and an unspecified lower-body injury, not believed to be serious.
"You can't win with one line or one or two guys," Sutter said. "You can't win consistently. You can steal it or surprise it. Just look at last night. I mean, we played really well against the [Ryan] Getzlaf line and did a good job in special teams, which is just about what you do in playoff time.
"You match up. But lesser guys scored goals for them. Lesser lines or lesser guys that don't get as many minutes and that's what we need."
Kings No 1 goalie Jonathan Quick, who has been sick, practiced Sunday but Brown did not. Several players have been under the weather of late. Brown is not expected to play Monday; Thursday against Washington is a more likely possibility. His injury was previously reported by the Fourth Period.
Recently acquired Marian Gaborik has enabled the Kings to make proper adjustments. Gaborik has two points in five games since joining the Kings from Columbus at the trade deadline.
"It puts all those guys right now in slots," Sutter said. "In today's game, the teams are too balanced. If you bunch everybody together and you don't have the personnel to do it, you're not going far. It looks good tonight. But it's not going to look good tomorrow.'
Sutter detailed the fine balance that helped push the Kings to the Stanley Cup two years ago and the final four last season. Gaborik adds a new piece.
"With us, if [Marian] can play with Kopi [Anze Kopitar], that's good," he said. "That means Willie [Justin Williams] has got to step up and play because if we put Jeff [Carter] there, you're overloading it. Jeff and Mike [Richards] are familiar with each other. That means Mike's got to step up and play a stronger brand of hockey for us.
"And that puts Brownie where he should be. It puts him in that third-line role with guys who go up and down and check and play hard, chip in your 15 to 20 [minutes]. It all shakes out perfectly."
UP NEXT FOR THE KINGS
VS. PHOENIX
When: 7:30.
On the air: TV: FS West. Radio: 1150.
Etc.: Center Martin Hanzal (lower-body injury) has sat out seven straight games for the Coyotes, and Coach Dave Tippett has indicated there is a chance he might return against the Kings.
Twitter: @reallisa
---