Kings' Jarret Stoll looks ahead after scary event in July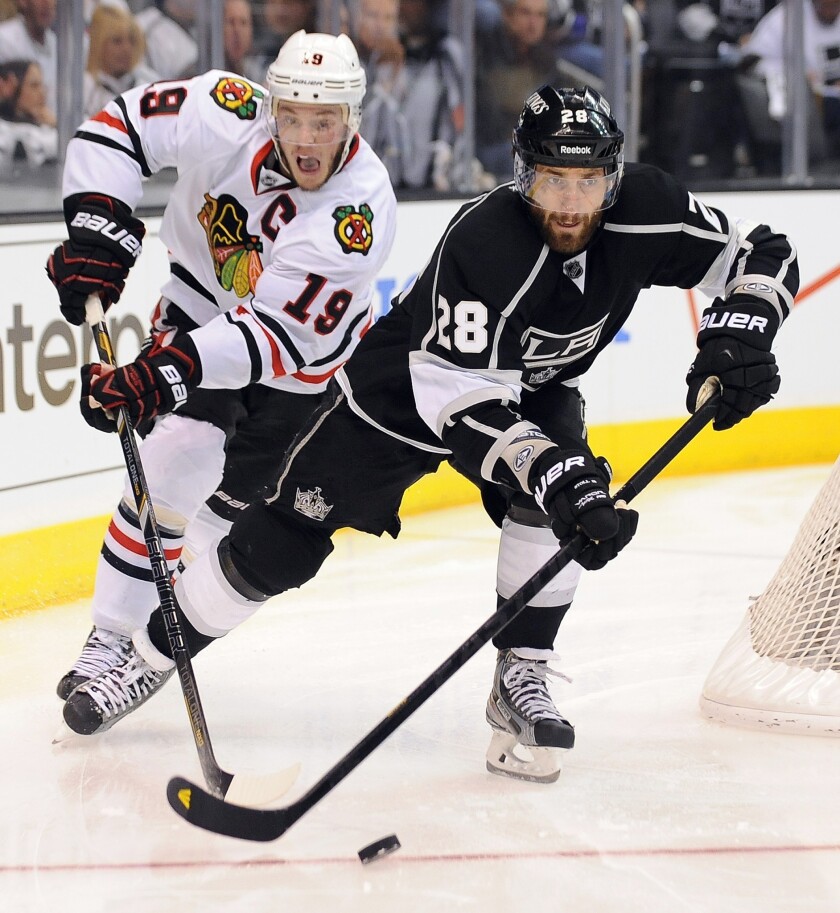 Three weeks of uncertainty did not fully answer Jarret Stoll's questions. But numerous visits to doctors managed to give the popular Kings center "peace of mind."
Stoll suffered a seizure July 3 at his Hermosa Beach residence and was taken to a hospital. He was back home by the afternoon, skating a few weeks later and cleared for the start of training camp.
"I wish I have a little bit of an explanation," Stoll said Wednesday. "Nothing really. Even with the concussion in the playoffs, I thought maybe those were connected. But they weren't. That's the good news, I guess."
The concussion came in the second round of the playoffs, via Raffi Torres of the San Jose Sharks, a former teammate of Stoll's in Edmonton. Stoll sat out six games in the playoffs but returned for the next series, against Chicago.
The good news regarding Stoll's status was the best off-season development for the Kings.
"It took about three weeks to see doctors," he said. "I went to Seattle to see doctors there. Got great care here. Everything looks normal, 100%. Just for peace of mind, I guess. I feel good. I feel healthy."
Stoll credited his girlfriend, Erin Andrews, and teammate, defenseman Matt Greene, for their assistance during the frightening episode.
"It was [scary]," Stoll said. "I don't remember anything. My girlfriend Erin, it was scary for her, it wasn't easy for her, she did a great job. Greener did a great job. He came right over and helped out."
The Kings were having their medical examinations Wednesday. They take the ice Thursday for their first official training camp sessions, and there was plenty of other positive news regarding injuries suffered in the playoffs.
Team captain Dustin Brown suffered a torn left knee ligament in the Sharks series, but he did not require surgery. He will have to play with a knee brace for now.
"We just got done with testing and my left leg actually probably tested a little better," he said, comparing it to the right. "…I hate the brace but it's something I'll get used to, I think. I don't like anything on me."
Forward Justin Williams suffered a separated shoulder in the playoffs but did not need surgery.
"It just takes time to heal," he said. "Unfortunately, we don't have time to make it heal during playoffs, so you just wait. It was fine a few weeks after the season."
The Kings were enthused about the benefits of last week's team-bonding adventure at the Colorado ranch of team owner Phil Anschutz. One activity involved shooting guns, a five-hour course given by military personnel.
"It was great," Stoll said. "We shot four different types of weapons. They had targets out there for us. The first half of it, I didn't know if I was a right-handed shooter or a left-handed shooter. The first half of it, I was shooting right-handed and then I figured out, halfway through it, I was supposed to be a lefty."
Said Williams: "That's pretty cool stuff that not a lot of people get to do. I thought it was one of the coolest things I've done."
So how is his shot?
"I think it's pretty good. It's tough to miss with a sniper rifle," Williams said. "You aim it right and it'll go."
Twitter: @reallisa
---
Get our high school sports newsletter
Prep Rally is devoted to the SoCal high school sports experience, bringing you scores, stories and a behind-the-scenes look at what makes prep sports so popular.
You may occasionally receive promotional content from the Los Angeles Times.