Column: Don't bet against Magic Johnson turning the Lakers around
The Times' Bill Plaschke, Tania Ganguli and Lindsey Thiry report from El Segundo where the Lakers introduced No. 2 overall pick Lonzo Ball. Plus, who are the Lakers trying to land next? 
Four months ago he walked into a conference room at Lakers headquarters, plopped down at the front of a table occupied by several media members, and emptied his emotional pockets.
"I'm putting it all on the line. . . . I'm a risk taker. . . . If I didn't think we could turn this around, you think I'd be sitting in this room?" Magic Johnson said on that February day after being named the team's president of basketball operations.
He sounded like an excitable rookie. He had no proof beyond his charisma. He raised as many eyebrows as expectations. Surely this aging former star didn't think he could rebuild a basketball team in the same daring, audacious way he once led it on the court, did he?
Well, turns out, he did. And the only thing crazier is, he's doing it.
Four months later, at the end of a wild week that felt like a franchise rebirth, Magic Johnson met again with a few reporters, and again he was filled with the same bravado, only this time it was backed with new point guard Lonzo Ball, enough salary cap space to add two superstars next summer, and a renewed energy that has the town buzzing about the Lakers again.
"Look at my face, do you see that smile, do you see it?" he said Friday afternoon, lighting up his questioners with his giant trademark grin. "OK then! I've always bet on myself, right?"
He shook his head and added solemnly, "The tide has turned."
So far, it has. And despite early skepticism, he's turned it.
"There's just a renewed energy around here," general manager Rob Pelinka said this week. "We feel it in the offices every day. I think clearly with Earvin's vision and just his persona, I really think the organization is taking on the positive joy that he seems to live with every day."
Lonzo Ball talks with The Times' Lindsey Thiry about embracing Magic Johnson's high expectations, a day after the Lakers selected Ball with the No. 2 pick in the NBA draft.
Granted, the team still stinks. As presently constituted, the Lakers will miss the playoffs next spring for the fifth consecutive season. Johnson has only barely begun his remodeling job. There is much work left, and some luck needed, before he finishes it.
But if the last four months are any indication, Johnson will succeed by being a man of his word. He will take risks. He will put it all on the line. He will bet on himself.
At this point, do you really want to bet against him?
"I can sense the buzz, people can see that we're building a championship team here, changing the culture here," he said. "I'm not crazy, I know it's going to take us a while to build. But we're going to get the right people in here and win."
Think about when he swung his first big hammer as basketball boss. It was within hours of taking the job. He sent the Lakers' leading scorer, Lou Williams, to Houston in a trade that meant one thing.
Lakers first-round draft pick Lonzo Ball addresses the media during his introductory news conference at the team's training facility in El Segundo.
(Wally Skalij / Los Angeles Times)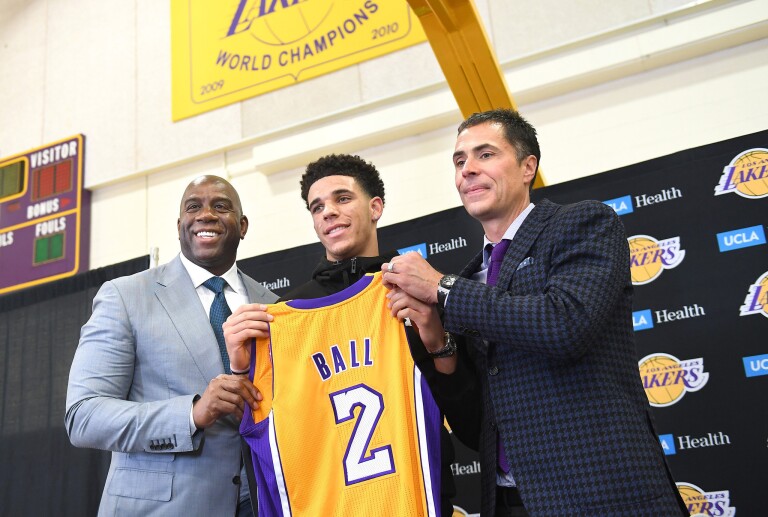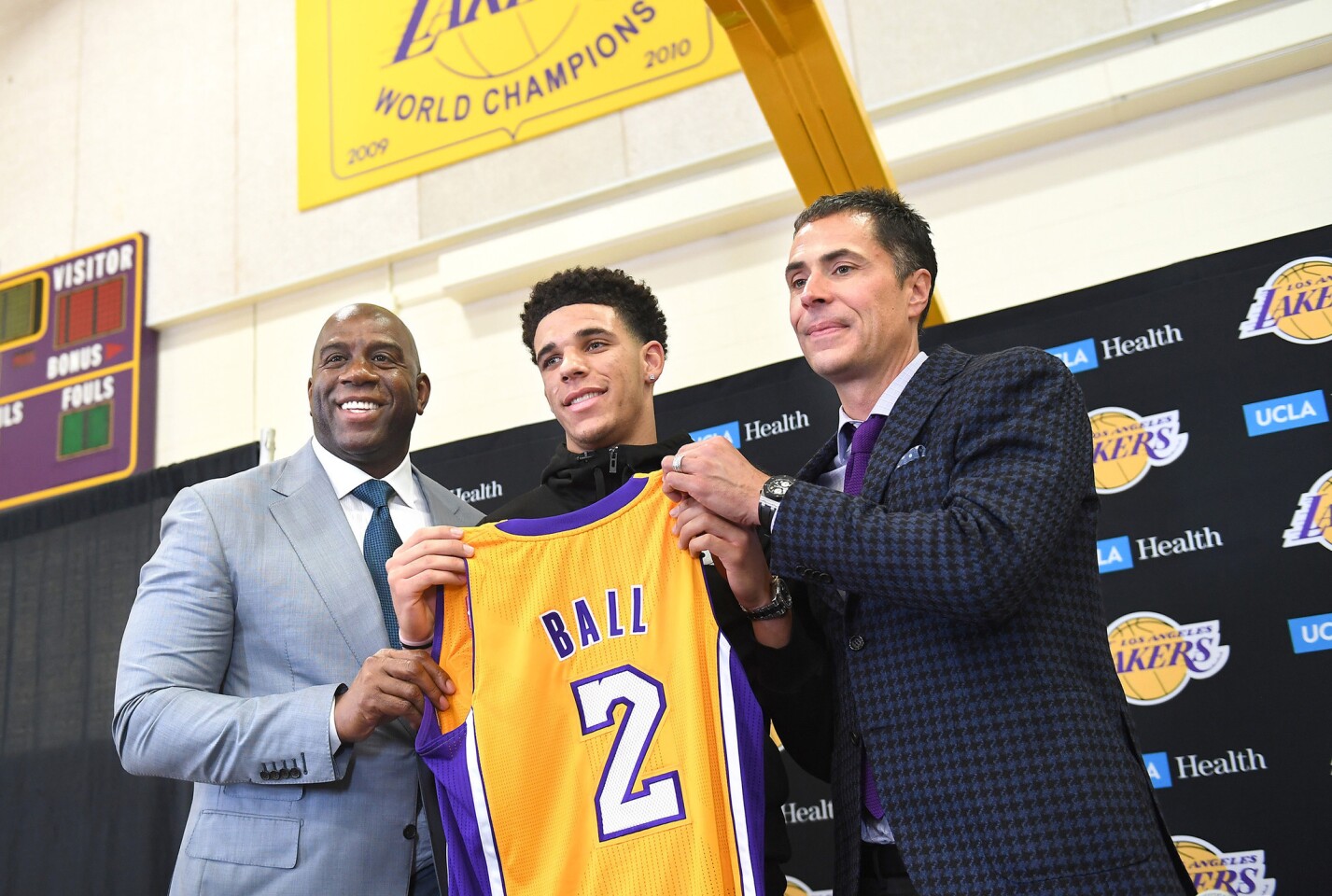 Lonzo Ball is flanked by Lakers legend and team executive Magic Johnson and GM Rob Pelinka as he's presented his jersey.
(Wally Skalij / Los Angeles Times)
Lonzo Ball's father, LaVar Ball, sits with his other sons, LaMelo, left, and LiAngelo, center, at the Lakers' news conference.
(Wally Skalij / Los Angeles Times)
Magic Johnson, Lonzo Ball and Rob Pelinka get ready for the Lakers' introductory news conference for their first-round draft pick.
(Wally Skalij / Los Angeles Times)
LaVar Ball sports his Big Baller Brand sandals and socks during his son's news conference in El Segundo.
(Wally Skalij / Los Angeles Times)
Magic Johnson, the Lakers' president of basketball operations, congratulates Lonzo Ball after the introductory news conference in El Segundo.
(Wally Skalij / Los Angeles Times)
Lonzo Ball is greeted by center Ivica Zubac before an introductory news conference at the team's training facility.
(Wally Skalij / Los Angeles Times)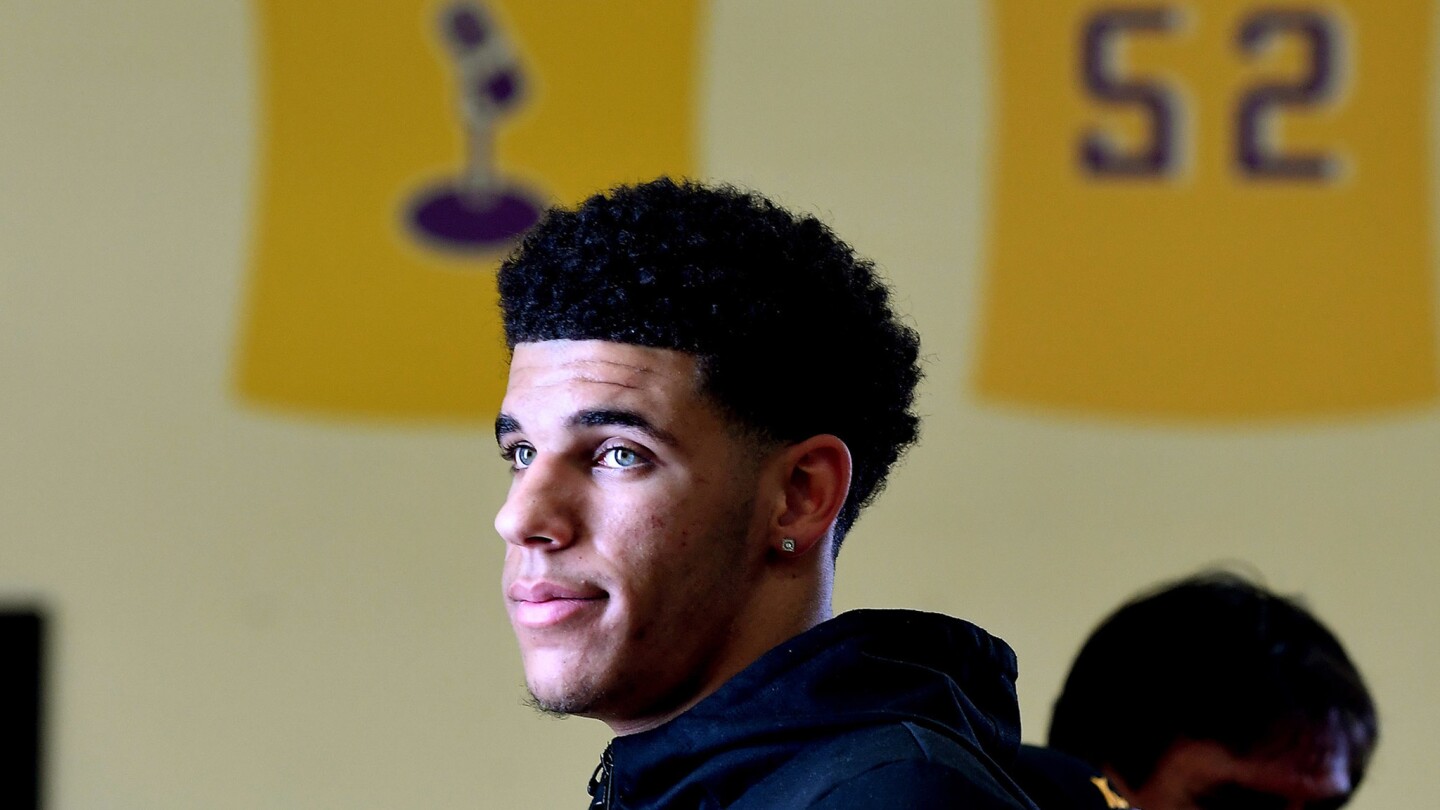 Lonzo Ball stands near a wall featuring the jerseys of Lakers greats after his introductory news conference.
(Wally Skalij / Los Angeles Times)
The Lakers were going to tank it for the rest of the season, and Johnson didn't care who knew. He was willing to sacrifice the final 24 games for a chance at winning one of the top two picks in the draft lottery. And, while this is admittedly a bit of an oversimplification, Lou Williams essentially became Lonzo Ball.
"I used to play, I understand how to build championship teams, I know what it looks like," Johnson said.
He also knows what it doesn't look like, witness his next big swing, this week when he traded the formerly precocious D'Angelo Russell and contract-albatross Timofey Mozgov to Brooklyn for Brook Lopez and the 27th overall pick, which they turned into forward Kyle Kuzma.
The big risk here was dumping Russell, but Johnson showed he has his finger on the pulse of the locker room, where Russell's improving statistics were overshadowed by his consistent lack of professionalism and poor work ethic.
Johnson was sending the message to the entire NBA that he is rebuilding the team in his image, and has no patience for those who won't grind and share.
"We want guys who are mentally tough, gym rats, guys who love the game," he said. "We want guys with no baggage. We want winners. Just like the guys we used to build the Showtime Lakers.''
They also had to trade Russell to convince the Nets to take Mozgov, and that was the other message in this deal. The Lakers will rid their roster of almost anybody if it also means clearing out salary cap space to sign two top free agents next summer, when LeBron James, Russell Westbrook and Paul George could be available.
"When you have that much cap space, we're going to be a major player next summer," Johnson said. "I didn't make that move if I didn't think I could use that money. Enough said."
With Russell gone and cap space cleared, the only thing left was for Johnson and Pelinka to ignore the increasingly negative chatter and take Ball with the No. 2 overall pick. They could have easily become smothered in fear and messed this up. They did not.
It is no coincidence that Ball could be a younger version of Johnson. It is also no coincidence that Johnson is treating Ball like Jerry Buss once treated Johnson, acting as a mentor and inspiration, even outlandishly challenging him by calling him "the new face of the Lakers."
OK, that was too much. You can't ask a 19-year-old kid to be the face of a 16-championship franchise. Johnson needed a mulligan there.
But if Johnson's revitalizing energy sometimes goes too far, that's a small price for the organization to pay for the rebooting of its basketball culture. Johnson is going to say some wild things. But as Lakers fans have learned so far, he accompanies his silly talk with actions that make total sense.
Today they finally have a franchise point guard to run the show, enough cap space to eventually give him two superstar teammates, and maybe even enough assets to trade for one of those superstars, George, right now.
Could any of that be said as recently as four months ago? Could Johnson really be leading the Lakers on the mother of all fastbreaks?
Like the man said, just look at his face.
Get more of Bill Plaschke's work and follow him on Twitter @BillPlaschke
---
Get our high school sports newsletter
Prep Rally is devoted to the SoCal high school sports experience, bringing you scores, stories and a behind-the-scenes look at what makes prep sports so popular.
You may occasionally receive promotional content from the Los Angeles Times.