Column: Kardashians' freak show capitalizes on Lamar Odom one more time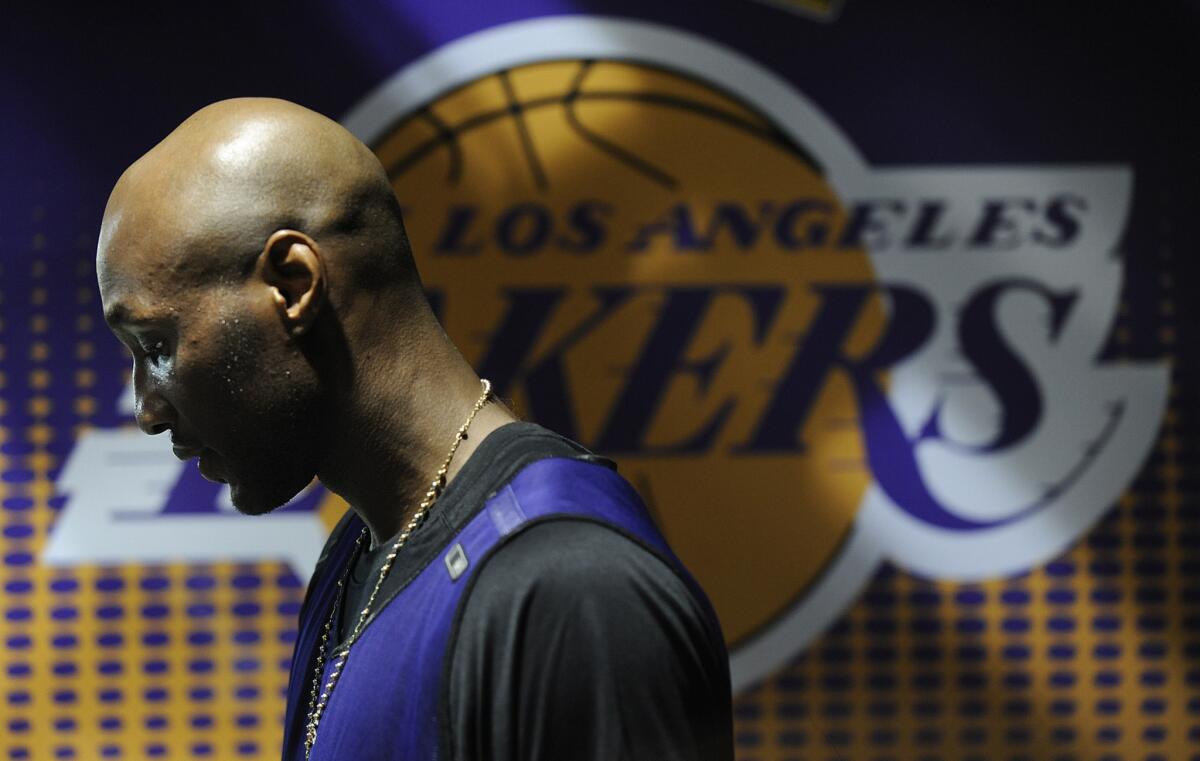 The news about Lamar Odom was finally good. A week after being found unconscious in a rural Nevada brothel, the former Lakers and Clippers star was stable enough to be flown Monday night from a Las Vegas hospital to Cedars-Sinai Medical Center.
Yet the news about Odom was still unsettling, because accompanying him on that flight was one of the Kardashians.
As one of the many media members who fell in love with Odom's sweet soul during his 12 seasons as a pro baller in Los Angeles, I watched in sadness last week as he fought for his life after being found unresponsive in a brothel. Police reported that witnesses said Odom had been on a binge that lasted several days in which he used herbal sex stimulants and cocaine.
Yet the horror increased when it became apparent that even his most dire moments were going to be stolen by the tacky reality TV show that had already taken so much.
The Kardashians, led by Lamar's estranged wife Khloe, showed up over Odom's comatose body, and suddenly the narrative changed. Odom wasn't a former NBA champion, he was a reality TV star. Odom wasn't a deeply troubled and vulnerable former athlete, he was the guy who was keeping Khloe from hanging out with her new boyfriend, James Harden.
Suddenly, all the prayers weren't only for Odom, but for the poor Kardashians and all their pain, reality TV's freak show pulling in Odom one more time, capitalizing on his celebrity one more time, overshadowing his real struggles one more time, creating an irony both somber and profound. The Kardashians came across as Odom's intensive-care advocates when, in fact, his appearance in their warped TV world was part of the self-destructive slide that led him there.
I wrote that once. I wrote it as it was initially happening. It was the only time the affable Odom was ever angry with me. I learned much about the goodness of his heart during our confrontation, much more than anyone could ever learn by watching him on that horrible reality TV wreck.
It was the spring of 2011. The scene was a news conference at a Los Angeles International Airport hotel. The honored guest was Odom, whose life was dominated by three big events.
First, he had won the NBA's sixth man award. Second, he was leading the Lakers into the postseason one year after they had won a second straight NBA championship.
Third, he was in the middle of a filming a Kardashian reality TV spinoff, the "Khloe & Lamar" show, based on his life with Khloe Kardashian, whom he had married about 18 months earlier after dating for just one month. The show began airing two weeks earlier, and the results were already official.
The basketball star never stood a chance against the Kardashians.
Odom should have refused to be part of the show, but he never refused the request of anyone close to him, even if it hurt him, and, man, this show hurt him.
I noted that while he was being celebrated in this ballroom as a powerful and popular Laker, Odom was being emasculated on television by a family whose hunger to exploit was more dominating than any opposing power forward.
In the ballroom, he was cheered by loyal Lakers teammates, yet on television he was scolded by Khloe for being too loyal to his best friend.
In the ballroom, he spoke passionately about the selflessness required in being a sixth man, yet on television his brother-in-law was ridiculing him for not making the All-Star team.
The Lamar Odom that everyone loved was not the Lamar Odom that the Kardashians were attempting to create, and I cited two examples of how the television fallout was already affecting him on the court.
On the night of the show's debut, Odom had only seven points and three rebounds in a loss to Oklahoma City. A week later, before the second show was televised, Odom showed up late for the playoff opener against New Orleans and finished with 10 points and one rebound.
Also in attendance at the ballroom on that day was Khloe Kardashian. I approached her and challenged her motives. Without ever looking me in the eye, she responded, "The show has been therapy for Lamar. It's been a real release."
From left: Bruce Jenner, Lamar Odom and Khloe Kardashian play at the 2011 BBVA NBA All-Star Celebrity Game at the Los Angeles Convention Center.
(Noel Vasquez / Getty Images)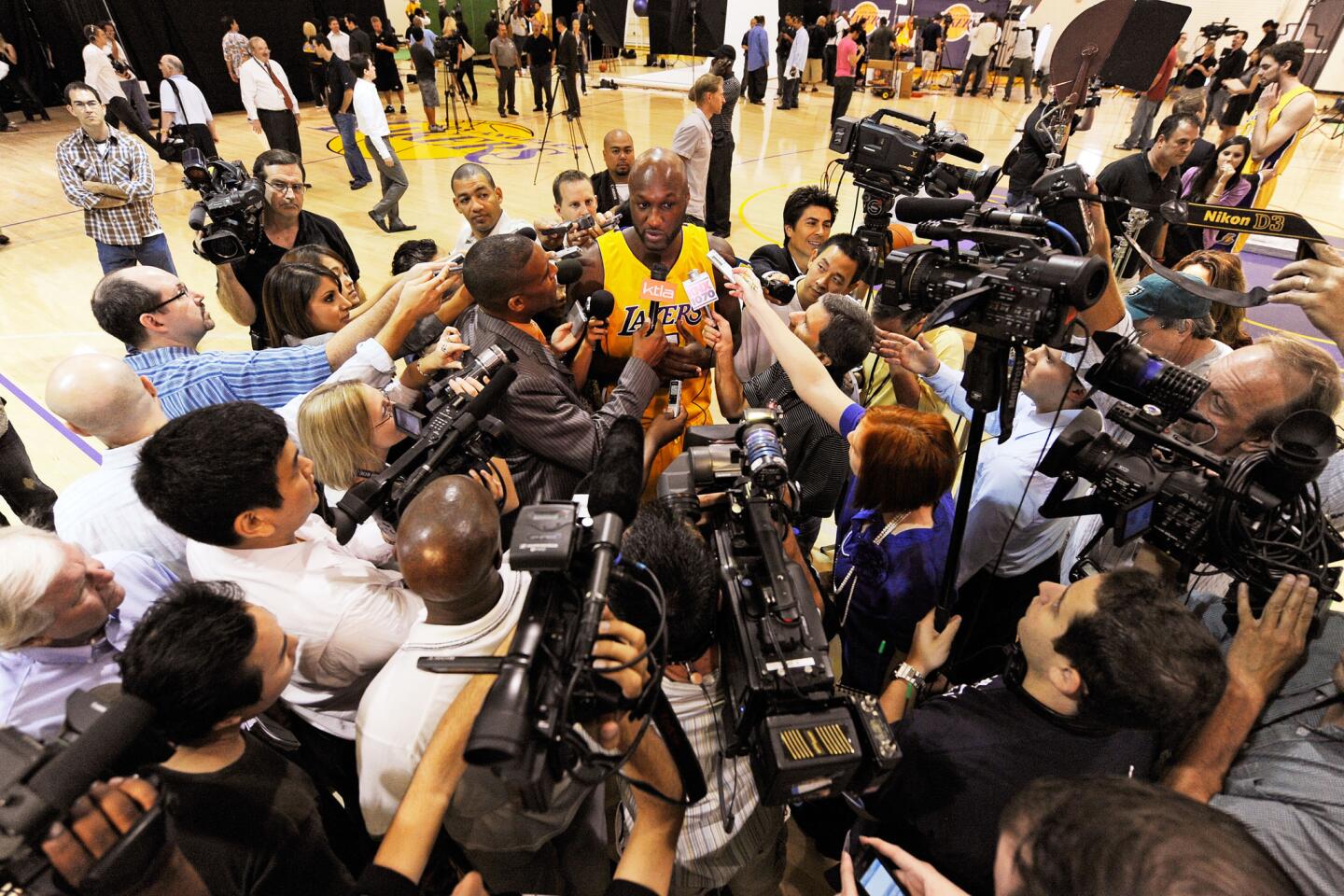 Lamar Odom of the Los Angeles Lakers is surrounded by a crush of reporters during Lakers media day at the Lakers training facility on September 29, 2009 in El Segundo.
(Kevork Djansezian / Getty Images)
Television personality Khloe Kardashian and Los Angeles Laker Lamar Odom attend the "AXE Music One Night Only" concert series featuring Weezer at Dunes Inn Motel - Sunset on September 21, 2010 in Hollywood.
(Michael Buckner / Getty Images)
Clippers President Andy Roeser congratulates Lamar Odom after a press conference announcing his return at the Los Angeles Clippers training facility in Los Angeles Monday July 2, 2012.
(Wally Skalij / Los Angeles Times)
Actresss Khloe Kardashian, NBA player Lamar Odom and actress Kim Kardashian arrive at the premiere of Warner Bros. Pictures' "Whiteout" at the Village Theater on September 9, 2009 in Los Angeles.
(Kevin Winter / Getty Images)
Clippers forward, Lamar Odom, during the LA Lakers and the LA Clippers game at Staples Center.
(Robert Gauthier / Los Angeles Times)
Lamar Odom sits for his first interview as a Los Angeles Clipper during Media Day at the Clippers training facility in Playa Vista on September 28, 2012.
(Gina Ferazzi / Los Angeles Times)
Clippers forward Lamar Odom warms up before the game against the Celtics on Thursday, Dec. 27, 2012, at Staples Center in Los Angeles.
(Luis Sinco / Los Angeles Times)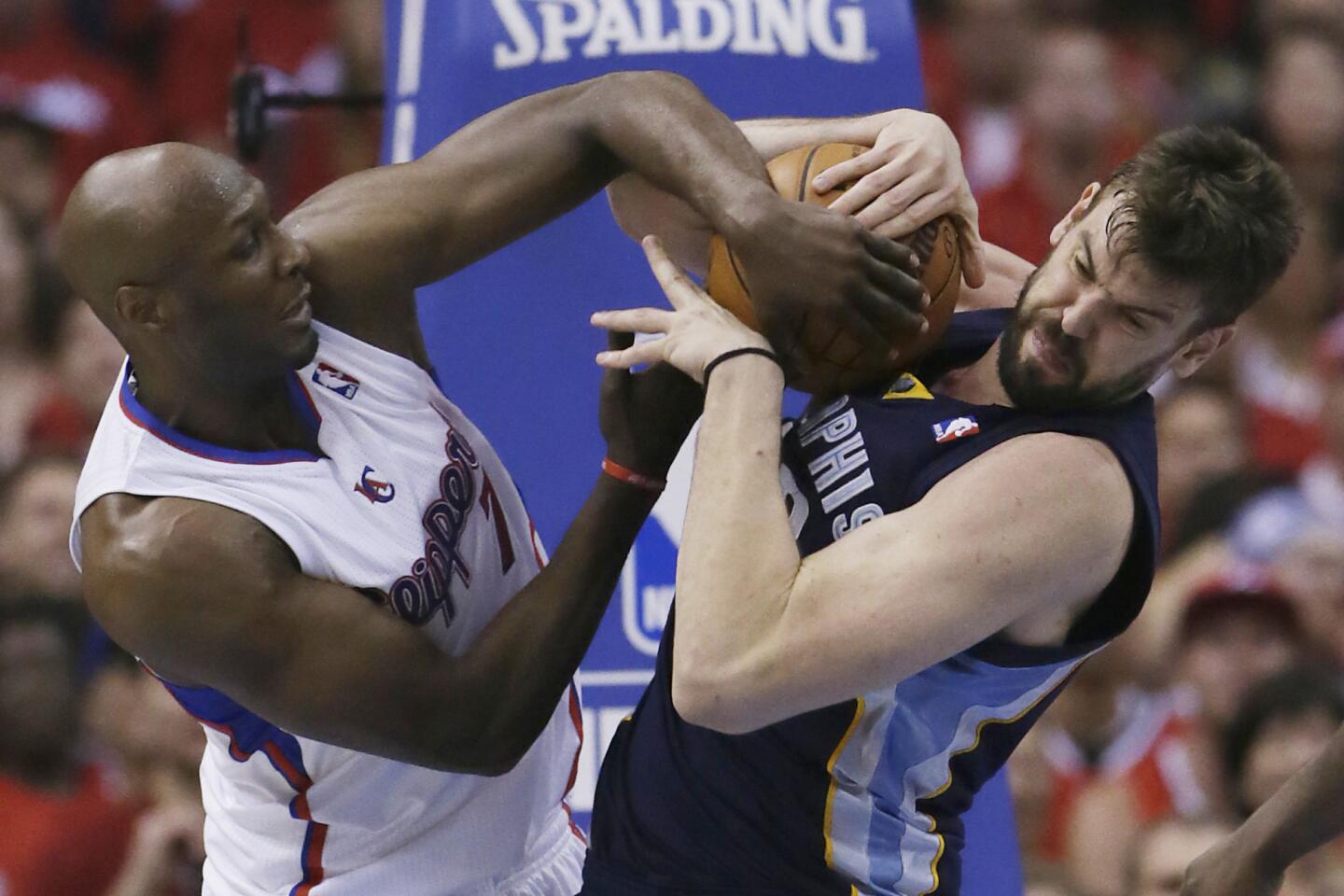 Clippers forward Lamar Odom and Grizzlies center Marc Gasol wrestle for a rebound in the first half of game one of the NBA Western Conference Playoffs at Staples Center.
(Robert Gauthier / Los Angeles Times)
A driver displays a basketball jersey with Lamar Odom's name as the driver exits Sunrise Hospital and Medical Center on Oct. 13, 2015, in Las Vegas. The former NBA basketball player was hospitalized after he was found unconscious Tuesday at a Nevada brothel, authorities said.
(David Becker / Associated Press)
Clippers star Lamar Odom plays against the Golden State Warriors on Jan. 2, 2013, in Oakland.
(Marcio Jose Sanchez / Associated Press)
Clippers forward Lamar Odom during the Lakers-Clippers game at Staples Center in October 2012.
(Robert Gauthier / Los Angeles Times)
The Clippers' Lamar Odom dribbles the ball past the Nuggets' Kenneth Faried at the Staples Center on Dec. 25, 2012.
(Wally Skalij / Los Angeles Times)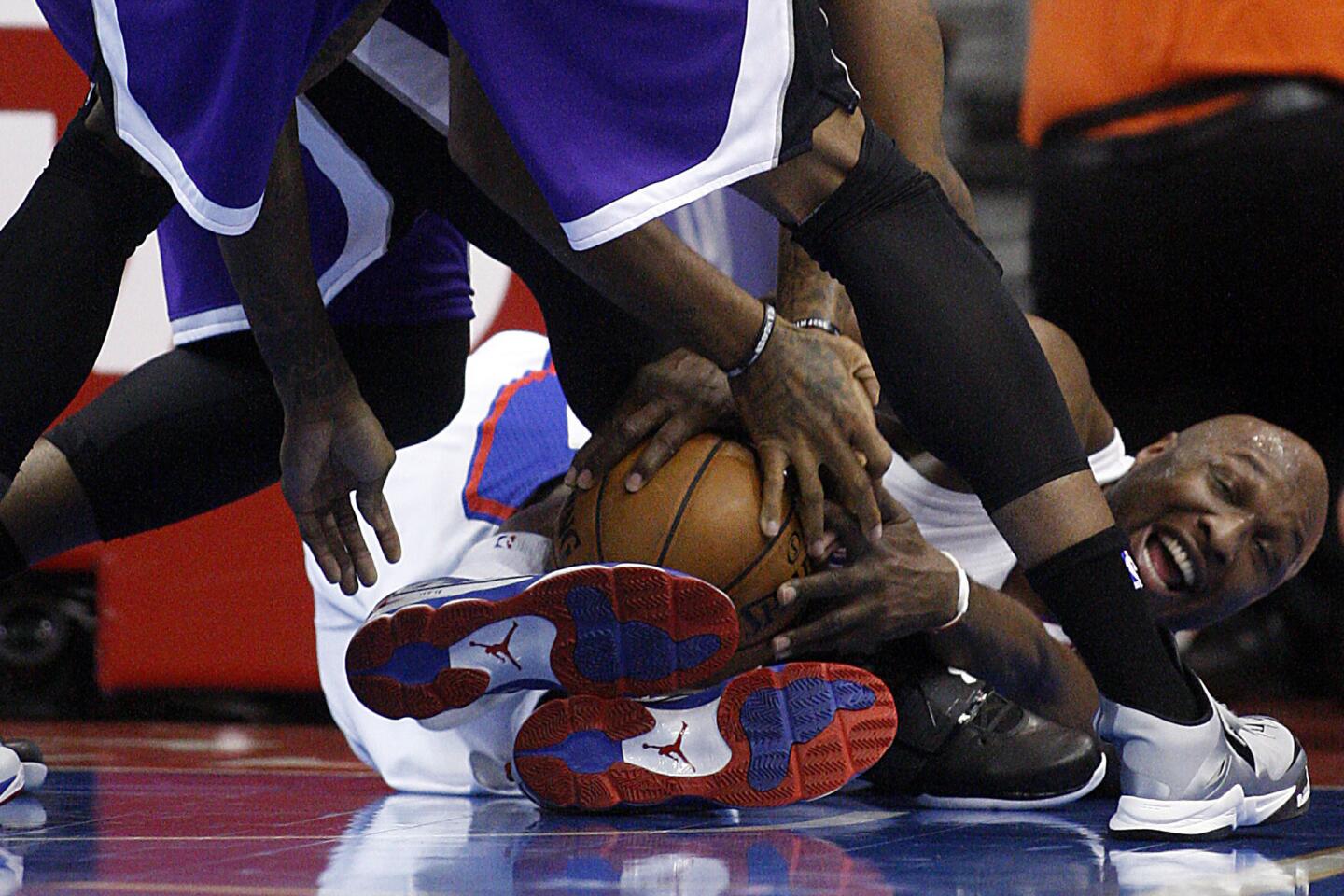 Lamar Odom fights for a loose ball against a pair of Sacramento Kings players during a game at Staples Center on Dec. 21, 2012.
(Luis Sinco / Los Angeles Times)
Lamar Odom listens to a question during a press conference announcing his return at the Los Angeles Clippers training facility in Los Angeles on July 2, 2012.
(Wally Skalij / Los Angeles Times)
Khloe Kardashian is alongside Lamar Odom, a forward for the Lakers, who received the Sixth Man Award in 2011 at the Sheraton Gateway Hotel in Los Angeles.
For the record, Oct. 14, 1:54 p.m.: An earlier version of this caption described Khloe Kardashian as Lamar Odom's ex-wife. Their divorce is still pending.
(Rick Loomis / Los Angeles Times)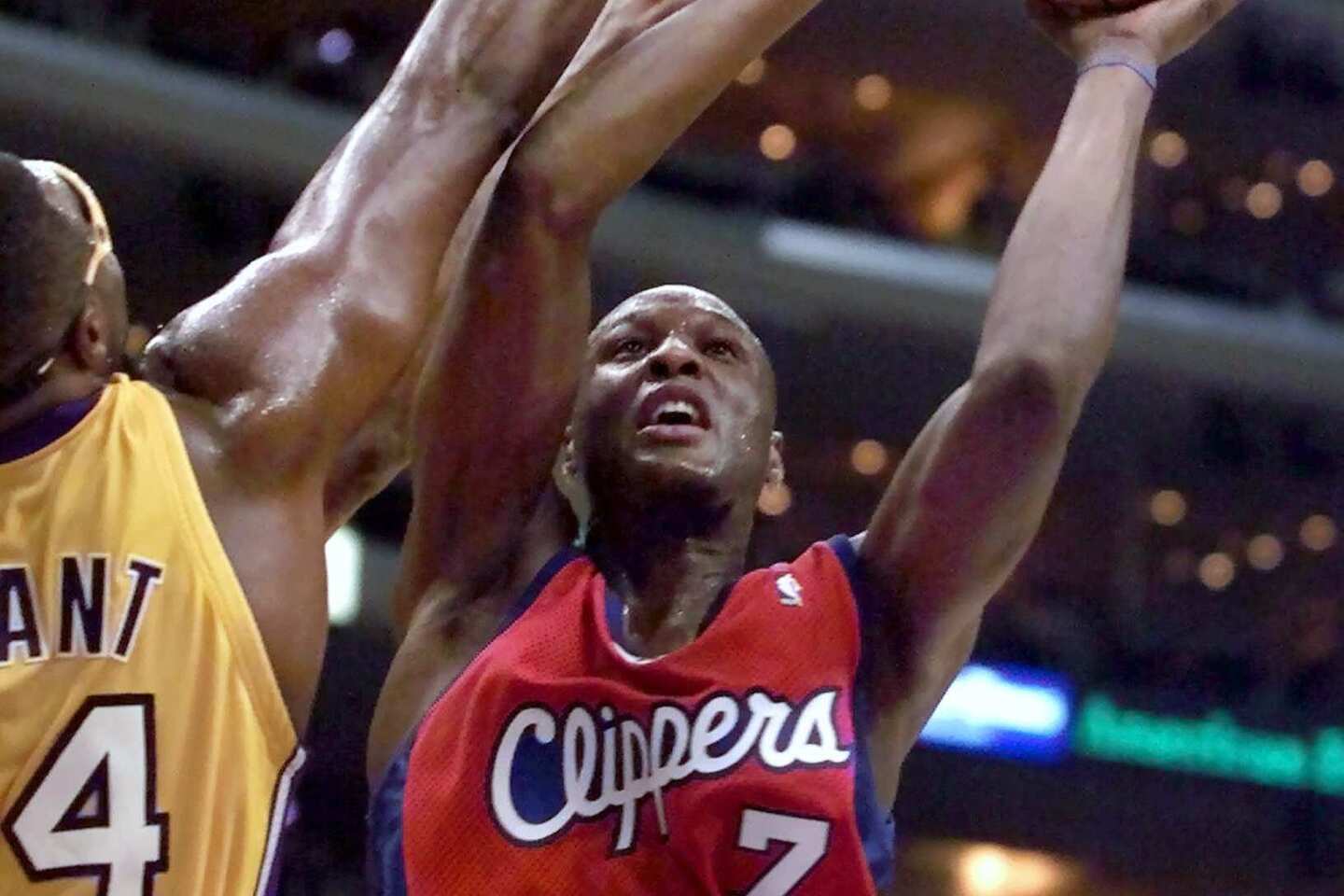 A youthful
Lamar Odom
, a versatile 24-year-old forward with the Clippers, scores on a layup against the Lakers'
Horace Grant
.
(Kevork Djansezian / Associated Press)
Heat
forward
Lamar Odom
is all smiles after making a three-point shot in the fourth quarter of a game against the
Chicago Bulls
. Odom scored 25 points to lead Miami to a 90-83 victory.
(Jeff Roberson / Associated Press)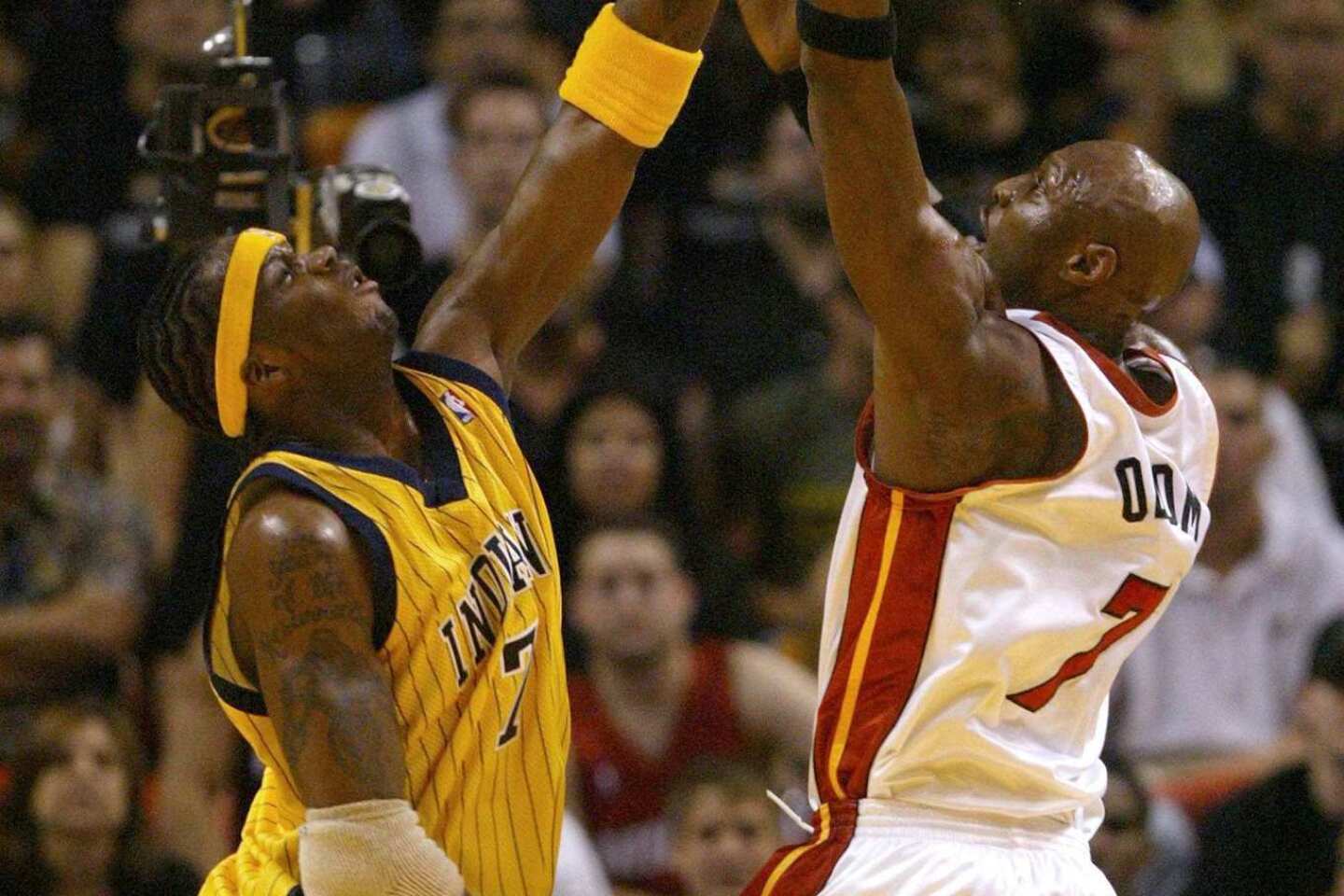 Heat
forward
Lamar Odom
uses his length and leaping ability to attack the basket against
Pacers
center
Jermaine O'Neal
in Game 6 of the Eastern Conference semifinals. Odom had his best statistical season as a pro that season, averaging 17.1 points, 9.7 rebounds, 4.1 assists, 1.1 steals and nearly 1 block a game.
(Doug Pensinger / Getty Images)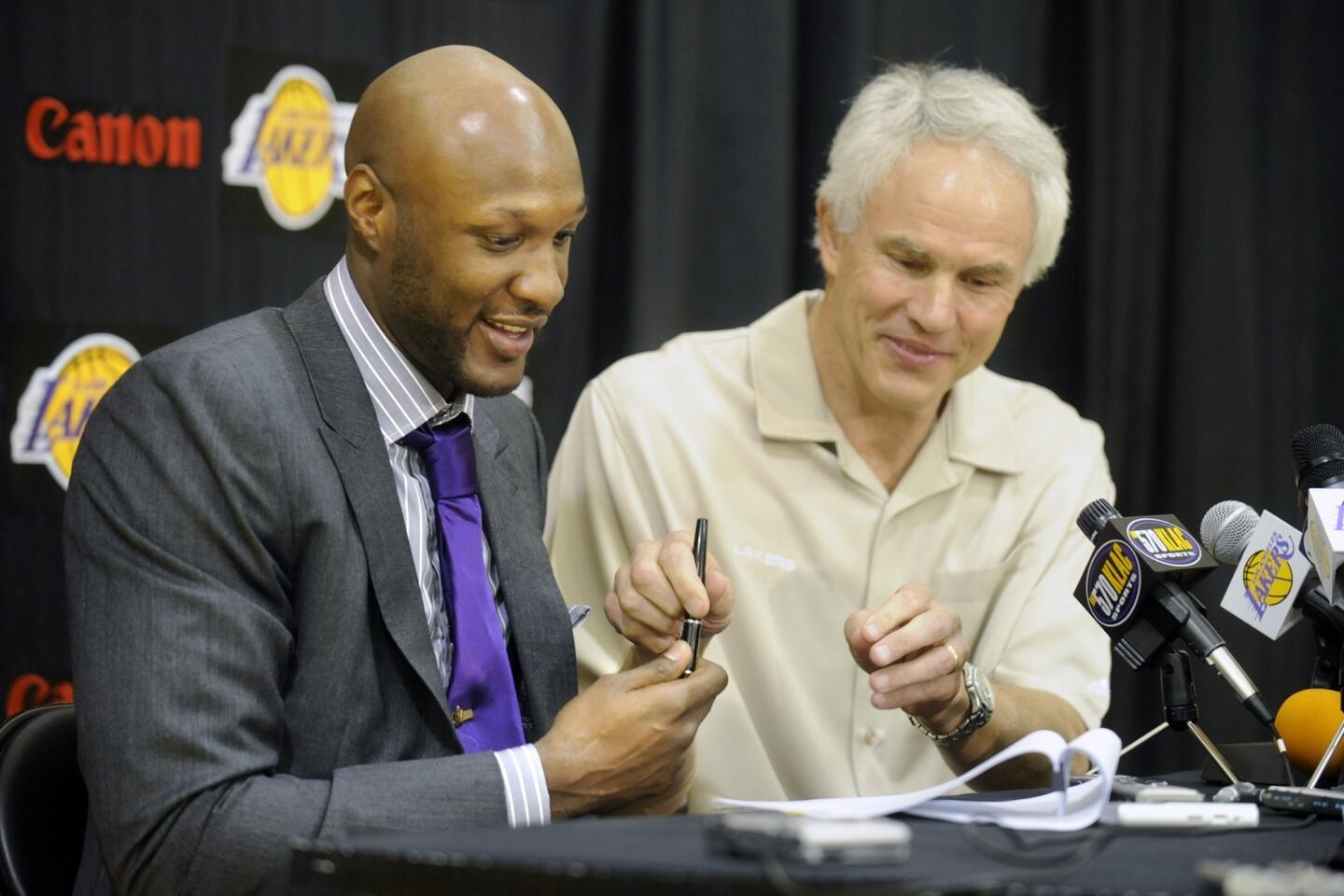 EL SEGUNDO, CA. JULY 331. 2009--Lamar Odom signs a new contract with the Lakers as Genreal Manager Mitch Kupchak looks on during a press conference in El Segundo Friday.
(Wally Skalij / Los Angeles Times)
Gallardo, Alex -- - LOS ANGELES, CA - DEC. 1, 2009: Lakers Lamar Odom (7) drives to the basket against the New Orleans Hornets Julian Wright (32) in the fourth quarter in a NBA basketball game DEC. 1, 2009 at the Staples Center. (Photo by Alex Gallardo/Los Angeles Times)
(Alex Gallardo / Los Angeles Times)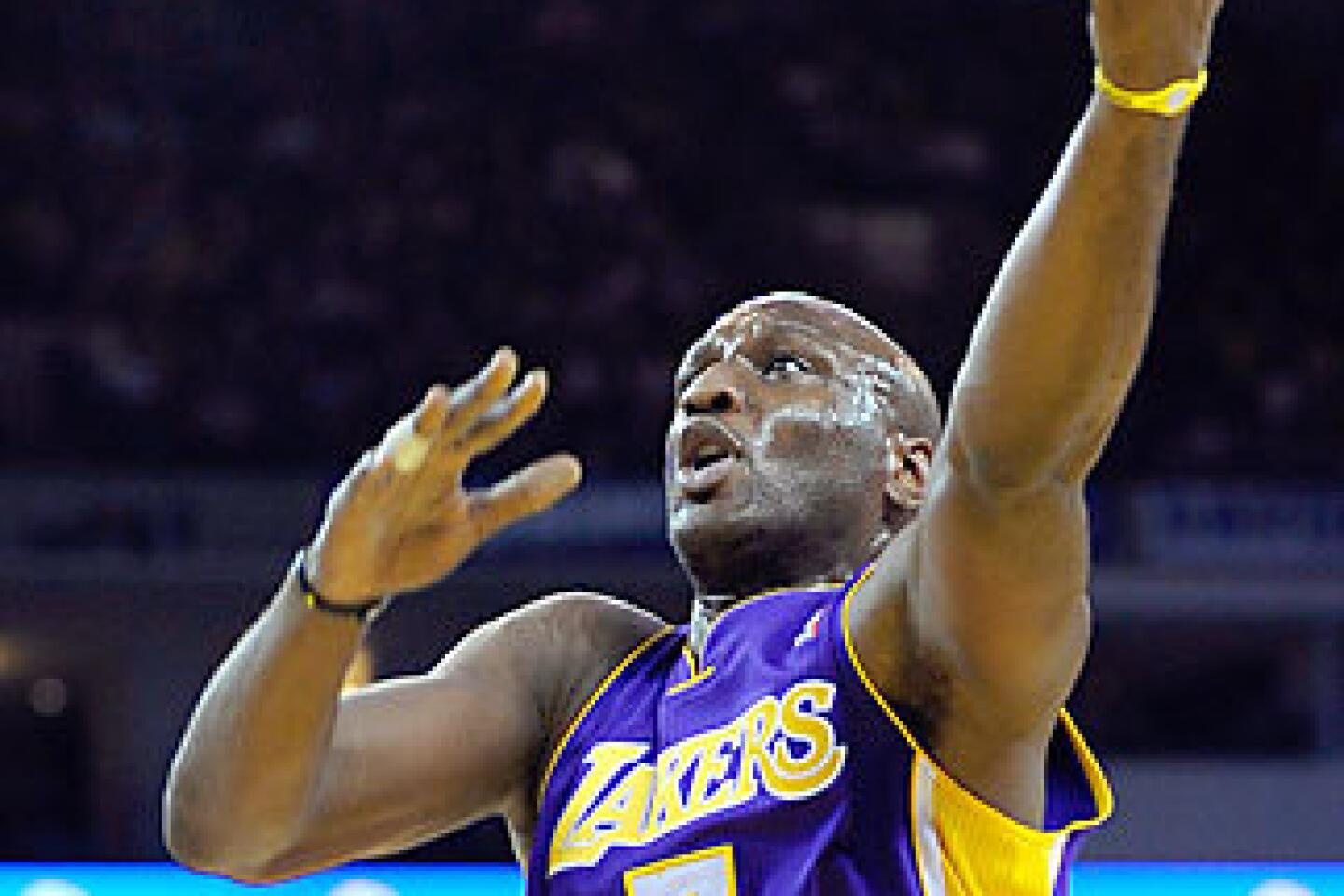 Lamar Odom in action against the Golden State Warriors in Oakland.
(John G. Mabanglo / EPA)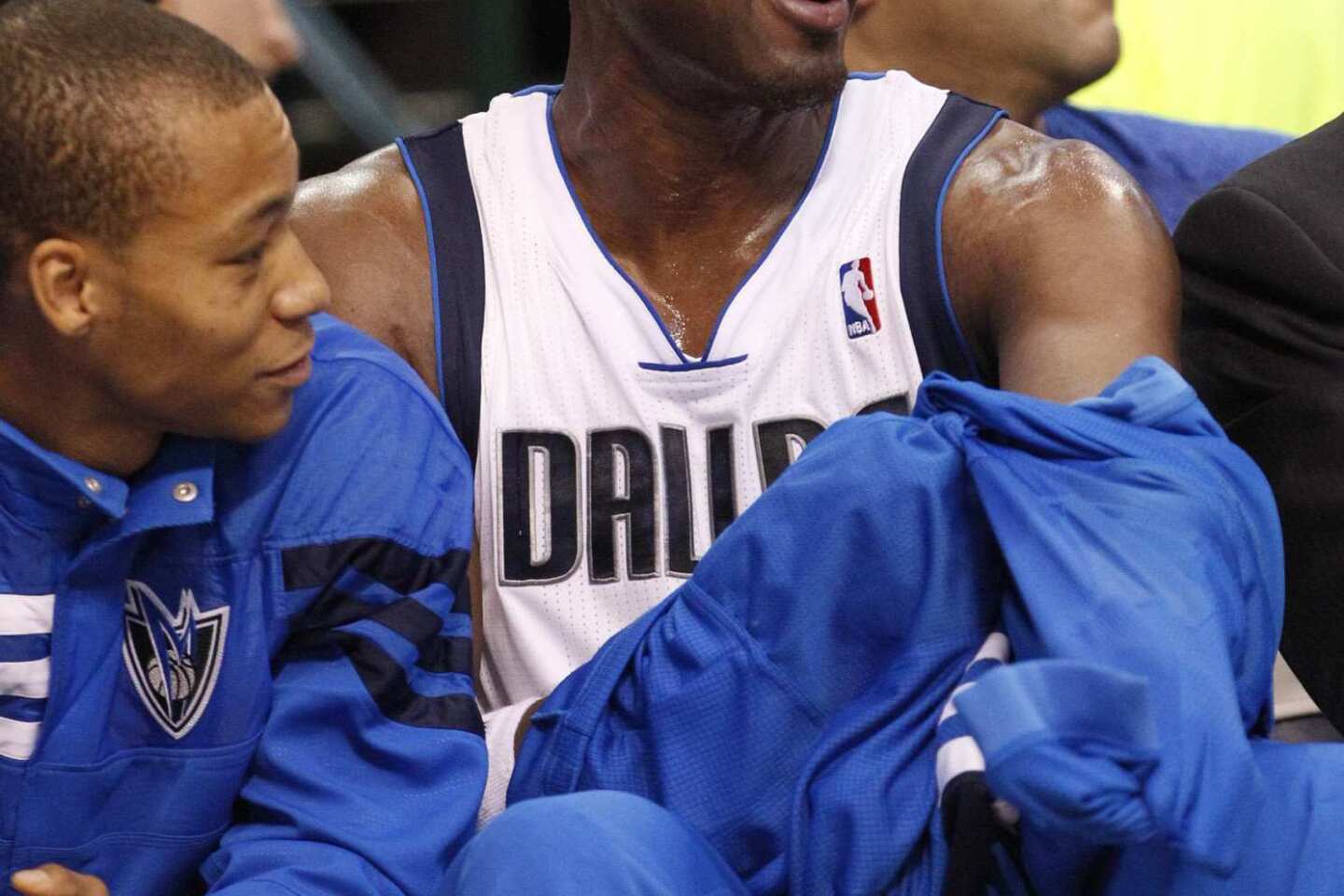 Lamar Odom
watches his new team, the
Dallas Mavericks
, play against the
Oklahoma City Thunder
in a preseason game before the start of a shortened
NBA
season.
(LM Otero / Associated Press)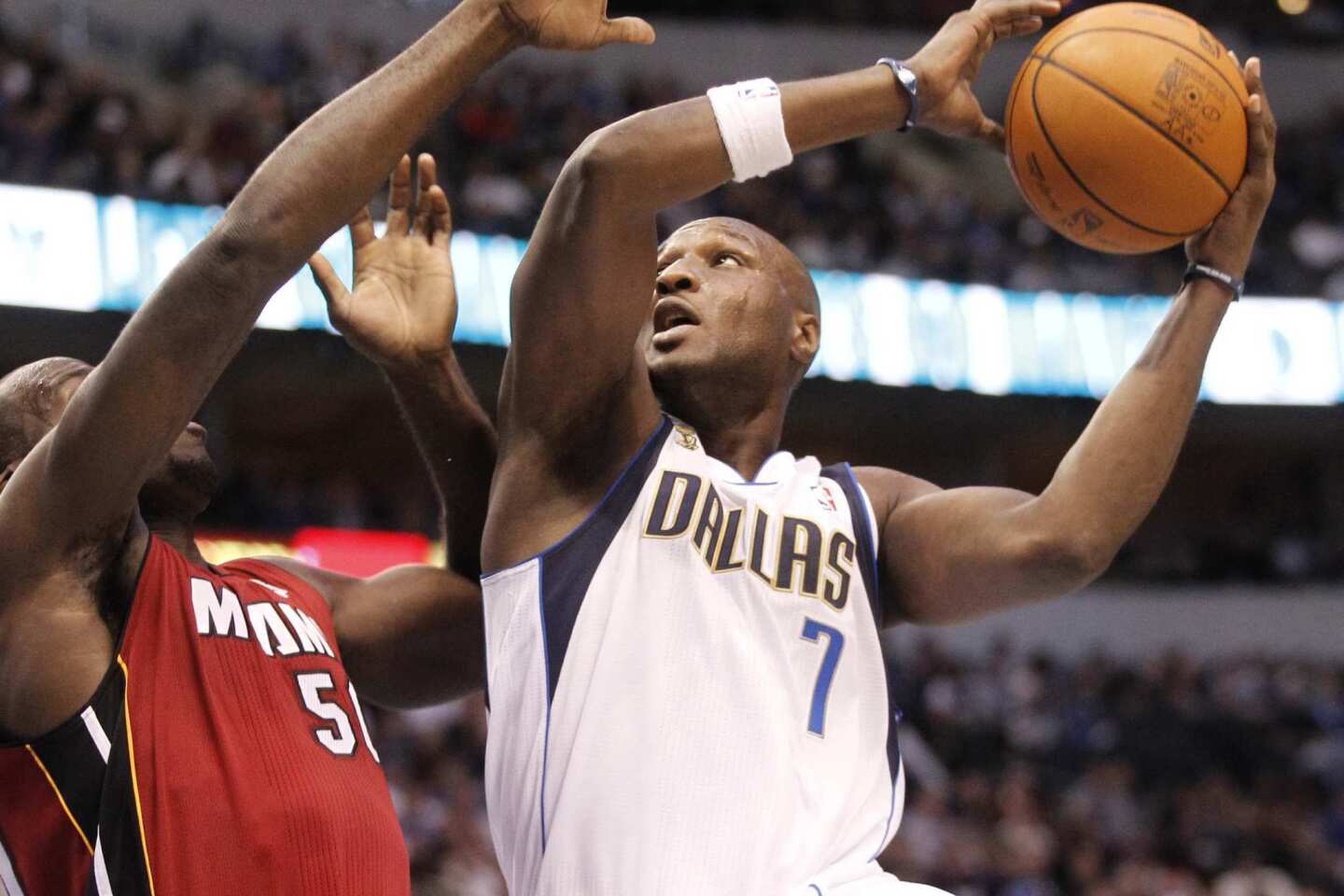 Mavericks forward
Lamar Odom
works inside for a shot against Heat center Joel Anthony during the season opener on Christmas Day.
(Ron Jenkins / McClatchy-Tribune)
Lakers
forward
Pau Gasol
embraces former teammate
Lamar Odom
before a game against the
Dallas Mavericks
last season at
Staples Center
. Gasol and Odom were both traded by the Lakers in a bid to acquire point guard
Chris Paul
, but the
NBA
nixed the deal. Odom demanded a trade after the failed deal and was shipped to Dallas.
(Allen J. Schaben / Los Angeles Times)
Mavericks forward
Lamar Odom
is greeted by longtime
Lakers
fan
Jack Nicholson
duirng his first game back at
Staples Center
.
(Allen J. Schaben / Los Angeles Times)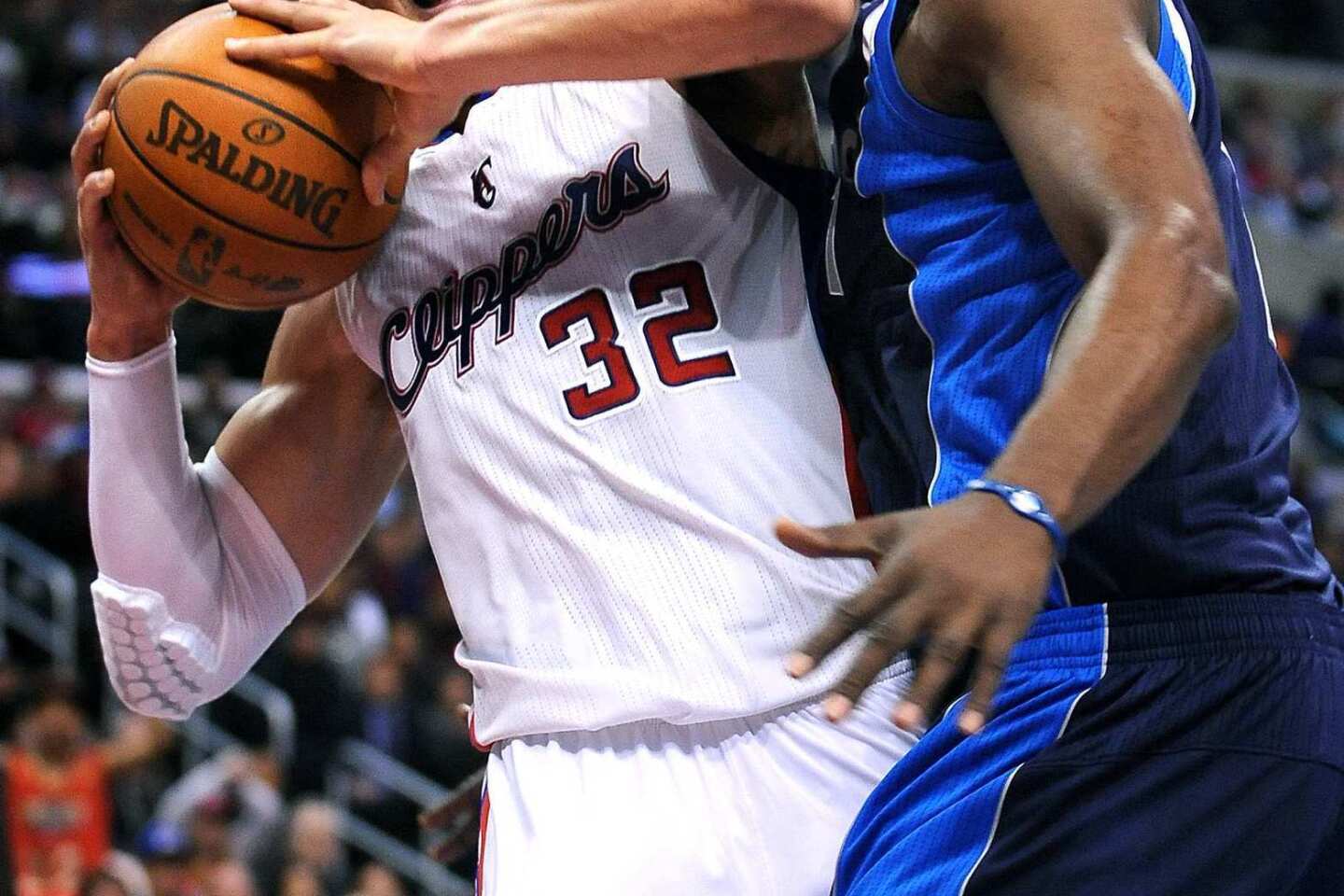 The next time Blake Griffin (32) elbows Lamar Odom while rebounding, be it accidental or not, it will be as teammates with the Clippers.
(Wally Skalij / Los Angeles Times)
A release of what? His pride? His strength? None of it made sense, and I ended the column with, "While Odom's sixth man award was a tribute to his ability to escape the bench, he hasn't been so lucky with the Kardashians."
Yeah, he wasn't too happy about that. A few days after the column ran, I heard he was angry with me and wanted to talk. I approached him in a locker room in New Orleans after a playoff game. I figured he was like most athletes who only confront writers in front of teammates so they can gain strength in numbers.
Turns out, Odom was different. I should have known he would be different.
"Hey, I don't want to make a scene in front of everyone, I don't want to embarrass anyone, let's go outside in the hallway," he said quietly.
We adjourned to a quiet corner of the arena tunnel where Odom looked down, placed his hands on my shoulders, and spoke firmly in words I still remember.
"Look, I know you don't like the show, I get it," he said. "It's Hollywood, it's not real, but I get that you think it's hurting me, and I appreciate your concern."
He shook his head.
"But when you're taking personal shots at Khloe, just remember, that's my wife. That's the woman I love. Rip the show, fine, but do not rip her personally, because that's my wife."
He finished, I nodded, he hugged me, he said we were good, and that was that. Odom could never stay mad, not with me, not with the Kardashians, not with anyone. He was deeply loving, fiercely loyal, and if you wonder why seemingly the entire NBA family has been rooting so hard for him this past week, that is why.
History will show that the Lakers were eventually swept out of that 2011 postseason by Dallas, Odom's playoff numbers slipped, and he never wore a Lakers uniform again.
Four years later, he's returned to Los Angeles to face a much bigger fight and, in the cruelest of twists, his celebrity "family" has shown up with him.
Pray for his return to health. And pray the Kardashians don't have the obscene gall to put it all on television.
Hoy: Léa esta historia en español
MORE ON THE NBA
Lamar Odom feeling 'way better,' but recovery will be long
Lakers keep Robert Sacre as No. 3 center, waive Robert Upshaw
Marcelo Huertas makes another strong point in Lakers' win over Portland
Follow Bill Plaschke on Twitter @billplaschke
Get our high school sports newsletter
Prep Rally is devoted to the SoCal high school sports experience, bringing you scores, stories and a behind-the-scenes look at what makes prep sports so popular.
You may occasionally receive promotional content from the Los Angeles Times.