Pac-12 commissioner, who has first-hand experience with AAU basketball, shares his thoughts on change
A disorienting clamor — shoes squeaking and basketballs thumping — fills this cavernous Southern California sports complex as a youth tournament begins with a slew of Friday night games.
On Court No. 3 at the Next Level Sports Complex in Garden Grove, where parents have squeezed onto metal bleachers, hardly anyone seems to notice Larry Scott.
Sitting along the top row, dressed in slacks and a golf shirt, Scott keeps his arms crossed most of the time, clapping occasionally. When his teenage son drains a long jump shot, he calls out, "There we go."
Though he seems like any father, if people recognized him they might think he is the enemy.
As commissioner of the Pac-12 Conference, Scott has championed the crusade to reform basketball, an effort that has gained steam since last fall's announcement of an FBI investigation into widespread fraud and corruption at the college level.
When the NCAA issued a list of proposed fixes last week, much of the attention focused on ending the "one-and-done" rule that has top players, often reluctantly, enrolling in college for a single season before jumping to the NBA.
Scott sees elite youth basketball as another crucial piece of the puzzle, given its history of shady coaches and under-the-table payments meant to steer prospects toward certain colleges or shoe companies.
Unlike many other college sports leaders, he has personal experience with the issue, a crash course from watching his two sons play in AAU tournaments and other youth events.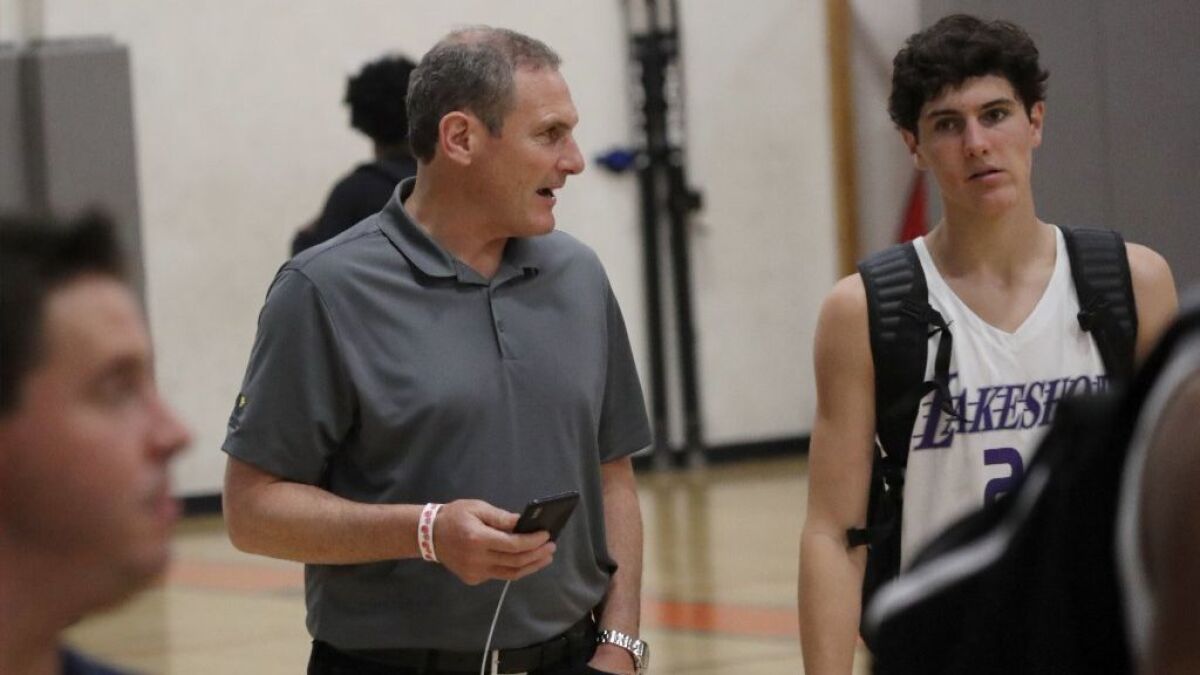 Which puts Scott in something of an awkward position as he cheers from the stands on a recent evening.
"People might interpret some of our recommendations as trying to harm youth basketball," he says. "Or kill it."
::
It was about a year ago that Alexander and Sebastien Scott joined a club team in their Northern California hometown. Neither had dreams of an NBA career; they simply wanted tougher competition than could be found playing for the local high school.
Given his day job, their father knew something about the sprawling and largely unregulated web that comprises elite youth basketball.
Listen to what Condoleezza Rice, the former secretary of State and chairwoman of the NCAA's special commission, said a few days ago: "The corruption we observed in college basketball has its roots in youth basketball … there are good programs — but there are too many that condone illicit behavior."
Coaches and program directors have worked secretly with dishonest recruiters and agents. In 2000, Myron Piggie pleaded guilty to federal charges after paying young stars — including Kareem and JaRon Rush — who played for his Kansas City club.
More recently, the FBI investigation alleged that thousands of dollars were funneled into a Florida program with the intent of influencing prospects.
"You hear a lot of these things," Scott said. "Obviously there is a certain stigma."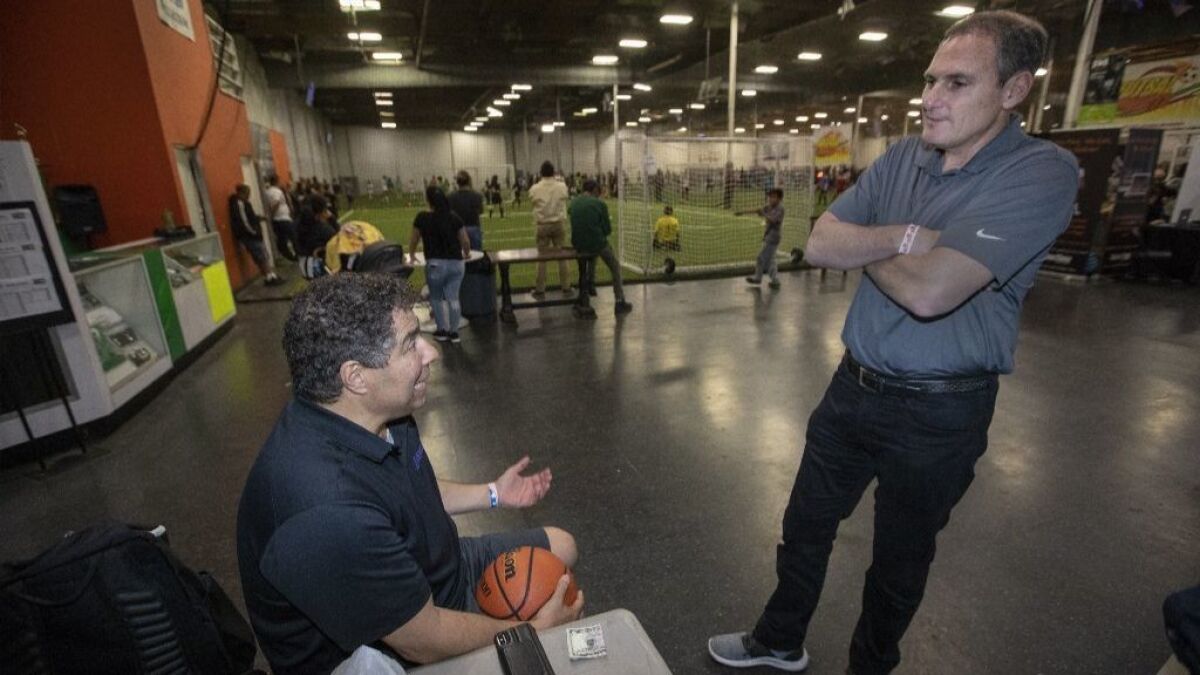 As his sons began playing tournaments, the commissioner witnessed the sheer magnitude of the scene, walking into gyms crowded with teams from around the country. He also noticed "the people hanging around, the environment."
His sons were playing in Anaheim last summer when LaVar Ball argued with referees and pulled his team off the floor. "It was a bit of a circus," Scott says.
Hovering on the periphery are packs of college recruiters.
At the tournament in Garden Grove earlier this month, folding chairs along the baseline were reserved for coaches representing numerous schools.
These types of tournaments serve as fertile recruiting ground because club teams can gather top players from their areas, assembling what often amount to all-star rosters.
"I don't think it's a given that our coaches have to recruit at events like this," Scott said.
Shortly after the FBI investigation went public with federal charges against 10 people — including assistant coaches at Arizona and USC — the Pac-12 formed a task force.
Among its recommendations, which were forwarded to the NCAA, the conference suggested drawing a line between colleges and youth basketball organizations.
The NCAA's commission, which agreed with the Pac-12 on most issues, has proposed that recruiters be prohibited from any nonscholastic tournament that does not fully disclose its finances.
The commission also advised the NCAA to partner with the NBA and USA Basketball to create youth programs and summertime combines where recruiters could assess high school prospects without clubs acting as middlemen.
"That development would include not only basketball, but also academic and life skills, health and collegiate eligibility," Rice said.
Scott anticipates some pushback, not only from the AAU and shoe companies, but perhaps from NCAA leaders expected to vote on potential changes in August.
"Think about all this infrastructure, all these events that colleges and the NCAA don't have to pay for," he said. "It would be a significant decision and a significant financial investment."
::
The tournament is still going strong past 9 p.m., with a new round of games and spectators lined up two- and three-deep around every court.
When Scott looks across the gym, he sees coaches that he suspects are honest and well-intentioned. He sees kids much like his own — maybe not blue-chip prospects but good athletes hungry to play.
Subtracting the element of recruiting might diminish some luster from events like this, but Scott believes the scene would continue to thrive.
"There is a role for elite club youth sports," he says. "I think there is an economy for it."
In other words, he doesn't want to kill anything.
"I do see the benefits," he said. "It just requires some course correction."
The late game has his son's team facing a squad from the Los Angeles area. There are no seats available in the bleachers, so Scott stands along the baseline.
At the opening tip, Sebastien breaks toward the basket and takes a long pass, scoring the first points on a layup.
Scott claps and shouts, just like any dad.
Follow @LAtimesWharton on Twitter
Get our high school sports newsletter
Prep Rally is devoted to the SoCal high school sports experience, bringing you scores, stories and a behind-the-scenes look at what makes prep sports so popular.
You may occasionally receive promotional content from the Los Angeles Times.