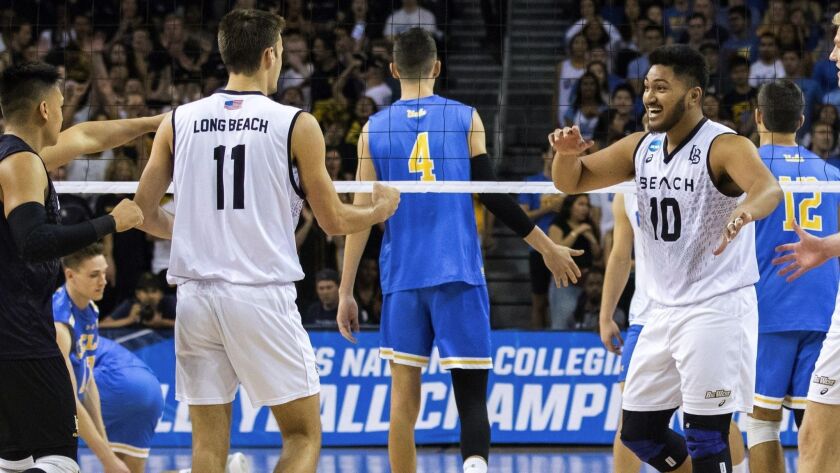 The national championship match is slated to be a display of the best men's volleyball in the nation.
Long Beach State coach Alan Knipe said it would be "incredibly beneficial" for the sport, as the No. 1 seed Rainbow Warriors (28-2) take on No. 2 seed Long Beach State (27-2) just south of Los Angeles, an American sports mecca. The match will take place at Long Beach's Walter Pyramid at 5 p.m Saturday.
It was a "perfect storm," Knipe said, that kept Hawaii and Long Beach State from clashing until April. The teams played three five-set matches in nine days. Long Beach State won twice, but Hawaii won in the finals of the Big West tournament to earn the No. 1 seed.
"They're probably one of the best teams in the history of men's college volleyball," Hawaii coach Charlie Wade said of the 49ers.
All but one of Long Beach State's regular starters are seniors. Two are members of the U.S. national team — TJ DeFalco and Kyle Ensing. A few more have junior national team experience. DeFalco and Ensing each has recorded nearly 350 kills and more than 50 aces this season.
Wade lauded Long Beach State as a large, physical team, but Hawaii holds the advantage in size. Three of Hawaii's six regular starters are 6 feet 8 or taller, compared to one Long Beach State starter. Knipe added that Hawaii's power, standout players and passing set the team apart.
"When you start stacking those things up," Knipe said, "you're gonna have a good team."
Both teams average more than eight digs per set, and both hit better than .400. In the NCAA semifinals, Long Beach State flashed powerful kills and blocks against Pepperdine that garnered standing ovations from the home crowd. Hawaii paired its strength with deception, using fake spikes and trick plays to expose Lewis University.
"When both teams are playing well," Knipe said. "I think it's some very exciting volleyball."
Wade under investigation
A week before the tournament, the Southern California News Group reported that Wade has continued to coach Hawaii while being suspended from coaching by the U.S. Center for SafeSport during a sexual misconduct investigation. SafeSport investigates allegations for the U.S. Olympic Committee and cannot enforce coaching suspensions at the college level.
Wade's alleged misconduct was against a female player he coached in club and college volleyball 30 years ago, when he was a club volleyball coach in Southern California. A statement from the Hawaii athletic department said it takes misconduct allegations seriously and that Wade "strongly denies that any type of misconduct took place."
When a reporter asked about the allegation Wednesday, Wade declined to discuss it. "Yeah," Wade said, "we're just going to talk about volleyball this week."
Sign up for our daily sports newsletter »
The Southern California News Group also reported that Long Beach State assistant coach Scott Touzinsky had been investigated by SafeSport for potential sexual misconduct since the fall of 2018.
Touzinsky resigned before the NCAA tournament.
---