The best seats at the Masters can be yours — until the owner wants them back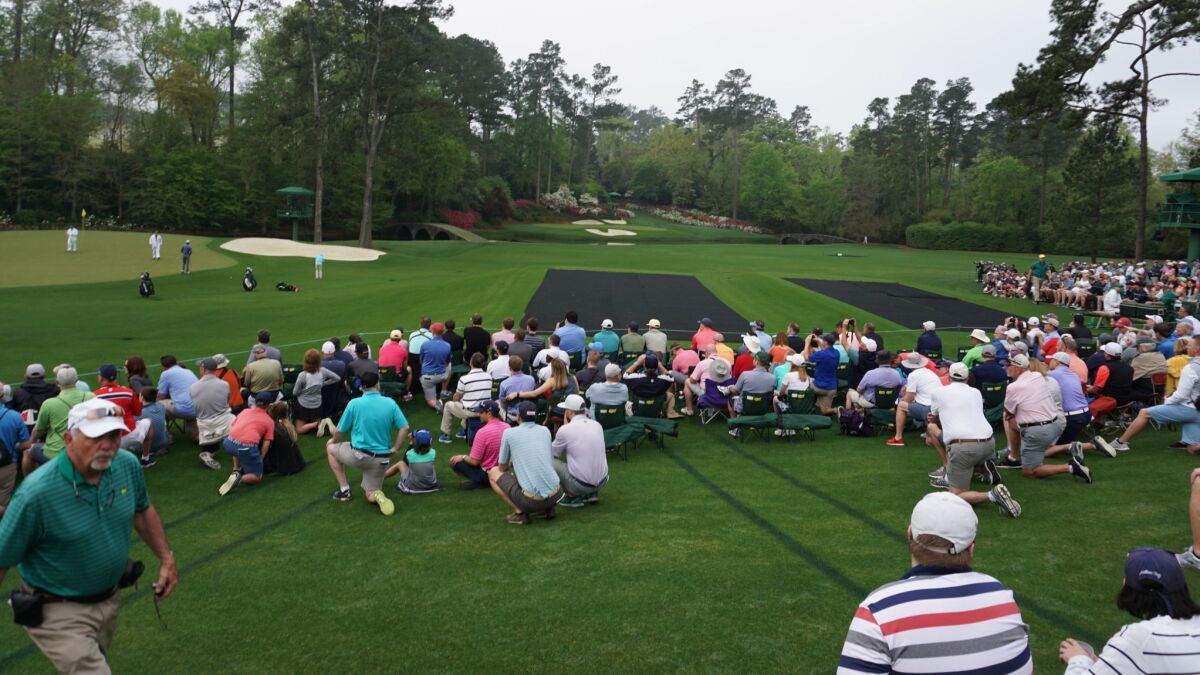 Reporting from augusta, ga. —
The green folding chairs are arranged like church pews at Augusta National, prime seating for a golf tournament that has been compared to a religious experience.
They overlook Amen Corner, reach up the side hill and behind the green on No. 16, are in neat rows above the No. 7 green. Hundreds more are set in random spots all over the course, along the rope line, amid the blooming azaleas and towering Georgia pines.
The simple chairs belong to everyone and no one. The Masters tradition allows that anyone can sit in any chair, unless and until the owner asks to sit there.
"We usually sit in other people's chairs; it's a free-for-all," said Rob Koon, a retired Air Force officer from Salt Lake City attending his fifth consecutive Masters. "But when they show up, you get up and give them their chair back. It's never a problem."
Tournament rules allow a spectator, referred to here as a patron, to bring only one chair onto the grounds. Seats in observation stands are not to be reserved, and personal chairs are not to be unattended for any inordinate length of time.
The chairs are not left overnight, so patrons arrive early to take positions for when the gates open at 8 a.m., so they can make a beeline for their desired spot on the course. There's no running allowed, so it's like the power walking of the bulls.
If there's running, it's through the wooded and hidden areas away from the watchful eyes of tournament officials.
"About five years ago, I put a pretty good clip on and I got exactly where I wanted to be," said Rebecca Bradley of Dallas, a former LPGA pro who now plays in senior events. She plunked her chair in the second row at the No. 14 tee box. It's an ideal spot because of the action and the afternoon shade.
"You've got to know where the crosswalks are to get here fast, know if you want to go downhill or uphill first," she said. "I know where to go."
The rows look orderly because almost everyone uses an official, green Masters chair. But that's not mandatory, as long as the chairs are armless so they don't consume a lot of space. Banned are chairs with armrests, pointed ends, or ones that don't fold. There's no standing in the seating areas.
The chairs are $30 at the tournament — about a third of the secondary-market price online — and are emblazoned with a Masters logo and tournament year. There's a small plastic sleeve on the back for a business card, although some owners scrawl their names on by hand. Some people tie a brightly colored ribbon around their chairs so they can be found in a sea of sameness.
"You do find people who, maybe it's their first time or whatever, but they'll write their names on the back of the chair on a card, they'll go away, then they'll spend 10 minutes looking for their chair," Koon said. "It's like losing your car in airport parking."
From time to time, chairs go missing, but that doesn't mean anything nefarious took place. "Somebody accidentally took my chair," Bradley said. "They saw my card in the back, and they happened to go back to Dallas. I get a phone call, and we met at a Waffle House and they brought me my chair back."
Bradley typically brings along a pair of green binoculars, which she sets in her chair. "I'll leave these and nobody will take them," she said. "They may use them and put them back. Only here can you do that. There's not another tournament like this."
Rory McIlroy, of Northern Ireland, hits from the third tee during the first round for the Masters golf tournament in Augusta.
(David J. Phillip / Associated Press)
Tiger Woods hits his tee shot on the second hole during the first round for the Masters golf tournament in Augusta.
(ERIK S LESSER / EPA / Shutterstock)
Charl Schwartzel of South Africa plays his shot from the second tee during the first round for the Masters golf tournament in Augusta.
(Mike Ehrmann / Getty Images)
Branden Grace of South Africa plays a shot on the first hole during the first round for the Masters golf tournament in Augusta.
(Kevin C. Cox / Getty Images)
Sergio Garcia of Spain plays a shot from a bunker on the second hole during the first round for the Masters golf tournament in Augusta.
(Andrew Redington / Getty Images)
Adam Long reacts with caddie Matt Olson after making a putt on the third hole during the first round for the Masters golf tournament in Augusta.
(Matt Slocum / Associated Press)
Patrons walk near a sign post on the second hole during the first round for the Masters golf tournament in Augusta.
(ERIK S LESSER / EPA / Shutterstock)
New chairs aren't a status symbol; but old, threadbare ones are. They signify the owner has been to multiple Masters. A lot of seating areas have chairs from the 1997 Masters, for instance, when Tiger Woods won his first of four green jackets. Those chairs are a slightly different shade of green, and have less canvas in the sitting area. They might not be as comfortable, but they're coveted thrones.
"These are some of the most respected, respectful people that you'll ever play in front of …" Woods said. "You see the same people; for me, I've been here 22 years, and you see the same people on 16, same people on 18, same people on the No. 1 tee. It's fantastic to see, and they have all their badges from 50 years of being at the Masters."
Sign up for our daily sports newsletter »
Some people sit in the same chairs, in the same spot, year after year. They can tell you everything that has happened at a certain place on the course, but might not have ventured far from that location.
They are dedicated and sophisticated golf fans, Woods said.
"It's not like most tour events, if you get the ball in the air it's like, 'You're the man!' " he said with a laugh. "We do have our names on the golf bag, so we're able to get the ball in the air. But this is different."
The cordial seating tradition is part of that.
"It's the ultimate etiquette place," said Greg Bonifield of Charleston, S.C., at his sixth Masters and with his chair positioned near the 16th tee. "It's the way we should be acting all the time."
Follow Sam Farmer on Twitter @LATimesfarmer
---
Get our high school sports newsletter
Prep Rally is devoted to the SoCal high school sports experience, bringing you scores, stories and a behind-the-scenes look at what makes prep sports so popular.
You may occasionally receive promotional content from the Los Angeles Times.