Column: Mikey Garcia faces harsh truth in welterweight division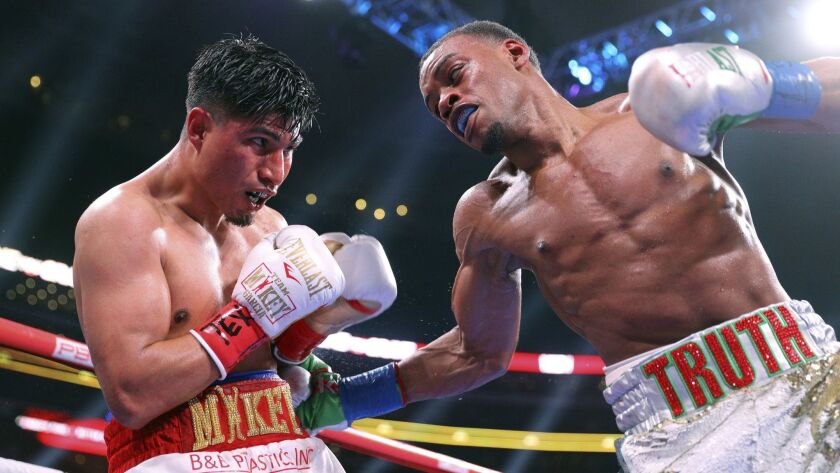 Reporting from arlington, texas —
Mikey Garcia made a captivating protagonist.
He is the son Mexican field workers, the younger brother of a world champion, the adventurer who risked his perfect record to take on a considerably larger opponent.
What a great movie.
Only this wasn't a movie.
In the real world, attempts to do the unimaginable typically end the way Garcia's challenge of welterweight champion Errol Spence Jr. did Saturday night, with broken dreams and a face covered in red welts.
Unlike the cinematic version of the sport, actual boxing is unsentimental and unsparing. Boxing didn't care about Garcia's back story, courage or ambition, as the laws of physics were imposed on the Oxnard-born fighter in the form of Spence's continuous stream of sledgehammer punches.
There was no Sylvester Stallone in AT&T Stadium, no "Rocky" theme music, as Garcia dropped every round on every scorecard in the first defeat of his career. The final verdict was a unanimous decision for Spence by scores of 120-107 and 120-108 (twice).
Spence was simply too big.
"He's the truth," Garcia said of Spence.
Garcia, the 31-year-old world lightweight champion, is arguably the most technically sound and intelligent fighter in any weight class. But that know-how wasn't enough to overcome superior strength and length of a power-punching southpaw two weight divisions up.
Garcia connected on only 18.5% of the total punches he threw over the 12 brutal rounds, according to the CompuBox punch-tracking system. He was outlanded 345-75.
"He came out here with a good game plan and kept the distance at his favor," Garcia said. "I couldn't get my rhythm going and he did what he had to do. I tried to make adjustments and he kept executing."
Spence controlled the majority of the fight with his thunderous jab, which he landed 108 times. But he engaged Garcia in shoulder-to-shoulder combat over the last handful of rounds, ripping his smaller opponent with devastating combinations to the body and head.
Garcia's brother-trainer, Robert Garcia, wanted to stop the fight in the later rounds.
"He didn't want to let me get hit more, but I told him I was fine and I tried to go out there and pull it off," Garcia said.
The decision is one he could one day look back and regret.
Beatings like the one Garcia soaked up are the kinds of beatings that changed careers. Former champion Manny Pacquiao, who watched the proceedings from ringside with an eye toward a future showdown with the winner, knows something about that. He defeated the larger Antonio Margarito in this very building in 2010, but he received punishment
that forever diminished him.
Garcia also resculpted his body to move up from the 135-pound lightweight division to the 147-pound welterweight division. He might not be able to fight again at 135 pounds, which is where he is best.
Spence's primary weapon in the early round was his jab, which he sometimes threw in succession two or three times, then followed up with a sweeping left.
Spence started to loosen up in the third round, allowing him to land power shots with increased frequency. Garcia had trouble closing the distance and the couple of desperate leaping left hooks he threw were a couple of inches short of their intended targets.
Spence flicked his jab in the first three rounds but started to deliver the punch with greater force in the fourth round. He mixed up his punches well, occasionally leading with his left hand and following up with his right.
Garcia's well-being started to become a serious concern in the sixth round. Spence backed Garcia against the ropes and started to rip him with combinations to the body. Some thudding punches landed upstairs.
If Garcia was anything, he was resilient. He bravely marched forward, only to continue eating a steady stream of jabs.
Spence went on the offensive in the last four rounds, as he looked to finish the fight. Even on the inside, he was too strong for Garcia, who prepared for this fight by spending five weeks in the San Francisco Bay Area facility of former BALCO mastermind Victor Conte.
Garcia reached the final bell, of which he said he was proud.
The dream ending proved to be exactly that — a dream.
Reality was sobering.
Sign up for our daily sports newsletter »
Follow Dylan Hernandez on Twitter @dylanohernandez
---
Get the latest on L.A.'s teams in the daily Sports Report newsletter.
You may occasionally receive promotional content from the Los Angeles Times.