Rough freshman year at Cal helped mold new Rams quarterback Jared Goff
It wasn't the determining factor in their decision to select Jared Goff with the first pick of the NFL draft, but the Rams did like the way Goff, who started for three years at California, helped the Bears improve from 1-11 in 2013, to 5-7 in 2014 to 8-5 last season, with a victory over Air Force in the Armed Forces Bowl.
"He became the face of Cal as a freshman and went 1-11," Rams General Manager Les Snead said. "Then you saw a progression in his play, and the play of others, the team, and it consummated with a bowl-game win.
"Being able to go through 1-11 and bounce back and put the thing on his back … it's similar to what you have to go through in the NFL, though we're not planning on going 1-11."
Goff completed 60.3% of his passes for 3,508 yards, 18 touchdowns and 10 interceptions as a freshman. His touchdown-interception ratio improved dramatically as a sophomore, when he completed 62.1% of his passes for 3,973 yards, 35 touchdowns and seven interceptions.
Goff passed for 4,719 yards with 43 touchdowns and a 64.5% completion rate as a junior in 2015, including 467 yards and six touchdown passes in the bowl-game win.
Goff has enough arm strength to complete deep balls down the sideline and the touch and accuracy to complete short- and medium-range passes with efficiency. And he showed toughness and excellent mobility as a freshman at Cal, when he played behind an overmatched offensive line.
"It's definitely something I carry with me forever," Goff said of that 1-11 freshman season at Cal. "I gained a lot of character that year and a lot of maturity and resilience. It's something that's going to help me along the way."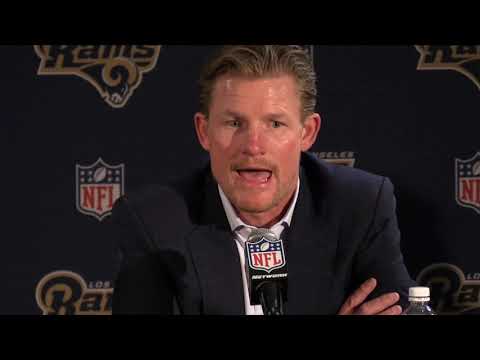 Rams Coach Jeff Fisher and General Manager Les Snead meet with the media after selecting California quarterback Jared Goff with the No. 1 pick in the NFL draft.