California's Jared Goff considered the favorite to be selected No. 1 overall by Rams at Thursday's NFL draft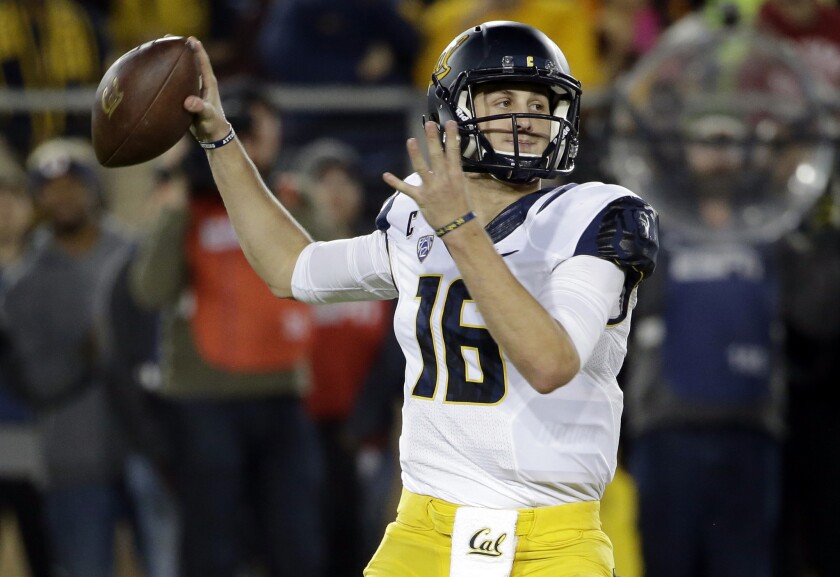 Reporting From CHICAGO —
Jared Goff tossed a few short passes and then made longer arcing throws to boys and girls. Carson Wentz took charge of another drill, handing off footballs and demonstrating running techniques.
On Wednesday, the quarterbacks expected to be the first two players picked in the NFL draft appeared relaxed while participating in a youth fitness clinic.
They said they would try to remain that way Thursday night before Commissioner Roger Goodell announces who the Rams selected with the No. 1 pick.
Goff is regarded as the favorite to be chosen by a Rams organization that dramatically traded up to the top of the draft to get a quarterback, preferably one who could help immediately. The scenario gained traction when the Philadelphia Eagles, with Sam Bradford and Chase Daniel in the fold, traded up for the No. 2 pick, ostensibly for a quarterback who could develop for at least a year.
Rams Coach Jeff Fisher and General Manager Les Snead were coy when quizzed about their impending choice.
"We're probably going to take an offensive player," Fisher said jokingly during a news conference Tuesday.
Said Snead: "I think you're on the right track."
Goff, a three-year starter from California, said Wednesday that he did not know which team would draft him.
As for going No. 1 …
"It would be awesome," he said. "It would be an honor. ... Something I'd take and really own and make them proud that they made the right decision."
Wentz, who starred at North Dakota State, and Goff share the same agents and worked out together in Irvine during the run-up to the NFL scouting combine.
Both said they were friendly competitors and were aware that they would be linked throughout their careers.
"We've talked through some things at times," Wentz said.
"We'd watch the mock drafts together and kind of laugh at it," Goff said.
Both said they would welcome the opportunity to join a Rams team that will be playing in Southern California for the first time in more than two decades.
"It's a great place," Goff, who grew up in Novato in Northern California, said of Los Angeles. "A city I think that's been waiting for a professional football team for a long time now, and I think the fan base is still there and it would be a great situation."
Wentz, from Bismarck, N.D., said the Rams were like "a new franchise" after moving from St. Louis and that it would be exciting to play in Los Angeles.
Both said they also would welcome a chance to play in Philadelphia. The Eagles' trade with the Cleveland Browns appeared to ensure that Goff and Wentz would be the first two players picked, regardless of order.
"We texted right when it happened," Goff said. "It was kind of like. 'Congratulations to both of us.' We kind of know we're going to be at one of those two spots. It was exciting."
Fisher said there was no timetable for when the No. 1 pick would play.
"We'll play him when he's ready," he said.
Former St. Louis Rams quarterback Kurt Warner, a two-time league MVP, said Goff was the quarterback most ready to step in and play in the NFL.
"What jumps out to me is what he does inside the confines of a pocket," said Warner, a NFL Network analyst. "His quick movement and what I call 'quarterback quickness.' ... That's the ability to move within about a one-yard area," to avoid a defensive player and deliver the ball.
In their trade with the Tennessee Titans, the Rams gave up the No. 15 pick in this year's draft as well as two second-round picks, a third-round pick and first- and third-round picks next year. They also received the Titans' fourth- and sixth-round picks this year.
After selecting Goff or Wentz on Thursday, the Rams will not have another pick until Saturday's fourth round, the 110th pick. They also have the 113th pick and two sixth-round picks.
"There will probably be a clump of players we'll have to fish through, and figure out which one is a best fit for us," Snead said of players who might be available when the Rams make their second pick. "The main goal is to never reach, to never pass on someone who is really, really good just because you have a need at a position."
The Rams could acquire additional picks by making trades before or during the draft.
Their roster includes quarterbacks Case Keenum, Nick Foles and Sean Mannion. After the deal with the Titans, Snead said that the Rams would consider trading a quarterback for draft picks.
Asked this week if trade talks had taken place, and if he expected them to pick up during the draft, Snead said, "We'll keep those conversations in house."
"There are QBs available in the draft," he said. "Once those guys come off the board and teams figure out their situations, there may be calls."
Twitter: @latimesklein
Times staff writer Sam Farmer contributed to this report.
---
Get our high school sports newsletter
Prep Rally is devoted to the SoCal high school sports experience, bringing you scores, stories and a behind-the-scenes look at what makes prep sports so popular.
You may occasionally receive promotional content from the Los Angeles Times.