On the NFL Draft: Myles Jack tackles questions about his knee on eve of the draft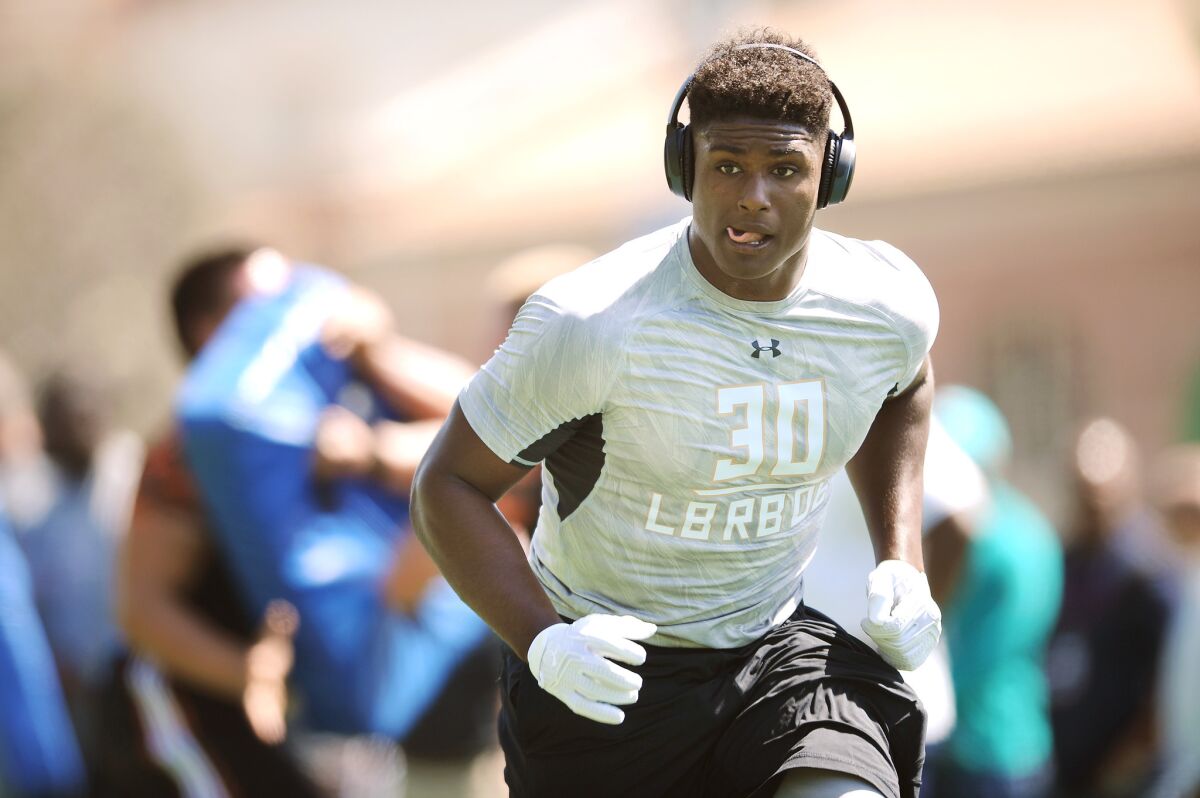 Reporting From CHICAGO —
This was supposed to be the golden hour for Myles Jack, the culmination of an exceptional career at UCLA both as a linebacker and an occasional running back. Here he would be, on the eve of the NFL draft, contemplating his sure slot among the top five picks.
But the situation hasn't unfolded quite so neatly for Jack, whose 2015 season — and his college career — came to an abrupt end in October when he suffered torn meniscus in his right knee at practice. He subsequently left school to focus on rehabilitating from the injury.
He has worked his way back, and conceivably could be selected in the top five, but could just as easily tumble out of the top 10 as rumblings about the sturdiness of his surgically repaired knee persist. Some of that could be the typical cycle, when evaluators look for any reason to punch holes in a prospect — build them up, then tear them down. Unquestionably, though, there's an element of real concern.
"If everything I've heard about his knee is true, I don't think there's a team in the top 10 who can take Jack," said Mike Mayock, draft analyst for NFL Network.
Jack reportedly has lingering cartilage damage that could require micro-fracture surgery, which sometimes ends careers but not always. He said Wednesday that doctors have told him he is not currently a candidate for surgery, but he conceded that's not out of the question in years to come.
"Down the line, possibly. Potentially. Nobody knows," Jack said. "But as of right now, I'm not a candidate for anything. Nobody knows how long anybody's going to play in this league. To play three years in this league, that's above average, so…"
If a team spends a top pick on a player, it's certainly going to want more than three years. Jack is ready to prove he's worth any such investment.
He said the skepticism "definitely adds that motivation of, OK, when I show everybody I'm fine, I want those people to eat their words."
The draft's first round takes place Thursday night at Auditorium Theatre in Chicago, and Jack will be among the 25 of the top prospects attending the event. The group was squired around the city Wednesday in luxury buses, stopping to pose for photos at various landmarks. The players spent an hour at an NFL "Play 60" event at Millennium Park, tossing footballs to local kids and putting them through various drills.
Afterward, the players talked to reporters, with large crowds forming around quarterbacks Jared Goff and Carson Wentz, expected to be the first and second picks, respectively.
Jack spoke to a smaller cluster, and most of the questions he answered were about the health of his knee. He joked that it seems like everyone is a medical expert these days.
"I don't know if maybe people want me to fall," he said. "I don't know what other people's motives are. Last week, I was playing basketball with my little brother. My knee is fine. I did all my workouts. I did my pro day.
"At the rechecks [in Indianapolis last month], the doctor said everything is fine, then articles have been coming out. So I don't know if it was the lead-up to the draft or whatever. You saw me playing around with the kids. I don't have anything like a gimp or anything."
Jack is a wild card in this draft class. There are rumblings he could be taken fifth by Jacksonville, although the Jaguars are said to be concerned about his medical status; sixth by Baltimore, where he could play alongside linebacker C.J. Mosley, the Ravens' top pick in 2014; or 10th by the New York Giants, although they haven't talked to him since the scouting combine in February.
(Just because a player doesn't have a private workout for a team doesn't mean he isn't headed there. For instance, the Rams didn't individually work out running back Todd Gurley, yet selected him 10th last year.)
An intriguing possibility for Jack could be the Oakland Raiders, who privately worked him out last week. He got a call from the Raiders when he was heading from Phoenix, where he has been training, to Atlanta, where he had planned to see his family. He happily made a detour back to UCLA to spend 21/2 hours working out and answering questions for a Raiders contingent that included General Manager Reggie McKenzie and the team's trainers. Oakland picks 14th.
"For them to call me like that and say, 'Hey, we want to work you out,' it was a no-brainer for me," he told the Times. "I was about to get on a flight to go to my family, but when they called I was like, 'If Raider Nation wants me to be a part of that, with that defense they're building, I would love to be a part of that.'
"With all the rumors and speculation, they really wanted to see what my knee was about. I passed it. I went through everything. They checked my knee for swelling and there was nothing. They put me through the gantlet and I did it."
If Jack were to wind up in Oakland, few people would be better versed in all aspects of that pairing than former NFL running back Maurice Jones-Drew. Like Jack, he was a standout at UCLA. Jones-Drew spent the bulk of his career playing in Jacksonville for Jack Del Rio, now coach of the Raiders, and finished his career in Oakland.
"If he falls to the Raiders, I'm going to have to change my pick to the Raiders winning the AFC West," said Jones-Drew, now an NFL Network analyst. "That's what they're missing is a linebacker who can cover tight ends. If the Raiders get a chance to get him, I know Jack [Del Rio] will pull the trigger, no question."
As for Jack, he's trying to tune out the noise about his knee and ready to set foot on his proving ground.
"This is what I worked my whole life for," he said. "All the media stuff, I let my family worry about that stuff. Me, I'm just living in the moment. Thursday is going to be the beginning of a new chapter."
Twitter: @LATimesfarmer
---
Get our high school sports newsletter
Prep Rally is devoted to the SoCal high school sports experience, bringing you scores, stories and a behind-the-scenes look at what makes prep sports so popular.
You may occasionally receive promotional content from the Los Angeles Times.