When it comes to attracting pro sports, Las Vegas isn't much of a gamble anymore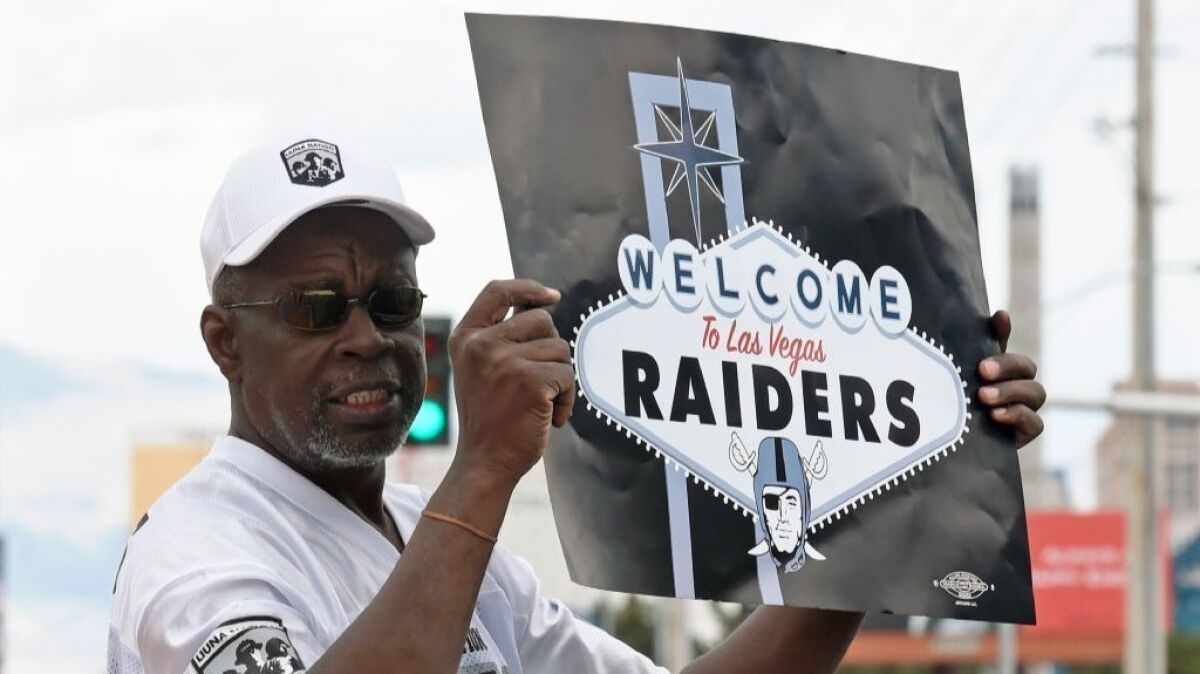 Reporting from Las Vegas —
When the idea of the NHL coming was still a punchline to jokes about ice existing here only in drinks, an exploratory ticket drive for a possible team rang up 9,000 season-ticket deposits in a month.
Last September, three months after the NHL granted its 31st franchise to a group led by businessman Bill Foley, the new Las Vegas team decided to cap season tickets at 16,000 to leave some seats for single-game purchases at glitzy T-Mobile Arena.
The NBA Summer League, a sleepy, six-team event in its 2004 debut here, drew 24 teams to Thomas & Mack Center and Cox Pavilion this month and set single-game, tournament and championship-game attendance records.
Thousands of fans waited outside in triple-digit heat to get a glimpse of future stars while a who's who of marquee players sat courtside. Among them was LeBron James, apparently as intrigued as everyone else by dynamic Lakers rookie Lonzo Ball.
A few miles from those crowds, a vacant lot awaited construction of a domed stadium that will house the NFL's Oakland Raiders and Nevada Las Vegas' football team by 2020.
Once viewed with caution because of its ties to gambling, Las Vegas is becoming a mecca for professional sports leagues and organizations to set up shop. The traditional local menu of college basketball and boxing is expanding rapidly, and this week the City Council approved a lease agreement for a United Soccer League expansion team to play in 2018 at Cashman Field, home of the Triple-A Las Vegas 51s baseball team.
What happens in Vegas won't stay in Vegas anymore: It will have an impact around North America and beyond.
"Las Vegas has reinvented hotels, it has reinvented entertainment. It's reinvented restaurants, it's reinvented conventions, it's reinvented the nightclub industry, it's reinvented retail," said Ike Lawrence Epstein, senior executive vice president and chief operating officer of UFC. "I think the next thing Las Vegas is going to reinvent is sports."
First, it had to reinvent its image.
"Vegas historically has had a stigma attached to it vis-a-vis professional sports leagues. And I can't say for sure whether that stigma is entirely gone or whether it continues to exist in some measure," NHL Deputy Commissioner Bill Daly said. "We ultimately felt … that the cachet kind of outweighs the stigma. I think we view it as a growing, vibrant, fun city and that people are, I think, hungry for professional sports because they never really had a chance to experience it on a regular basis."
UFC recently opened its new headquarters in southwest Las Vegas, creating a dazzling Performance Institute for athletes and office space for executives. Its enormous red logo is visible from the 215 Beltway; its existence is something Epstein never could have envisioned as a kid.
"When I grew up here, Vegas was really just UNLV basketball and boxing. That's it. That's all we had," he said. "We didn't have the Yankees. We didn't have the Dodgers, these big brands in professional sports. So it's exciting to see what's happened over the last few years with the hockey team coming here, with UFC and boxing continuing to grow, and this being the center of the combat sports world."
Todd duBoef, president of Top Rank boxing promotions, also grew up here. He, too, marvels at the growth of sports options.
"When I was a kid, the UNLV Runnin' Rebels were the only thing we had that kind of legitimized us as a town … that even put us on the map," he said. "People always looked at Las Vegas as this Mafia-driven, rogue, gaming city. The name says rebels. There was a reason why. And we had a style that was so telegenic and the whole community got around that team and it became a lot of the identity of Las Vegas, of the people that lived there."
Soon they can say they live in an NFL city. The Raiders' arrival will be a watershed moment, putting Las Vegas on the national stage every week instead of just for prize fights or UFC events.
"The Raiders coming is sort of a game-changer," Epstein said. "Las Vegas is a global brand, and I know one of the reasons why the Golden Knights got an expansion franchise, why the Raiders got approved to come here, is because Las Vegas is an incredible platform to build brands. The NFL, the NHL, and I think the NBA ultimately, we've seen it's a tremendous platform to build your brand and expose it to a much larger audience than sports typically expose themselves to."
The NFL is a huge brand. It's very popular. It will bring more visibility to Las Vegas and I see opportunity within that.
— Kerry Bubolz, president of the NHL's Golden Knights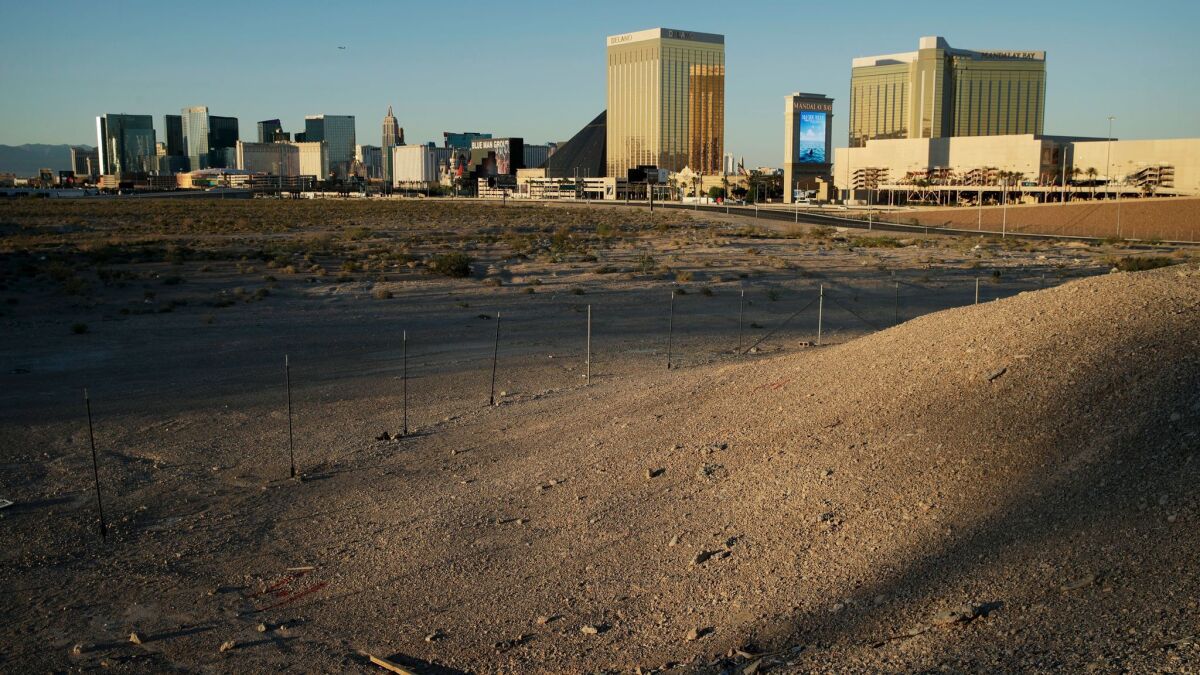 NFL Commissioner Roger Goodell shares that vision. "We're excited about Las Vegas because of the city that it is and the city that it has intentions to become," he said in March after owners approved the Raiders' move from Oakland.
Baseball Commissioner Rob Manfred recently said that if relocating an existing team were to be discussed, "Las Vegas would be on the list." Despite overall declining attendance and TV ratings for NASCAR events, Las Vegas Motor Speedway was awarded a second NASCAR Cup Series event in 2018 and will stage two tripleheader weekends.
And while NBA Deputy Commissioner Mark Tatum said his league has no plans to expand or move a team here, basketball is already a fixture. The NBA, which staged its 2007 All-Star Game at Thomas & Mack, held board of governors' and player development meetings during Summer League. USA Basketball has used Las Vegas as a base for pre-Olympic training and other events, and four college basketball conference tournaments were held there last spring.
"Las Vegas is a fantastic market," Tatum said. "It's a market that, given the success of our Summer League, people here are avid sports fans and there is a community that I have no doubt will support professional sports franchises here."
Professional Bull Riders, whose headquarters are in Colorado, has booked dates in Las Vegas for its annual world finals and Last Cowboy Standing events for decades to come, according to its chief executive officer, Sean Gleason. He said he expects the arrival of NHL and NFL teams to enhance the city's profile.
"There's some phenomenon about the increase in activity that helps lift all boats higher," he said. "The more activity, entertainment and opportunities you have, the better the opportunities are for the whole industry. I think people will start to make Las Vegas a destination to experience sporting events, whether it's the PBR, an NHL game or potentially a football game."
With a growing metro area population that's already a little more than 2 million, there's room for many sports to have a juicy slice of the market.
"The NFL is a huge brand. It's very popular. It will bring more visibility to Las Vegas and I see opportunity within that," Kerry Bubolz, president of the Golden Knights, said in an interview in his office in Summerlin, Nev. "That opportunity, for me, is the national brands, the corporate sponsors of the NFL, looking at this market and viewing it differently than maybe they would have viewed it before, as being just a small market that's only entertainment."
The number of visitors to Las Vegas reached a high of 42.9 million in 2016, according to the Las Vegas Convention and Visitors Authority. The number of conventions and meetings (21,864) and delegates (more than 6.3 million) also hit highs. McCarran International Airport, located minutes from the Strip, ranks among the 10 busiest airports in North America and top 30 in the world. There were nearly 150,000 hotel and motel rooms in Las Vegas in 2016, giving it the ability to host several massive conventions and events at once.
When the Golden Knights analyzed their ticket deposit data, they found more than 90% were for one to eight seats, indicating demand from individuals rather than corporations. About 85% were from Las Vegas area codes. The NHL is more gate-dependent than other leagues, so that was good news.
"It was very, very local, which we were excited about because that means the depth of your market is the people," Bubolz said. "It's not a company buying 500 seats. Those don't last."
Epstein said he views the Golden Knights and other new arrivals as partners. "Sports is supposed to be fun. It's entertainment," he said. "And what the Golden Knights are doing, and what all of us are doing, is becoming part of the sports entertainment landscape here in Las Vegas.
"People are going to come to Las Vegas to see Celine Dion. They're going to see Jennifer Lopez, Britney Spears. They're going to go see a concert. They're also going to go see the Golden Knights. They're going to come see a UFC fight. They're going to go see the Raiders. They're going to go see the NBA franchise that maybe comes here. And that's going to be people from around the world."
DuBoef, who played hockey at Trinity College, wonders how the local market will support the Golden Knights through more than 40 home dates a season, more dates than a college basketball team will have. "The NFL, on the other hand, is a whole different game. I think the NFL is dead-on and hits our target perfectly," he said. "I think it also created an initiative which we are in dire need of, which was a stadium. We did not have a stadium to do tentpole events outside the NFL.
"… On Sundays, Las Vegas freezes as everybody huddles around sports books, and our Super Bowl parties on Super Bowl [days] are better than the Super Bowl, at the hotels. I think it's an incredible gift to the community to be able to have that product here. I think it's going to do incredibly well. I think the locals are going to support it beyond anything they've supported in many years."
UFC executive Epstein would like to see Las Vegas become a global sports center and establish ties with local colleges and universities for research and sports-related curriculums, as happened in the transformation of Manchester, England. He has a vision of English Premier League soccer teams doing residencies in Las Vegas as they play friendly games across North America.
"There are great sports towns, but there's a debate: What's the best sports city?" he said. "Boston? New York? But nobody's talking about what is the global sports city because it doesn't exist right now. I think there's an opportunity for Las Vegas to be that place. I believe that Las Vegas can be the first truly global sports city and I think we're already more than halfway there."
Twitter: @helenenothelen
Get our high school sports newsletter
Prep Rally is devoted to the SoCal high school sports experience, bringing you scores, stories and a behind-the-scenes look at what makes prep sports so popular.
You may occasionally receive promotional content from the Los Angeles Times.