This artist mixes minimalism with sports fanaticism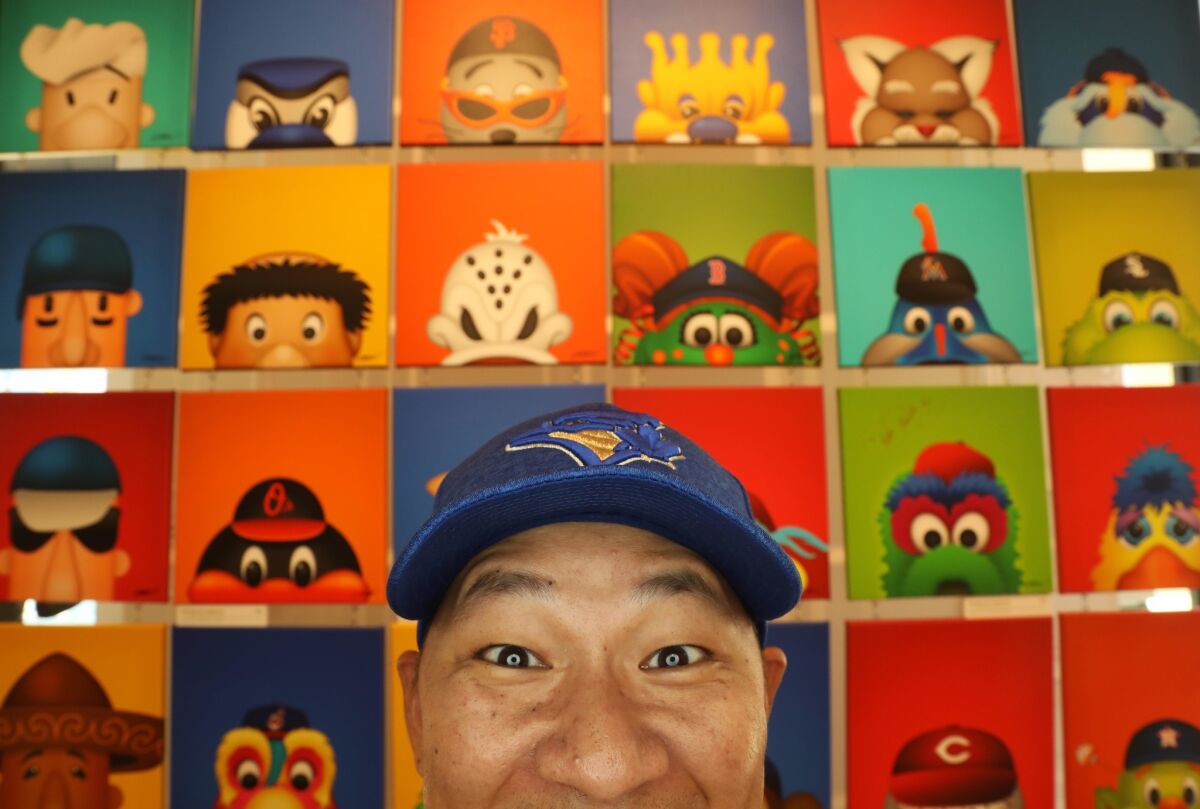 In every way, S. Preston keeps it simple.
The 45-year-old graphic artist and recreation league hockey player sports shorts, flip flops and a Toronto Blue Jays cap, sitting behind a drawing table outside his Anaheim GardenWalk gallery as he works his pencil and eraser over a Bristol sheet of paper.
Vacationers from nearby Disneyland, and others who have just been to VidCon at the Anaheim Convention Center, slow their pace, smile, and try to find the right words.
"This is …" starts one young visitor.
"So cool …" finishes a sibling.
S. Preston's own grin widens as he engages them in conversation. It takes some people a couple of extra moments to realize he's the one who created the images.
For a once-aspiring sports broadcaster from British Columbia, Canada, who never took art lessons, S. Preston has maximized appreciation for his growing portfolio of minimalistic sports art.
Ever since he started posting his work several years ago on his social media accounts — specifically the launch of a collection of 30 major league baseball stadiums that engaged customers into taking something of a modern-day Rorschach sports knowledge test — S. Preston caught the artistic eye of the decision-makers among the sports he re-creates.
In 2014, Major League Baseball called. Instead of a cease-and-desist order, they fast-tracked a licensing agreement to sell his work on their website as well as in some ballparks. With that came an exclusive invitation to appear at the Art of the Game exhibition for the last few MLB All-Star games.
For this year's game in Washington, he produced two illustrations that served as the official artwork for exhibition. One showed Abraham Lincoln wearing eye black atop the Lincoln Memorial; the other was of a cherry blossom branch that magically formed the seams on a baseball.
In 2016, curators from the Baseball Hall of Fame in Cooperstown, N.Y. asked S. Preston to donate his original stadium drawings for its archives, validating that they considered it to be culturally important for the game's history.
"Before, I was just doing this for fun," says S. Preston, who over the last three years also has made agreements with the NHL and the MLB Players Assn. "The minute I got into the Hall of Fame was when my mind-set changed. Now there's a legacy that matters."
The minute I got into the Hall of Fame was when my mind-set changed. Now there's a legacy that matters."

— S. Preston
It may seem odd for a minimalist to think bigger, but he has since launched a popular series on MLB mascots, with slivers of their identities to entice recognition. A baseball movie-themed collection grabs a specific element of "Bull Durham," "Moneyball," "Field of Dreams," "A League of Their Own" and "The Sandlot" to make for another mind-jogging moment.
Add to that a popular Ballpark Princess series he created to marry the idea of a Disney royalty — i.e. Belle, Ariel, or Snow White — sporting an MLB uniform or even a Mike Trout foam hat. While reaching a new demographic of young art lover, and bonding fathers with daughters, S. Preston will also alert people over his Twitter account that he is in attendance at a ballgame. And if they find him, they can have a personalized drawing of a Ballpark Princess he created on the spot.
"To me, the cool part about this art is that it's what I call 'non-man-cavy,'" says S. Preston, otherwise known as Mike Chuhon, who adopted the name of a character in "Bill & Ted's Excellent Adventure" movie franchise and uses it as a way to brand himself professionally.
"More than 50% of my customers are women. The secret sauce here is if you can get a piece of sports art where the wife will say, 'Yeah, you can put that in the living room,' the husband will buy it 100% of the time."
Another secret to the visual ballpark puzzle has to do as much with geometry as anything else.
First, S. Preston pays attention to iconic elements — even if he has never visited that particular stadium. Some of it, he says, he can pick up from research. His experience playing the "MLB The Show" video game also helps.
Next is a free-hand drawing to work out the logistics. The rest happens with mouse clicks onto a computer screen using Illustrator and Photoshop at his work space, incorporated into his gallery.
A math whiz back to his high school days, S. Preston adheres to the "Rule of Thirds" in his composition, often referred to as the "perfect ratio" for those who take a photography class. Space is divided into thirds, vertically and horizontally, and key elements are placed along those lines.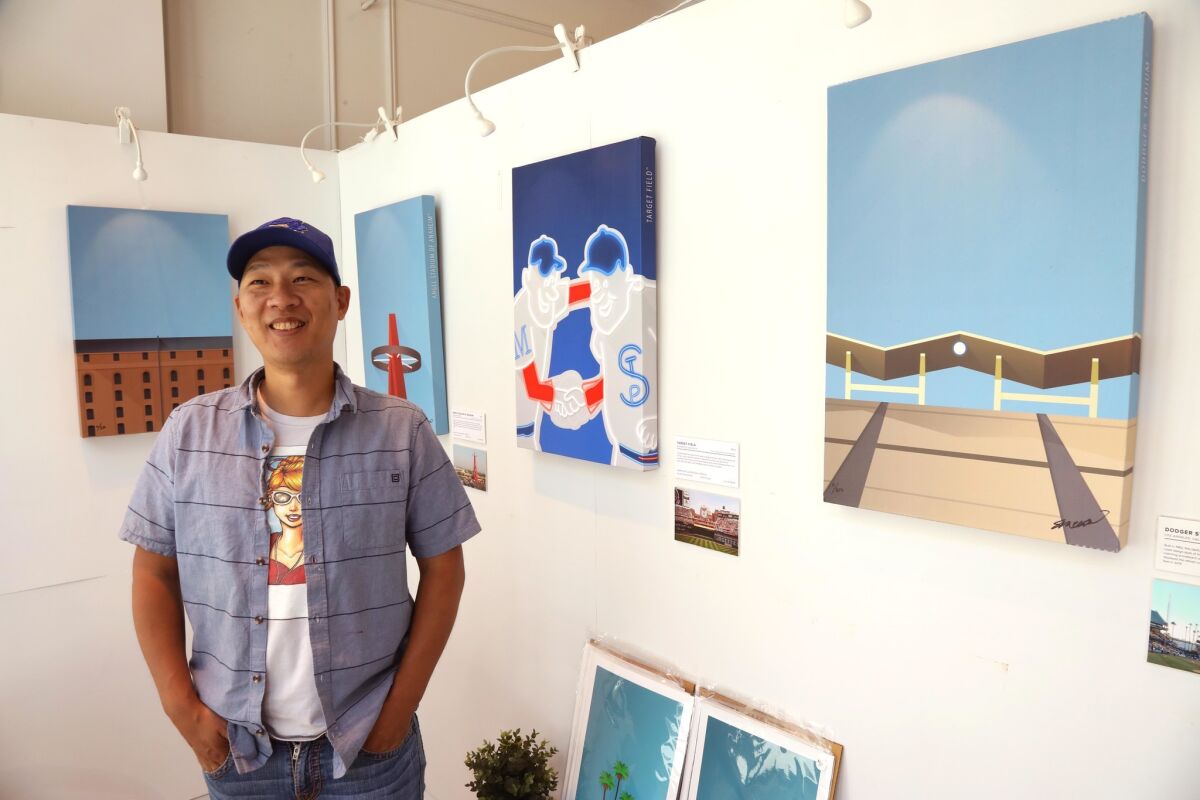 There's a reason the eye is drawn to the zig-zag roofline of the Dodger Stadium pavilion, or the rock formation of Angel Stadium, even with so much blue sky in the backdrop.
"There's a lot of symmetrical-ness with all the left-brain, right-brain things happening," he says. "It's creativity and calculation. It's using the numbers and shapes and percentages and aesthetics, and pulling it all together into art that's full of clean lines and bright colors."
Simplicity wins, layer by layer.
"I love to think that even though this is minimalism, there are multiple levels of this art that digs down," S. Preston says. "There's the guessing game of what you're seeing, which is the simplest of things. Then there's: 'Where's my ballpark?' And you find it. Wow, that means something.
"And then stories start coming out about you and the experiences you've had at that ballpark. I can watch people expose themselves deeper and deeper as fans."
His most loyal of customers get it. Especially those with a special spot in their heart for Disney art.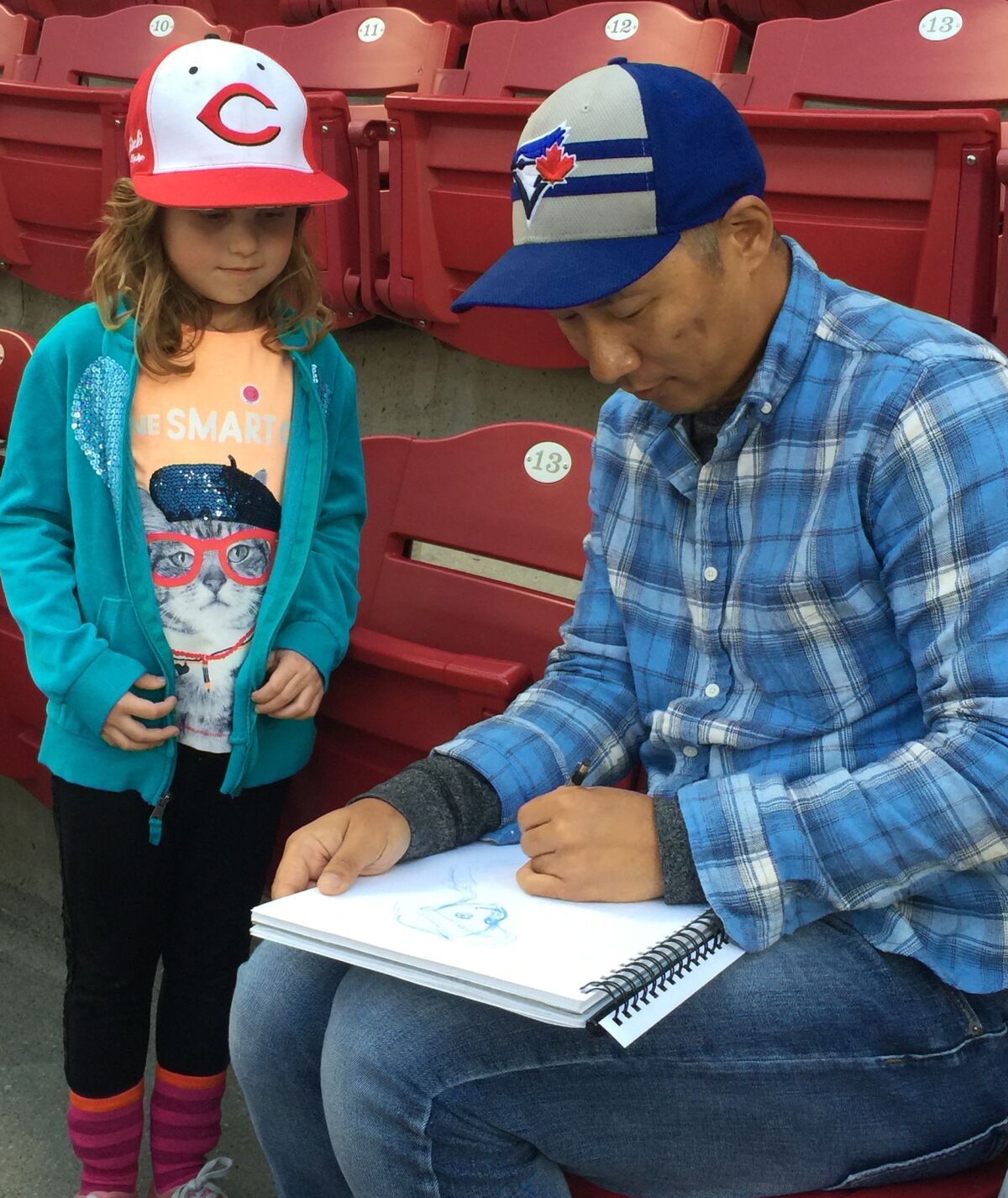 "When we're living in this chaotic time, where every movie feels like it has a million cuts and edits, and video games are so fast and crazy, for him to strip all that down, find the beauty in the idiosyncrasies, I think it captures the baseball milieu," says Muneesh Jain, a former ESPN producer who hosts the baseball podcast Rounding Third.
Jain, who has printed his own calendar of stadium art from personal photographs, is about to produce a book about his recent trip visiting all 30 MLB parks in 95 days as a way to reconnect to society. He feels the work of Preston has helped him accomplish this project.
"For one artist to perfectly capture every stadium, it inspires me to go further in my work," Jain says. "I think he will define this generation of baseball artwork."
Ron Wade, a former Detroit Tigers marketing director, says looking at the old Tiger Stadium depiction "reminds me of what was once my summer home. Even if you're not a baseball fan, these are kind of avant garde pieces that pass the test."
For one artist to perfectly capture every stadium, it inspires me to go further in my work. I think he will define this generation of baseball artwork."

— Muneesh Jain, host of the baseball podcast Rounding Third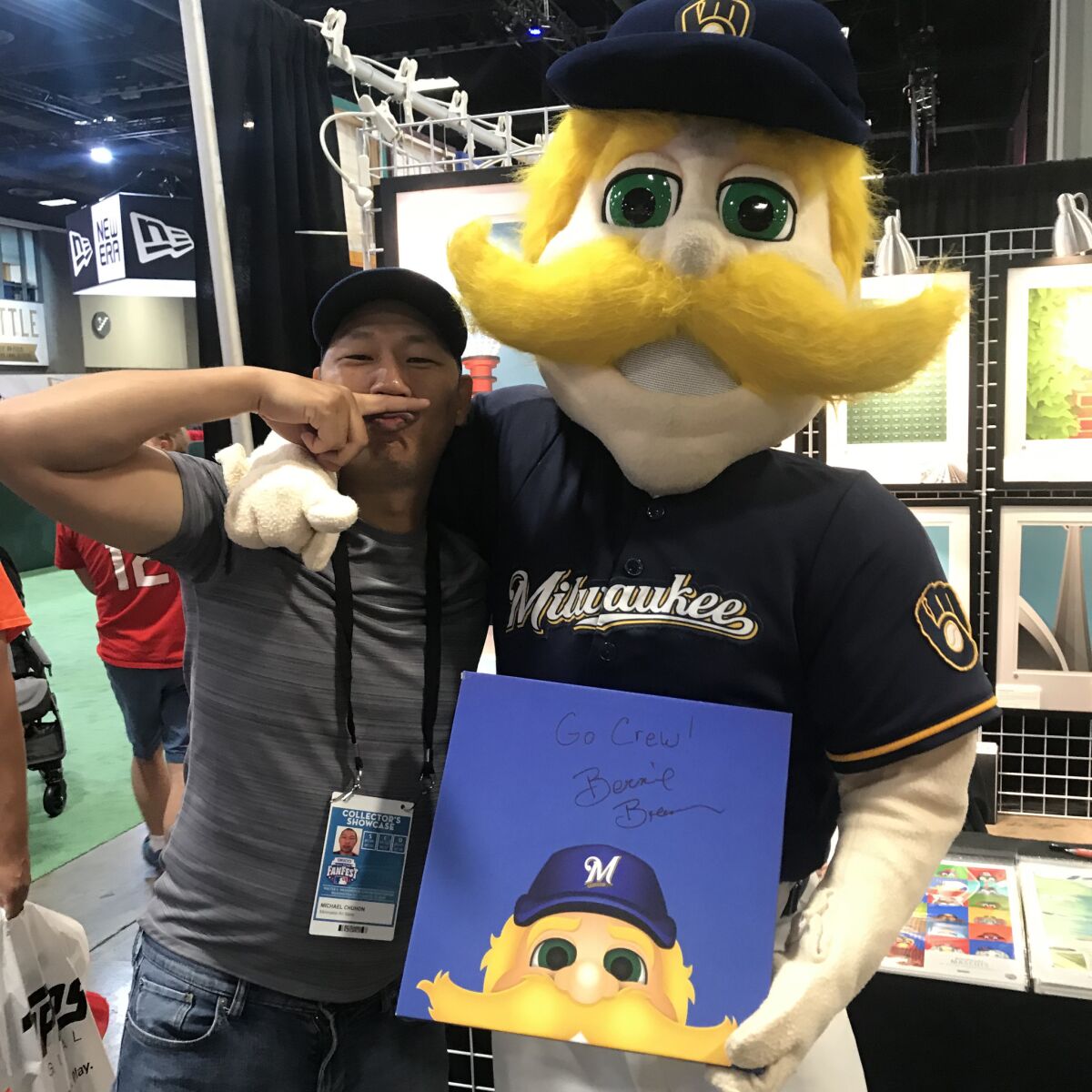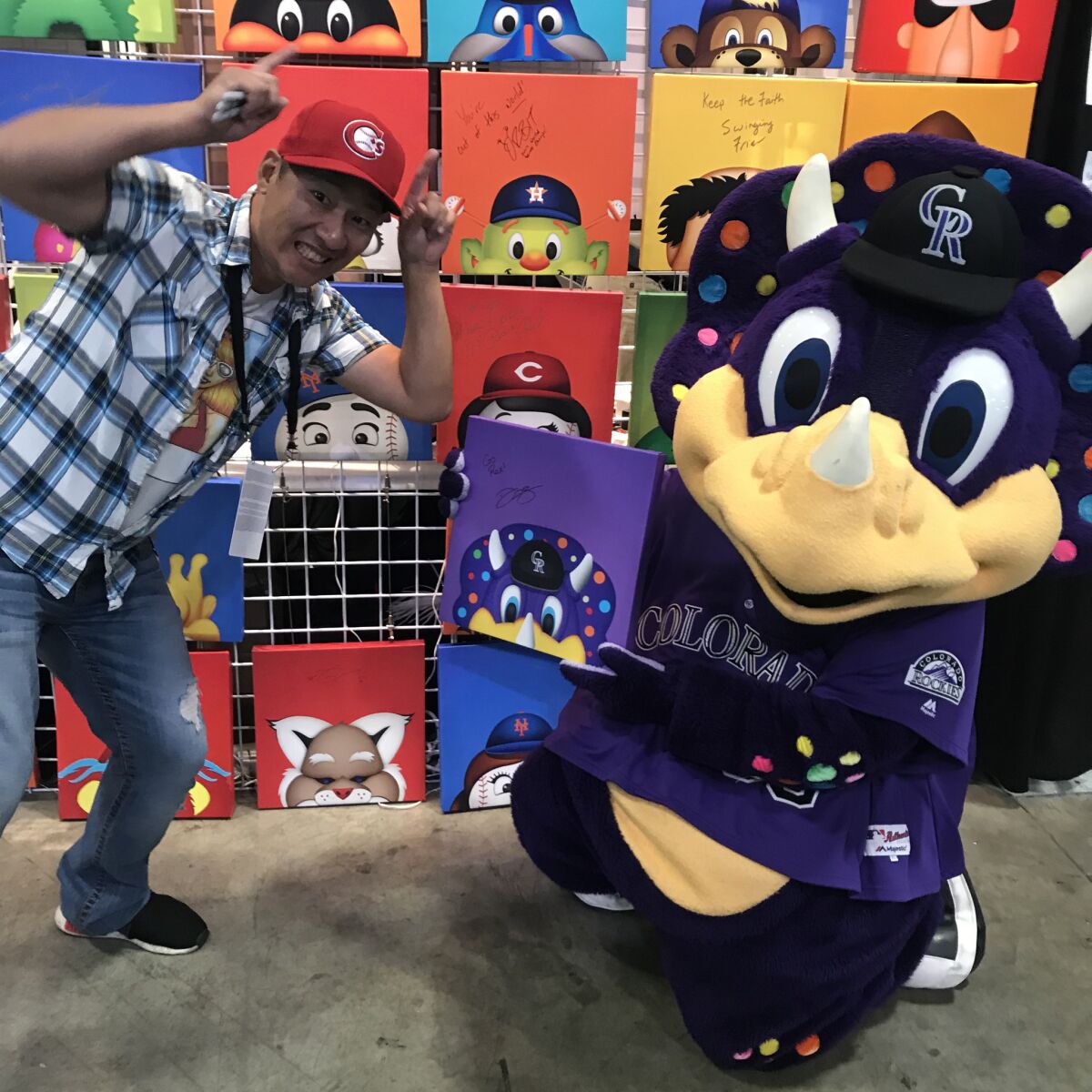 Kari Steele, a USC graduate in Phoenix working as a local ABC digital sports reporter, says the art "evokes a nostalgic response for baseball fans like myself. … I love his work so much I want to decorate my future kids' rooms with it."
Julie Alexandria, a former Fox Sports regional network reporter for the Mets, Nationals and Padres, says buying the Angels' Big A halo piece as a gift for her brother seemed to give him an edge in the girlfriend vetting process.
"He put it up on the wall in his apartment and he said he knew if a girl came over and pointed it out — realizing it was the Big A and not just some red mountain peak — then she was a true fan," Alexandria said.
In Southern California, pieces focused on Dodger Stadium and Angel Stadium are complemented by ones on the Coliseum and Rose Bowl, which are included in NFL and college football stadium series. He also has a drawing of Brooklyn's Ebbets Field in his 30 "heritage" ballparks collection.
While S. Preston rarely draws characters, he did so for Fullerton resident Tommy Lasorda, re-creating an incident some 30 years ago when the former Dodgers manager walloped the Phillie Phanatic mascot in Philadelphia. Lasorda was so impressed to get the original as a gift, he signed 20 copies of it that sell at the gallery.
"I think he appreciated the fact that I drew him pretty thin," S. Preston says.
A tribute to retired Dodgers broadcaster Vin Scully with an old-style microphone on field of blue is also a popular 14-x 20 print.
Recently, a creation commemorating the Washington Capitals' championship — the Stanley Cup reflecting in the water off the Washington Monument — became the most popular selling piece on his website.
But if someone finds themselves unable to explain their reaction to an S. Preston sports work, that's OK with him.
"There's a Spanish word called 'duende' — it's the moment a piece of art connects to your soul, with emotion or a response," he says. "There's no English word for it. But it's fun to see it happen."
Get our high school sports newsletter
Prep Rally is devoted to the SoCal high school sports experience, bringing you scores, stories and a behind-the-scenes look at what makes prep sports so popular.
You may occasionally receive promotional content from the Los Angeles Times.