Column: Tommy Lasorda, the Dodgers' antique with attitude, is still going strong as he approaches 90
The longest line at Camelback Ranch begins forming every day at about 11 a.m. along a dusty back sidewalk.
It is a group gathered not around a bullpen or batting cage, but a giant bobblehead doll.
It is fans seeking the signature not of Clayton Kershaw or Corey Seager but of a deeply aging man in a rumpled jersey who has been employed by the Dodgers more than twice as long as either of those players has lived.
In his 90th year on earth and his 68th as a Dodger, he begins another season as their creaking, cackling, careening-into-the-sunset monument. He is the face on that big doll, he was once the most famous baseball personality in the world, yet his essence has been whittled to a single word.
What he does, who he is, now it's all just, "Tommy."
There's Tommy signing an hour's worth of autographs. There's Tommy giving a speech to soldiers. There's Tommy teaching an 18-year-old kid to throw a curveball, and doing it in Spanish. Wait, there's Tommy on a golf cart rolling somewhere into the desert. Where's Tommy going now? Can't somebody slow Tommy down?
"I'm going to keep kicking until God calls me," says a laughing Tommy Lasorda, the Dodgers Hall of Fame manager and most unstoppable ambassador in baseball history. "But that Big Dodger in the Sky don't want me yet, because I'm still doing a lot of work for him down here."
It is work that takes on more meaning with the retirement of Vin Scully, which makes Lasorda the longest tenured active Dodger. His presence acquires even more gravitas in this championship-hopeful summer because in 1988 he was the manager of the last Dodger team to win a World Series.
"A l-o-o-o-o-n-g time ago,'' Lasorda says.
During the celebration of Scully's final years, folks may have taken Lasorda for granted. No more. Even on a team filled with familiar stars, Lasorda is the biggest draw at spring training and undoubtedly will hear the biggest cheers at Chavez Ravine when he takes his seat in the owner's box this summer, this treasured icon honored in his last…
"Hey, I'll never retire, the Dodgers still pay me, it's good money," he barks with glee.
The most amazing part of that paycheck is that Lasorda still earns every penny. Somehow, he maintains a hectic appearance schedule without a computer, without an e-mail address, with nothing other than an ancient flip phone and help from his full-time assistant, Felipe Ruiz.
On a recent winter afternoon he was spotted sitting courtside at a UCLA-Oregon basketball game, inspiring a call to a Dodgers official to ascertain the reason for his presence. The answer was the same the Dodgers give when asked about any odd place Lasorda seems to show up.
"Who knows?" the official said. "That's just Tommy."
That's just Tommy, unchanging in his desire to spread the Dodger gospel, unwavering in his loyalty to all things blue, unafraid to point and glare and scold all you non-believers, an antique with attitude.
I'm going to keep kicking until God calls me. But that Big Dodger in the Sky don't want me yet, because I'm still doing a lot of work for him down here.
— Tommy Lasorda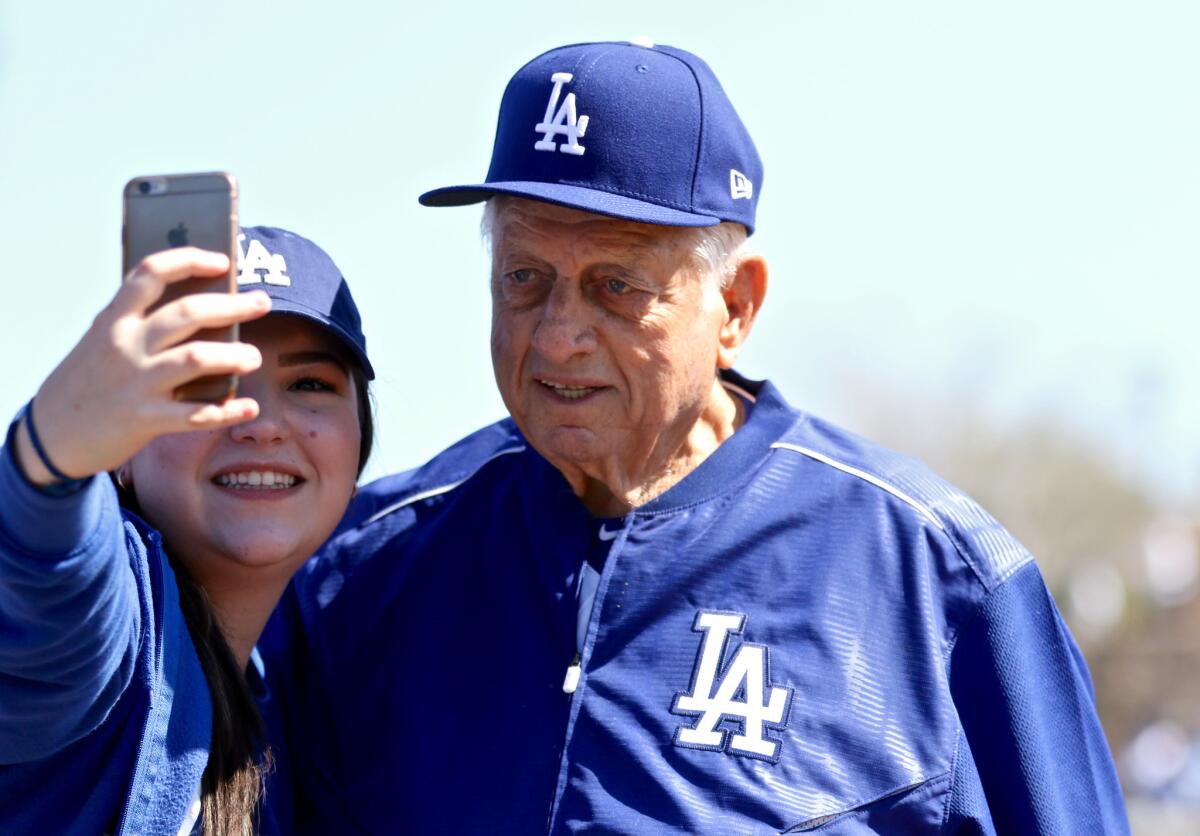 He has been married to the same saintly woman, wife Jo, for 67 years.
"We still go out dining and dancing every night," he says. "She goes on Monday, Wednesday and Friday. I go on Tuesday, Thursday and Saturday."
He has lived in the same modest Fullerton home for 65 years.
"The L.A. Times once ran a whole page of celebrity home prices, you should have seen it," he says. "One home was $9 million, one was $11 million, one was $15 million, and there was my house at the bottom at $39,000!"
He howls in delight with the same old jokes, same old yarns, and even though every punchline has been heard 100 times, it's still impossible not to laugh with him.
"Sometimes I feel my age, I feel myself slowing down, I don't move as fast, I don't dress as fast, I don't do my job as fast,'' he says. "But I still do anything and everything."
As Lasorda increasingly faces the physical challenges of aging, the Dodgers quietly worry that he does too much. They do their best to protect him by employing Ruiz, but because he sets his own itinerary and the work still obviously makes him happy, they mostly sigh and hold their breath.
In a recent six-month period he scared them twice, the first time when he fell off a chair while watching TV in his hotel room during a card show in Atlantic City. He wound up with a face full of blood and eventually required 12 stitches, yet still showed up for his appearance.
"It was that chair," Lasorda says. "It didn't have any sides!"
Then at the beginning of last season's playoffs, Lasorda was hospitalized for a variety of internal issues, his 10-day stay so alarming the Dodgers that officials passed around a cell phone during batting practice for various players and media to give him encouragement.
"Those doctors put more wires on me than a telephone pole," he says.
He has a full schedule again this spring, with his golf cart being driven throughout the Dodgers' complex, from minor league batting practice to major league games, Lasorda giving advice that involves seemingly every piece of baseball wisdom but one.
"Analytics?" he says. "I don't even know how to spell it."
As impressive as his teachings is the reception from his pupils. Most of the players have no memory of him as a baseball manager, few realize the impact he once had on the game, but they all treat him like a grandfather guru, stopping to listen to his advice even if it interrupts their throws or swings.
During one batting practice he stopped outfielder Brett Eibner as he was stepping into the cage to tell him, "Talent you use is developed. Talent you don't use is wasted."
Eibner, born a month after the Lasorda brought the Dodgers their last World Series championship, looked him reverently in the eye, touched his arm and thanked him before returning to hit.
"A lot of guys never saw him as a manager and don't know his history, but they know he means something here," said Dodger Manager Dave Roberts, who encourages Lasorda to share his vision. "He's 89 and he still has that fire."
Lasorda is ready for when that fire finally dims. He already has a bronze plaque that will go on his gravestone.
"Dodger Stadium was his address," it reads, "but every ballpark was his home."
But not yet. Not just yet.
"I used to say I wanted to live to 100, but I don't say that anymore," Lasorda says, solemnly, quietly, before breaking into a smile and jabbing that famously crooked left index finger. "I'm having so much fun, now I want to be 110!"
Get more of Bill Plaschke's work and follow him on Twitter @BillPlaschke
Get our high school sports newsletter
Prep Rally is devoted to the SoCal high school sports experience, bringing you scores, stories and a behind-the-scenes look at what makes prep sports so popular.
You may occasionally receive promotional content from the Los Angeles Times.