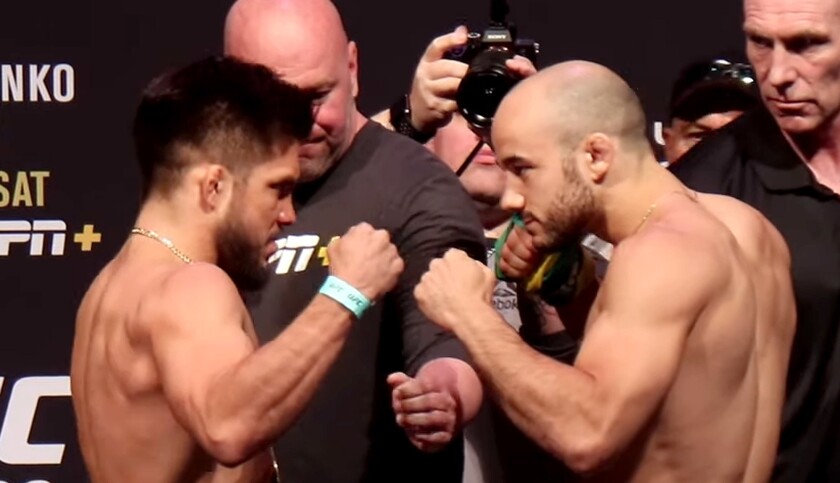 Henry Cejudo (14-2) will take on Marlon Moraes (22-5-1) for the UFC's vacant bantamweight title on Saturday night at the United Center in Chicago. Also on the card are a co-main event between Valentina Shevchenko (16-3) and Jessica Eye (14-6) in a women's flyweight bout as well as a lightweight fight between Tony Ferguson (24-3) and Donald Cerrone (36-11). Follow along here for round-by-round, fight-by-fight updates.
Katlyn Chookagian vs. Joanne Calderwood
The deep UFC 238 card begins with a bout featuring a pair of top women's flyweight contenders. Chookagian lost last time out via split decision to Jessica Eye, who challenges for the title in the co-main event. That snapped a three fight win streak and she looks to rebound here. Calderwood is a popular Scottish fighter with two straight wins inside the Octagon.
Round 1. Both fighters begin the bout with a healthy dose of kicks. Calderwood in particular is throwing plenty of leg kicks while Chookagian is mixing in higher kicks in addition to her boxing. Just a couple minutes into the fight, Chookagian's lead leg is quite red and marked up. Chookagian lands a strong combination of punches. Chookagian attempts a couple of knees when they move in closer but neither lands strongly. Calderwood continues to attack the leg. Chookagian lands a hard two punch combination late. 10-9 Calderwood.
Round 2. Calderwood goes right back to work on the lead leg. Chookagian lands a punch and a kick right after but Calderwood slams her down. Chookagian quickly stands back up. Calderwood lands a few knees to the body by the cage before they separate. Chookagian is really putting a lot of power behind her punches now, throwing loudly and hard. Some are connecting well to the head including a big right at the midpoint of the round. Calderwood clinches but Chookagian brushes her off. Calderwood slams Chookagian down with a minute and a half left. Calderwood lands some punches from the top. Chookagian threatens with an armbar late but doesn't come close to setting it up. 10-9 Chookagian.
Round 3. Chookagian is throwing a lot more in the third and is doing so with more power, while Calderwood isn't landing her leg kicks as frequently. Calderwood gets a takedown at the middle of the round but lets Chookagian up, which feels like it might be a mistake in a close fight. Chookagian goes back to work with her harder strikes while Calderwood throws her leg kicks. Calderwood does some weird taunting towards the end of the round. 10-9 Chookagian, 29-28 Chookagian.
Winner: Katlyn Chookagian, unanimous decision (30-27, 29-28, 29-28).
That was a close fight and the big question is how you weighed Calderwood's leg kicks against Chookagian's head strikes. Calderwood's decision to not take advantage of a takedown in the third round might have been the difference in the fight.
Eddie Wineland vs. Grigory Popov
Wineland is a former WEC bantamweight champion with good striking skills. He has struggled recently, losing four of his last six. Grigory Popov is a 13-1 muay thai fighter making his UFC debut.
Round 1. Wineland marches right across the Octagon into striking range, looking to get at it. Wineland lands a few hard punches and opens up a cut above Popov's eye. Popov answers back with a few kicks and a knee. Both fighters have some unusual angles. Popov moves in with a hard knee to the body but he eats a punch to the head that lands even harder at the same time. 10-9 Wineland.
Round 2. Popov drops Wineland with a punch and then follows up with another hard shot and Wineland looks a little unsteady. Wineland looks for a takedown but doesn't get it. Wineland recovers and lands a few nice looping punches from close range. Wineland gets a takedown with a minute and a half left but Popov pops right back up pretty much instantaneously. Wineland cracks Popov with a right hand and he opens up from there with a series of power punches. Many connect flush and Popov goes down. Wineland looks for a choke but can't get it so he lets Popov up. Wineland drops him again with a punch and it is over.
Winner: Eddie Wineland, TKO, round 2.
That was a great performance for Wineland, his best in a while.
Bevon Lewis vs. Darren Stewart
Lewis made the UFC off a couple of impressive performances on Dana White's Contender Series but then he was knocked out brutally by Uriah Hall. Stewart entered the UFC undefeated but he has struggled on the highest level, going 2-4 (1 NC).
Round 1. Stewart knocks Lewis down with a couple of early leg kicks. They clinch against the cage and trade knees. After a long clinch battle the pace slows as they measure each other at range. Both men throw punches after the bell. 10-9 Stewart.
Round 2. Both fighters are pretty inactive early. Stewart lands a leg kick. Lewis goes for a takedown but does not get it. Lewis lands a nice knee in an exchange. The crowd finally begins to boo late in the round. Awful round. 10-9 Stewart.
Round 3. The fighters clinch by the cage. Nothing much happens there and they separate. They circle each other at range, sporadically throwing something. They return to the clinch. 10-10, 30-28 Stewart.
Winner: Darren Stewart, unanimous decision (29-28, 29-28, 30-27).
That was one of the worst UFC fights in quite some time. There isn't going to be a lot of interest in either fighter next time out.
Yan Xiaonan vs. Angela Hill
Xiaonan is one of a growing number of high level Chinese fighters. She is 3-0 thus far in the UFC. Hill is 4-6 in the UFC, albeit against a generally high level of competition.
Round 1. Xiaonan lands a hard leg kick and then a massive looping punch to the jaw but Hill's durable chin holds up for that punch. Hill gets a takedown two minutes in. Xiaonan stands up relatively quickly. Hill connects with a nice right hand but then gets taken down. Xiaonan lands some punches while Hill looks to set up an armbar or triangle. Hill grabs a triangle choke but doesn't have enough time to finish it. Close round. 10-9 Xiaonan.
Round 2. Xiaonan knocks Hill down with a side kick to the body. She opens up with further punches. The fighters trade punches in the center. Xiaonan lands a strong leg kick and catches Hill with punches as Hill comes in. Xiaonan lands another leg kick. Hill attempts a takedown but Xiaonan blocks it. Hill to her credit continues to push forward even as she consistently gets countered hard when she does. Xiaonan gets a late takedown but Hill pops back up in a hurry. Hill goes for a spinning backfist late but gets countered in the process. 10-9 Xiaonan.
Round 3. Hill continues to press forward while Xiaonan counters with greater volume and power. The pace continues to be quick but there's less power behind the strikes late. 10-9 Xiaonan, 30-27 Xiaonan.
Winner: Yan Xiaonan, unanimous decision (29-28, 29-28, 29-28).
That was an entertaining, competitive fight where both fighters showcased their skills well. Xiaonan's striking was a little better and that was the difference.
Ricardo Lamas vs. Calvin Kattar
Ricardo Lamas has been a top featherweight for most of the decade and once challenged for the featherweight title. Now 37, he's fighting at home in Chicago here. Calvin Kattar is 3-1 in the UFC and a win over Lamas would be the biggest name victory of his career.
Round 1. Lamas throws a series of kicks early on while Kattar mostly focuses on measuring Lamas. Lamas shoots in for a takedown from way out but doesn't come close. Lamas lands a nice combination but Kattar blocks a takedown attempt. Kattar knocks Lamas back with a jab. Kattar attacks the body with a couple of punches. Kattar drops Lamas with a heavy two punch combination punctuated by a big right hand and then throws some additional punches on the ground until the fight is stopped.
Winner: Calvin Kattar, TKO, round 1.
Calvin Kattar is an emerging force in his division and he demonstrated it again there. That was a quality win over an established opponent. Kattar was cautious early, got a feel for Lamas, and finished him.
Karolina Kowalkiewicz vs. Alexa Grasso
Kowalkiewicz once challenged for the women's strawweight title but has struggled recently with two straight losses. Grasso is one of the best Mexican fighters but she's also looking to turn things around after dropping two of her last three.
Round 1. Grasso connects with some punches early, getting the best of the opening exchanges. Kowalkiewicz begins to answer back but Grasso looks crisper with her boxing. Kowalkiewicz, on the other hand, is throwing more kicks and knees while Grasso's punches are making the difference in the fight. There is a wild exchange late with both fighters throwing aggressively. 10-9 Grasso.
Round 2. Grasso, having had a lot of success with her hands in the first round, continues to throw plenty of punches in the second while mixing in lower kicks. Grasso snaps Kowalkiewicz's head back with a few straight punches. Kowalkiewicz clinches, knees the body and looks for a takedown. She cannot get it. Grasso really touches Kowalkiewicz up with her boxing late. 10-9 Grasso.
Round 3. In a clinch, Grasso lands a series of knees to the head before Kowalkiewicz gets out of danger. Grasso's boxing continues to be the difference. Kowalkiewicz to her credit keeps coming forward and throwing but it is a wipeout as far as strike differential. They swing wildly both ways at the end and Grasso grabs a guillotine choke at the close of the fight. 10-9 Grasso, 30-27 Grasso.
Winner: Alexa Grasso, unanimous decision (30-27, 30-27, 30-27).
Alexa Grasso had a sizable advantage in the standup and she was able to keep the fight on her terms throughout. Grasso's stock definitely went up in that fight. Kowalkiewicz fought hard but needs to make some adjustments as opponents appear to be figuring her out.
Aljamain Sterling vs. Pedro Munhoz
Both these fighters are looking for a title shot against the winner of tonight's main event before the end of the year. Aljamain Sterling has accumulated a 17-3 record while fighting most of his career in the UFC and he has won three straight. Pedro Munhoz has won three straight as well plus seven of eight and is coming off a knockout of former champion Cody Garbrandt.
Round 1. Sterling comes out throwing kicks. After throwing a variety of different types of kicks, he slows down his pace as nothing connects particularly well. Sterling moves in and out, throwing all sorts of different techniques. Some of his best strikes are looping punches. Sterling looks for a takedown but Munhoz blocks it. Munhoz connects with a punch to the head that lands well. Sterling then answers back with some quality punches of his own. Sterling is connecting at a higher rate as the round progresses, in large part because he's shifting to more of the hooks that are connecting most often. Munhoz connects with a punch and looks for a guillotine choke late but does not get it. 10-9 Sterling.
Round 2. Munhoz lands some kicks to the legs and body early. Sterling goes for a takedown but has it blocked. Munhoz continues to attack with body kicks while Sterling is relying more on his hooks. Sterling lands a knee to the head then a spinning back elbow. Munhoz is the much more conventional fighter while Sterling is so unusual. Munhoz knocks Sterling down with a low kick and looks for a choke but he does not get it and they return to the feet. Sterling lands a series of punches late. 10-9 Munhoz.
Round 3. Unlike in the first two rounds where Sterling was pressing the action, Munhoz is the one moving forward more in the third. Sterling looks more tired and Munhoz is using the same combinations he has throughout. However, Sterling is continuing to throw himself and continues to do well with his punches from angles. Munhoz's low kicks are his best weapon. Sterling opens up late and gets the better of the action at the close of the fight. That's a rough fight to score. 10-9 Munhoz, 29-28 Munhoz.
Winner: Aljamain Sterling, unanimous decision (30-27, 30-27, 30-27).
That was a heck of a fight, full of exciting action throughout. Sterling came out strong and was dominant early. Sterling slowed as the fight progressed but he was still doing enough for the judges to score a wide decision. Sterling has a good chance of fighting for the title next time out.
Tatiana Suarez vs. Nina Ansaroff
Suarez is unbeaten in MMA and is thought to be a potential future champion given her elite wrestling pedigree. She is 4-0 thus far in the UFC. Ansaroff is the massive underdog but she has won four straight in her own right and is coming off a surprising upset over Claudia Gadelha.
Round 1. Suarez gets a takedown in the first minute. Suarez looks to gain side control but Ansaroff defends well and locks up full guard. Ansaroff stands up. Suarez grabs the neck in the process but can't set up a choke and instead looks to take Ansaroff back down. Suarez secures the second takedown. Suarez isn't able to do a lot of damage from the top but does land some punches here and there. She eats an upkick when she postures up. 10-9 Suarez.
Round 2. Suarez gets the early takedown again. Ansaroff is able to get up quickly and Suarez has to work to get her back down. Suarez takes Ansaroff down again. Suarez is able to do a little damage there but Ansaroff gets up again and they end up back in the clinch. After an accidental low blow, they fight at range to close the round. 10-9 Suarez.
Round 3. Ansaroff lands a nice right hand early. Suarez connects with a straight left hand a minute later. Suarez looks for a takedown but has it defended. Suarez looks for the takedown again. Suarez cannot get it. Ansaroff lands a couple nice combinations mixing her punches with kicks. Suarez looks a little tired after spending so much energy in the first two rounds going for takedowns. Ansaroff connects with a hook. Ansaroff opens up with her strikes at the end. 10-9 Ansaroff, 29-28 Suarez.
Winner: Tatiana Suarez, unanimous decision (29-28, 29-28, 29-28).
Suarez picked up another win over a tough opponent, but that's likely to lower her stock in the eyes of many. Suarez wasn't able to impose her wrestling as well as she has in the past and she was drained from those efforts. There are some things for her to work on as she moves towards a title shot.
Tai Tuivasa vs. Blagoy Ivanov
Tuivasa is an entertaining Australian fighter coming off the first loss of his pro MMA career. Ivanov is perhaps best known for surviving a vicious stabbing and he holds an impressive 17-2 (1 NC) MMA record.
Round 1. Tuivasa connects with a hard right hand early. They clinch and Tuivasa lands a couple elbows. Ivanov drops Tuivasa with a left hook but Tuivasa clinches up and prevents Ivanov from finishing the fight. Ivanov attacks the neck with a guillotine but Tuivasa gets his head out. They trade big punches from close range. Ivanov connects with a few hard punches from distance late and Tuivasa swings back. 10-9 Ivanov.
Round 2. Tuivasa stuns Ivanov with punches and Ivanov is the one to clinch up and recover. Ivanov lands a big straight left hand up the middle. Ivanov catches Tuivasa with a few more crisp punches. Ivanov pulls Tuivasa down late and looks for a guillotine choke before the round ends. 10-9 Ivanov.
Round 3. Tuivasa connects with a couple of hard punches and Ivanov clinches. Ivanov pulls Tuivasa down by the neck again but Tuivasa stands back up. Ivanov lands a few knees in the clinch. Tuivasa punishes Ivanov with some kicks low and punches high on the break. 10-9 Ivanov, 30-27 Ivanov.
Winner: Blagoy Ivanov, unanimous decision (29-28, 30-27, 30-27).
It wasn't pretty, but Ivanov landed the harder shots over the course of the fight and deserved the nod.
Jimmie Rivera vs. Petr Yan
At 21-1 with 5 UFC wins in 2017, Jimmie Rivera was on the verge of a title shot before losses to Marlon Moraes and Aljamain Sterling derailed those hopes. He has another stiff test in this bout in Petr Yan. The Russian Yan is thought to be a top flight prospect and he has looked great thus far in four UFC wins.
Round 1. The fighters show respect for each other, exercising caution in the early going. They clinch and trade knees to the body. Neither man is landing much of note. Yan attacks the leg late but Rivera defends well. Yan drops Rivera with a heavy punch late but he can't finish the fight before time runs out. 10-9 Yan.
Round 2. Yan lands some nice punches but then Rivera answers back with a hook that appears to stun Yan a little. Rivera lands another combination after that. He's recovered well from the trouble at the end of the first. The fighters open up later in the round, with both landing some solid punches. Yan lands a big head kick. Yan drops Rivera late again with a massive punch but time runs out once more. That's a tough round to score because Rivera was winning it solidly before the end but Yan pulled away. 10-9 Yan.
Round 3. Rivera shoots for a takedown and has a leg but Yan is able to prevent Rivera from finishing it. Yan knocks out Rivera's mouthpiece with an uppercut. Rivera connects with a hard straight right hand to the chin. Rivera lands a nice two punch combination late and lands some additional punches as Yan goes for a takedown. 10-9 Rivera, 29-28 Yan.
Winner: Petr Yan, unanimous decision (29-28, 29-28, 30-27).
The run of unanimous decisions continues. Yan showed his class in that fight. Rivera is an excellent fighter and fought very well but Yan was just better and landed the best blows of the fight. He wants a title shot and he'll be in the mix soon.
Tony Ferguson vs. Donald Cerrone
This has all the makings of a war. Both Ferguson and Cerrone are all action competitors with reputations for exciting fights. Ferguson has won 11 straight UFC fights, one of the longest streaks in the history of the promotion. Cerrone has momentum as well with three straight wins in exciting performances.
Round 1. Cerrone opens with a leg kick and then a kick to the body. Ferguson starts with a kick to the head. Cerrone fires a series of jabs to try to keep Ferguson from moving in. Ferguson connects with a nice right hand. Ferguson follows with a few additional punches up the middle. Cerrone answers back and knocks Ferguson's head back. They're both scoring a lot early. Ferguson lands a hard short elbow. Cerrone answers with a series of punches. They're both fighting in a similar way, having the most success with straight punches but also mixing in a healthy number of kicks. That was a heck of a round. 10-9 Cerrone.
Round 2. Ferguson comes out strong, attacking the body with kicks and adding in punches to the head. They exchange stiff punches. Both men are getting their heads knocked back by punches much more frequently than is typical. Ferguson appears to be pulling away this round, busting up Cerrone's face with punches and elbows. Cerrone goes for a takedown but can only get Ferguson down momentarily. Ferguson lands a punch after the bell. 10-8 Ferguson.
Before the start of the third round, Cerrone blew his nose and his eye became swollen shut immediately. Cerrone could not continue.
Winner: Tony Ferguson, TKO, round 2.
The nature of the finish unfortunately hurt an impressive Ferguson victory. The late punch was illegal and blatant but it didn't have anything to do with the result of the fight.
UFC women's flyweight title: Valentina Shevchenko vs. Jessica Eye
Valentina Shevchenko is one of the best women's fighters in the world, having fought and excelled against many of the best in the world. She defends for the first time against Jessica Eye, who put together a string of wins at the perfect time to earn the shot.
Round 1. Eye opens with a few punch attempts. Shevchenko responds with a number of body kicks which connect hard. Shevchenko gets a takedown less than a minute in. Shevchenko moves into side control but Eye gains half guard when Shevchenko looks to mount. Shevchenko attempts to get side control but instead she ends up in Eye's full guard. Eye then stands up. Shevchenko uses a trip takedown to deposit Eye back on the mat. Shevchenko gets a crucifix and then looks for an Americana submission at the close but Eye gets out. 10-9 Shevchenko.
Round 2. Shevchenko lands another hard body kick and then a head kick knockout.
Winner: Valentina Shevchenko, KO, round 2.
Valentina Shevchenko's skill has been evident for years but that was the sort of highlight reel knockout that will solidify her reputation for years to come. It was as spectacular and brutal as knockouts get.
UFC bantamweight title: Henry Cejudo vs. Marlon Moraes
Cejudo is an Olympic gold medalist, the UFC flyweight champion and knocked out former bantamweight champion T.J. Dillashaw last time out. Now he gets the opportunity to become bantamweight champion as Dillashaw was stripped following a drug test failure. His opponent is Marlon Moraes, the top bantamweight contender who has no unavenged losses since he rose to prominence in the WSOF in 2012.
Round 1. Moraes throws some kicks early and then lets his hands go. Moraes' attacks are so quick. Cejudo looks for a takedown but he can't secure it. Moraes lands a hard leg kick. Cejudo hasn't taken a lot of damage yet but the action has been pretty much all one way. 10-9 Moraes.
Round 2. Moraes continues to calmly attack from the outside. Cejudo has yet to get going. Moraes connects with a hard leg kick. Moraes continues to attack the leg and he knocks Cejudo down with one of those kicks. Cejudo lands a few solid punches and he starts throwing more. A few connect very well. A confident Cejudo moves in closer and has success with the boxing from close range. Moraes answers with a high kick in an exchange. Cejudo lands a series of brutal knees from the thai plum, both to the head and body. 10-9 Cejudo.
Round 3. Cejudo goes back to what was working, moving in close and throwing punches from there. Moraes throws a couple of high kicks that sail over the head of Cejudo. Cejudo again lands some knees from the clinch. Cejudo attacks the neck and looks for an anaconda choke but he can't secure it. Moraes looks for an armbar on the ground but cannot get that. Cejudo has top position and drops down some elbows. Cejudo follows with punches and it is stopped.
Winner: Henry Cejudo, TKO, round 3.
Moraes was in control early but Cejudo then took over. Moraes just didn't seem in good enough shape for whatever reason. For Cejudo, it's another in a series of major victories and now he's the most recent double champion. He has built up quite the resume in short order.
---