7 Images
Pushing the Envelope
la-xsafety1-j2ze8cnc
Brian Deegan, 31, shows-off his skill on a motorbike during a practice session in Temecula. Deegan returns to the X-Games following a horrific crash that nearly cost him his life last year in a commercial TV shoot.
(Irfan Khan / LAT)
la-xsafety4-j2ze6nnc
Brian Deegan and others say that while there are certainly a lot of corporate dollars in the growing sport, there are concerns that safety is taking a backburner role for the kids striving to join the popular sport.
(Irfan Khan / LAT)
Accident Prone
ACCIDENT-PRONE:
Brian Deegan's injuries suffered while performing motorcross stunts include a lacerated spleen, along with a broken leg, ankle, arm and shoulder.
(Irfan Khan / LAT)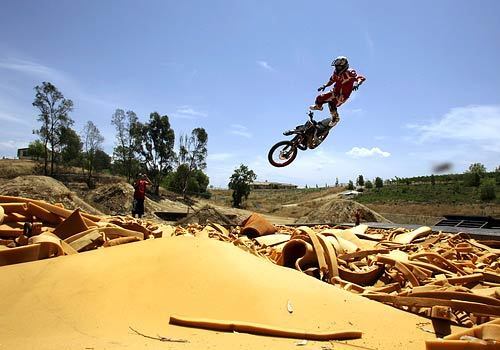 la-xsafety6-j2ze76nc
Ronnie Faisst makes a jump into foam pit specially made practicing motorbike jumps.
(Irfan Khan / LAT)
Lobbyist
LOBBYIST:
Chris Ackerman, injured during a motorcycle stunt, says safer places to practice the sport are needed.
(Irfan Khan / LAT)
la-xsafety8-j35098nc
Jeremy "Twitch" Stenberg broke both of his legs during the 2006 Dew Tour Freestyle Motocross finals in Louisville, Kentucky.
(Irfan Khan / LAT)
Brush with Death
BRUSH WITH DEATH:
A long scar on Brian Deegan's abdomen is a reminder of his near-fatal motorcycle crash in Philadelphia last year.
(Irfan Khan / LAT)