Live
UFC 217 live updates: St-Pierre wins middleweight title by submitting Bisping
Georges St-Pierre (26-2) defeated Michael Bisping (31-8) by submission during the third round to win the middleweight title on Saturday night at Madison Square Garden during UFC 217. Here is a round-by-round, fight-by-fight reacp of the event.
Middleweight title: Michael Bisping vs. Georges St-Pierre live round-by-round coverage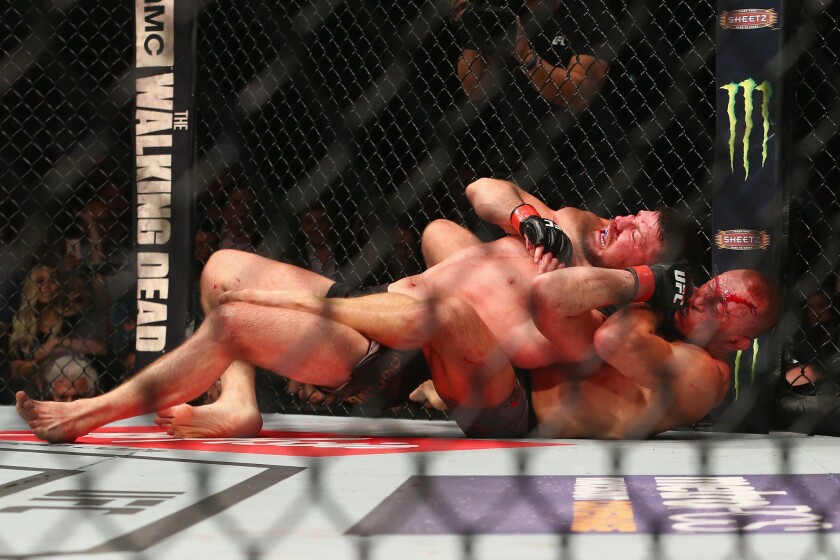 Michael Bisping has the most wins in UFC history. The loquacious British star won the UFC middleweight title in a major upset from Luke Rockhold in the crowning achievement of his career and now he gets the massive money fight he always wanted. Georges St. Pierre is one of the sport's all time greats, a beloved Canadian hero with no unavenged losses. St. Pierre returns after a four year hiatus attempting to win a title in a second weight class.
Round 1. St. Pierre throws a few leg kicks early. Bisping, meanwhile, is throwing plenty of jabs. St. Pierre overextends with a punch and gets countered well by Bisping. St. Pierre lands a strong right hand. St. Pierre grabs a single leg takedown late. Bisping returns to his feet quickly. St. Pierre lands a superman punch that does some damage at the close. 10-9 St. Pierre.
Round 2. St. Pierre lands a couple jabs early. Bisping catches a kick and counters with a solid punch. However, in general, Bisping isn't getting off enough. He's letting St. Pierre dictate the pace, which is strange given Bisping's usual style. St. Pierre lands a jab and then gets a takedown with two minutes left. Bisping impressively stands right back up. Bisping then connects with a nice right hand. Bisping follows with a few jabs and a head kick. Close round. St. Pierre did better early and Bisping did better late. 10-9 St. Pierre.
Round 3. St. Pierre gets a takedown early and is in Bisping's full guard. Bisping is aggressive landing punches and elbows from the bottom. He cuts St. Pierre with one of those shots. St. Pierre postures up and begins landing punches and elbows of his own. Bisping pushes St. Pierre off and returns to his feet. St. Pierre is bleeding badly. St. Pierre lands a nice looping right hand. St. Pierre drops Bisping with a left hand and follows with elbows on the ground. He pours it on looking for the stoppage. Bisping turns his back, St. Pierre grabs a rear naked choke and puts Bisping to sleep.
Winner: Georges St. Pierre, technical submission, round 3.
Georges St. Pierre may not have been the best version of himself, but he was plenty good enough to regain championship gold. St. Pierre showcased the diversity of skills that made him an all time great: striking, wrestling and submissions. It was an impressive performance and one more accolade in a legendary career.
Bantamweight title: Cody Garbrandt vs. T.J. Dillashaw live round-by-round coverage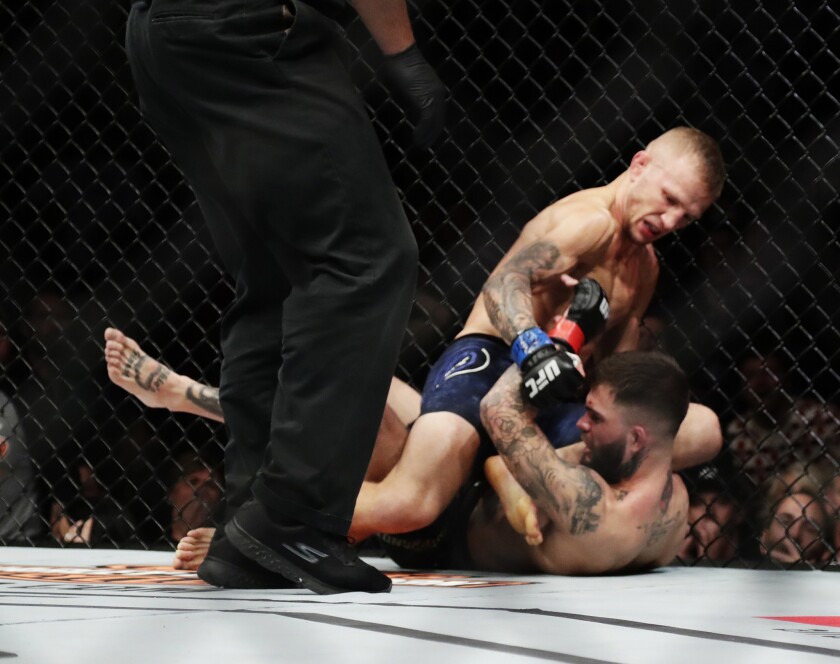 Cody Garbrandt and T.J. Dillashaw are elite bantamweight fighters with a personal backstory. They are former training partners turned heated enemies. Dillashaw left Garbrandt's Alpha Male training camp and has feuded with the members of Alpha Male since. Garbrandt captured the UFC bantamweight title from another Alpha Male rival in Dominick Cruz and now he will get a crack at Dillashaw. Garbrandt is 11-0 with explosive knockout power while the former champion Dillashaw is 14-3 with wins in six of his last seven.
Round 1. Garbrandt starts with a body kick. The crowd chants for Garbrandt. Garbrandt is maintaining a compact, orthodox posture while Dillashaw is moving around and giving different looks. At the midpoint of the round, nothing much has happened. Garbrandt opens up shortly thereafter with a series of punches that back Dillashaw up. When Dillashaw moves in, Garbrandt looks to tag him with rapid fire looping punches. Garbrandt drops Dillashaw with a right hand late and appears to have him in significant trouble as time expires. 10-9 Garbrandt.
Round 2. Dillashaw throws a head kick that grazes Garbrandt's hair, which Garbrandt then pantomimes. Loud profane chants begin directed at Dillashaw. Dillashaw then drops Garbrandt with a head kick. Garbrandt recovers pretty well but he was hurt by that. Dillashaw drops Garbrandt again with a hook and adds more punches on the ground before the fight is stopped.
Winner: T.J. Dillashaw, TKO, round 2.
Since joining with coach Duane Ludwig, T.J. Dillashaw has been one of the biggest forces in the sport, rather underappreciated is how good he is. His only losses have come in very close and controversial decisions to Raphael Assuncao and Dominick Cruz, while he has dominated some excellent fighters. At UFC 217, he stopped a motivated, undefeated fighter and recaptured the gold he barely lost. It cements his status as one of the best pound for pound competitors in the sport.
Slide show: Photos from UFC 217
Women's strawweight title: Joanna Jedrzejczyk vs. Rose Namajunas live round-by-round coverage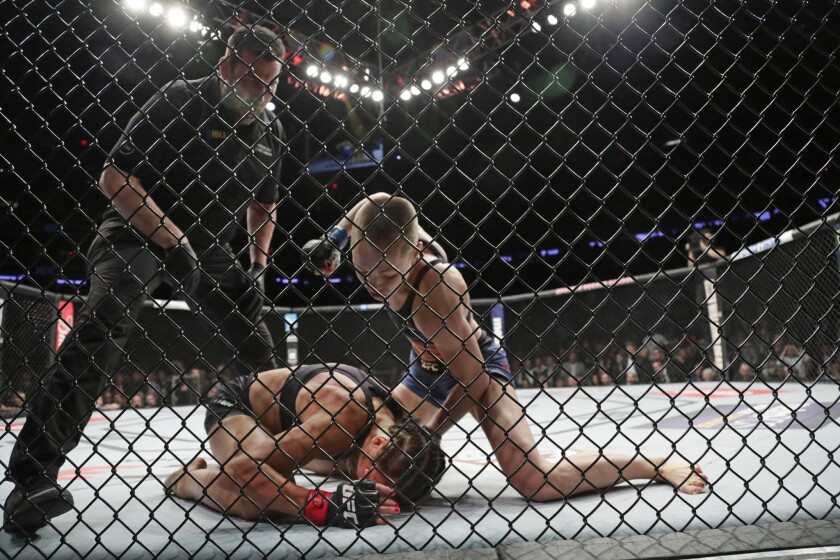 Joanna Jedrzejczyk is one of the best fighters in the sport. Undefeated for her career, she is a dynamic striker with excellent athleticism. Perhaps her best attribute is her tenacity as she looks to break the will of her opponents and has a ferocious competitive spirit. Rose Namajunas has won four of five to earn this title shot and is a strong ground fighter but enters this contest a heavy underdog.
Round 1. They start by exchanging low kicks early. Namajunas lands a solid punch. A minute later, Namajunas drops Jedrzejczyk with a punch and has her in deep trouble. Namajunas lands additional punches on the ground but cannot get the finish. Jedrzejczyk returns to the feet but gets drops by another left hand and Namajunas keeps landing until the fight is stopped. It looked like Jedrzejczyk tapped as well after the stoppage. That was a massive upset.
Winner: Rose Namajunas, TKO, round 1.
Joanna Jedrzejczyk talked a massive amount of trash about Rose Namajunas and few gave Namajunas much of a chance to score the upset. The soft spoken and understated Namajunas didn't talk back but she performed at the highest level and got the undefeated champion to submit to strikes. Namajunas is a thoroughly likeable person and it's a remarkable story that she was able to achieve this victory.
Stephen Thompson vs. Jorge Masvidal live round-by-round coverage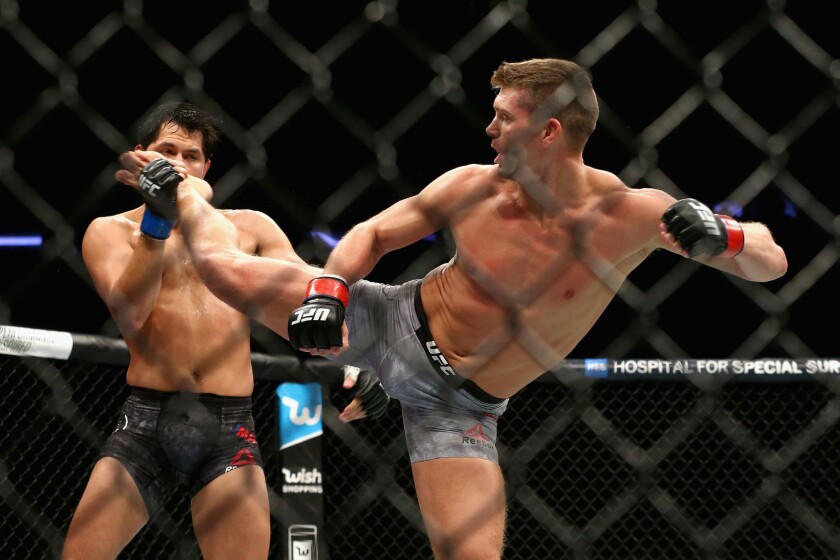 This is an important fight in the welterweight title picture. Stephen "Wonderboy" Thompson is a former title challenger looking to rebound from a title loss to Tyron Woodley. His karate style presents unique challenges for opponents to deal with. Jorge Masvidal is a talented veteran of the sport who might be better known were it not for his penchant for losing narrow split decisions. He is coming off a competitive loss to Demian Maia and he is getting another opportunity here to knock off a top welterweight star.
Round 1. The fighters start off cautiously, throwing a few low kicks now and then. Thompson begins mixing in some kicks to the body and head. He follows his usual pattern of laying back, charging in with offense, then quickly moving back out of range. Masvidal is having trouble timing Thompson, still only throwing an occasional kick. Thompson connects with a solid right hand and then knocks Masvidal down with a kick to the body. 10-9 Thompson.
Round 2. Thompson lands a head kick early. Masvidal threatens with a takedown and lands some punches from close range in the process before backing out. Thompson knocks down with a right hook that connected squarely. Thompson is getting more comfortable and throwing more as time progresses, clearly confident in the looks he is getting from Masvidal. Masvidal lands a nice kick to the body. He is pursuing Thompson and looking to cut off the cage. 10-9 Thompson.
Round 3. Masvidal shoots in for a takedown. He doesn't get it but does land a knee to the body in the process. Thompson lands a number of punches and kicks to the body while still mixing in attempts to the head. Thompson nails Masvidal with an impressive combination as Masvidal is coming in. Thompson catches a kick and lands a few punches at the end. 10-9 Thompson, 30-27 Thompson.
Winner: Stephen Thompson, unanimous decision (30-26, 30-27, 30-27).
Thompson displayed what a difficult style he has to deal with in that fight. Masvidal has as much experience as basically anyone in the sport but he just couldn't figure Thompson out. It's a testament to the champion Tyron Woodley that he was able to survive Thompson's challenge.
Johny Hendricks vs. Paulo Costa live round-by-round coverage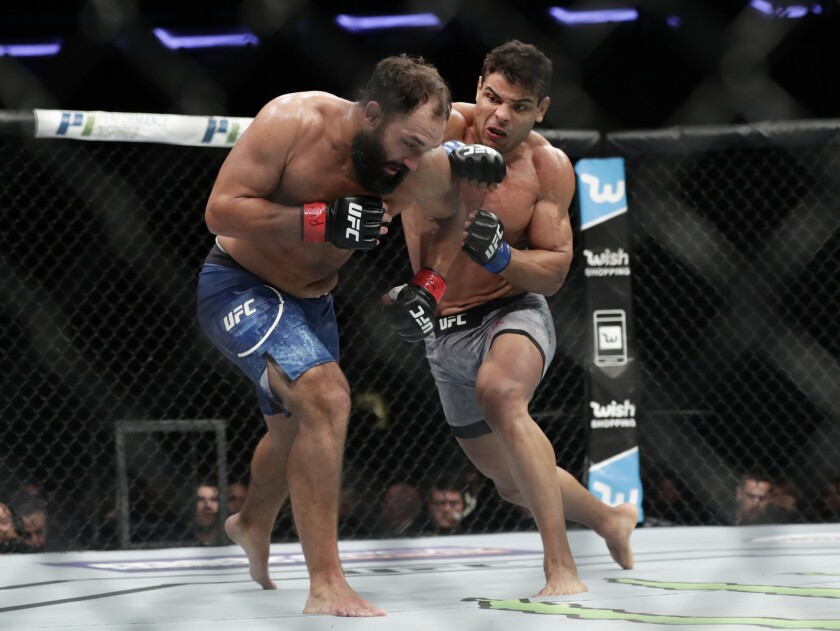 Johny Hendricks, the former UFC welterweight champion, was Georges St. Pierre's last opponent. Many thought Hendricks should have won the decision against St. Pierre in that title fight. Since then, Hendricks' career has gone south. Hendricks has lost 4 of 5 and 5 of 7, not looking like the fighter he once was. Paulo Costa is 10-0 with finishes in all of his fights.
Round 1. Costa opens with a few kicks from different levels. Costa blocks a Hendricks takedown attempt. Costa looks like he has much more juice on his shots. He's much bigger and more defined than Hendricks. Costa is walking down Hendricks and landing solid shots although he hasn't landed anything too big and Hendricks is answering back some. Hendricks lands a nice overhand late in the round. They then exchange from close range. 10-9 Costa.
Round 2. Hendricks lands a few low kicks but he eats some big counters. Costa moves in looking to finish. Costa throws a few head kicks along with some big punches. Hendricks goes down from an uppercut and the fight is stopped as Hendricks lunges in for a desperation takedown.
Winner: Paulo Costa, TKO, round 2.
That was pretty much what it was expected to be. Johny Hendricks is a proud former champion but he didn't have many answers for a young, hungry knockout artist. It feels like Paulo Costa could be a factor at middleweight but it's still early in his career.
Joseph Duffy vs. James Vick live round-by-round coverage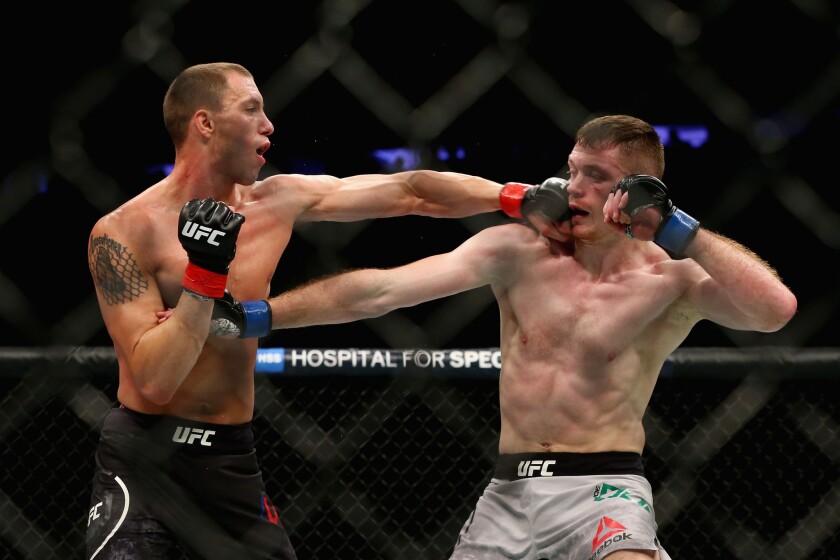 Joseph Duffy is best known for submitting fellow Irishman Conor McGregor before they both reached the UFC. Duffy has an impressive 17-2 record and has thrived in the UFC as well with his only setback coming to highly regarded Dustin Poirier. James Vick is a long, skilled fighter with a 7-1 UFC record. His only loss was to the dangerous Beneil Dariush.
Round 1. Duffy knocks Vick off balance with an early punch. Vick connects with a nice two-punch combination. Duffy answers with a stiff right hand. Vick is making a point to try to establish range with his jab and kicks while Duffy is more concerned with landing significant blows. Duffy gets a takedown in the final minute. Vick stands. Vick opens up late with some punches. Close round. 10-9 Duffy.
Round 2. Duffy lands a hard body kick early. He lands a head kick a little while later. Duffy's pace has noticeably slowed but Vick isn't taking advantage. Vick is having some success with the jab but not much else. Vick catches Duffy with a few jabs and a low kick. Duffy's output has markedly declined. Vick drops him with an uppercut late and follows with punches on the ground until the fight is stopped.
Winner: James Vick, TKO, round 2.
That was a big win for James Vick. Vick has done very well in the UFC but doesn't have many wins over name opponents to catapult him forward. That was a name win on a major card and gets him in a better position to make noise in a highly competitive division.
Walt Harris vs. Mark Godbeer live round-by-round coverage
This fight was originally scheduled for UFC 216 but was cancelled when Fabricio Werdum needed an opponent for his main card contest. Walt Harris got that fight and lost quickly via submission. He looks to improve on his 4-5 UFC record here. His opponent is the Brit Mark Godbeer. Godbeer is 1-1 thus far in the UFC.
Round 1. Harris starts out strong and lands some solid kicks. As Godbeer looks for a punch, Harris changes levels and gets a takedown. Harris quickly moves into full mount but he loses it just as quickly. He ends up in Godbeer's full guard. Harris lands punches from the top while Godbeer mostly just plays defense. Godbeer finally works his way back up to the feet. Godbeer takes a low blow on the feet and then eats a head kick as he is walking away looking for a break. The fight is called off and this is another tricky decision for the referee.
Winner: Mark Godbeer, disqualification, round 1.
That was a tough call for the referee to make. The doctor stopped the fight so it came down to intent on the illegal kick. It felt like the referee had made it clear to Harris to break following the low blow but it all came pretty quickly and it's easy to have sympathy for Harris in the situation. It's an unfortunate situation all around.
Ovince Saint Preux vs. Corey Anderson live round-by-round coverage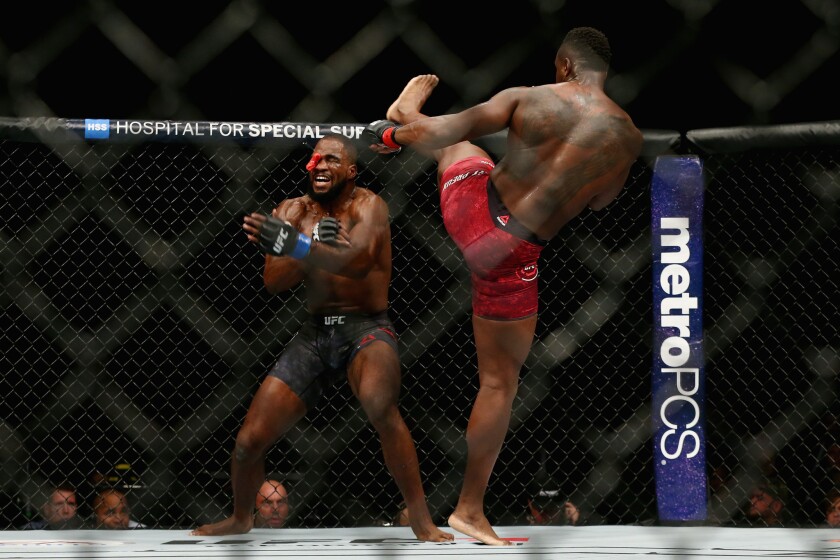 Ovince Saint Preux has pursued the upper echelon of the UFC for years, never getting to the top group of fighters but remaining a solid contender the entire time. He has won two straight fights with the rare Von Flue choke. Corey Anderson is in a similar category to Saint Preux. He is an Ultimate Fighter winner who has won two thirds of his UFC bouts but hasn't strung together enough wins at any point to get a genuinely big fight. He has lost two of his last three.
Round 1. Anderson connects with a nice right hook early. He takes Saint Preux down. Saint Preux pops up but Anderson takes him right back down. Anderson lands some punches on the ground but Saint Preux returns to his feet. Anderson lands some punches and the knees in the clinch before Saint Preux finally separates. Anderson continues to apply the pressure with punches and then looks for another takedown. Saint Preux defends well this time. Anderson backs off, lands a few punches, then moves right back in for the clinch. Saint Preux opens up with punches late and lands some major shots. Anderson goes down off balance at the very end of the round. 10-9 Anderson.
Round 2. Saint Preux picks up where he left off at the end of the first, landing a head kick and a barrage of followup punches. Anderson clinches. Anderson really presses for the takedown and he gets a nice one on Saint Preux. Anderson then lands some elbows to the head on the ground. Saint Preux tries to get up but Anderson pulls him down and lands some more punches there. Saint Preux finally gets up with less than a minute remaining. Anderson keeps the pressure on with the clinch. 10-9 Anderson.
Round 3. Saint Preux blocks a takedown. Saint Preux then knocks Anderson out cold with a head kick.
Winner: Ovince Saint Preux, KO, round 3.
Corey Anderson was doing well throughout the fight but Saint Preux clearly had more pop in his shots. Saint Preux capitalized on the late when he was likely down on the scorecards. It was a highlight reel finish for Saint Preux and one that likely sets him up for bigger things.
Mickey Gall vs. Randy Brown live round-by-round coverage
Mickey Gall has had a unique UFC career. He first fought a journalist Mike Jackson who wasn't a UFC caliber fighter. That win set up a bout with pro wrestler CM Punk, who he quickly beat. He then fought charismatic young Sage Northcutt and submitted him as well. Gall is thus 3-0 but it's probably the most unproven 3-0 in modern UFC history. Randy Brown is a former Ring of Combat champion who is 3-2 in the UFC.
Round 1. Brown moves forward throwing jabs. He lands a few good punches which Gall doesn't react well to. Gall throws a couple single punches back and clinches. Brown lands a hard knee to the head in the clinch and follows with another. Brown gets a takedown and lands in side control. Brown lands a couple solid punches but Gall gets guard in the process. Gall looks to stand up but Brown pulls him back down. Gall looks to set up an armbar but isn't able to get very far. Brown connects with a series of elbows from the top. He cuts Gall open. 10-8 Brown.
Round 2. Gall lands a nice punch early but he goes for a takedown and ends up on the bottom. Gall nicely reverses and takes top position for the first time. Brown uses an omoplata but Gall rolls out. Gall looks to work into side control but Brown fights him on that. Gall finally gets it and lands some elbows from there. He adds some punches as well. Brown works his way back into full guard. Gall then retakes side control. Gall gets crucifix position and lands some hard punches from there. Gall looks for a choke but Brown defends. Gall beautifully takes full mount late but Brown works out. 10-8 Gall.
Round 3. Gall shoots in for a takedown but eats a rapid succession of punches from Brown. Brown takes top position and continues landing punches. Gall is bleeding badly at this point. Gall looks for a guillotine choke from the bottom but doesn't get it. Gall goes for it again later but Brown pops out. Brown continues to work from the top with punches and elbows. Brown lets Gall stand up at the end. Gall throws a punch after the bell. 10-8 Brown, 28-26 Brown.
Winner: Randy Brown, unanimous decision (29-28, 29-28, 29-27).
That was a nice win by Brown. Gall really put it on him in the second but he came back and won the third handily. The fight was very much dictated by whichever fighter could secure top position. For Gall, it's a disappointing setback but he has still done well for himself in a young career.
Oleksiy Oliynyk vs. Curtis Blaydes live round-by-round coverage
40-year-old Oleksiy Oliynyk has had a nice run in the UFC, going 4-1 with finishes in all four victories. He takes on a bigger, much younger opponent in Curtis Blaydes. Blaydes is 7-1 with 1 no contest over the course of his career.
Round 1. Blaydes shoots in and secures an early takedown. Oliynyk gets up in a hurry. Back on the feet they throw some heavy punch attempts. Blaydes is relying more on straight punches while Oliynyk tends to loop his. They exchange punches to the body. Oliynyk lands a couple nice uppercuts but is taken down as he goes for a spinning back fist. Blaydes lets him get up shortly thereafter. Blaydes then gets another takedown. Blaydes passes into side control and drops down a knee to the body. Oliynyk gets up and immediately starts firing. He eats a big punch from Blaydes but then lands a hard shot on Blaydes. Blaydes drops Oliynyk with a punch and appears to have him in big trouble. Blaydes punishes Oliynyk with big punches as the round mercifully comes to an end. That was a very exciting round. 10-9 Blaydes.
Round 2. The fighters come out swinging again. They're both landing significant blows but Blaydes appears to have more in the gas tank. Blaydes gets a takedown. Oliynyk returns to his feet but Blaydes throws a kick that grazes his ear as he is getting up. For some reason the fight is stopped. The doctor apparently called for the fight to be ended and Blaydes was declared the winner.
Winner: Curtis Blaydes, TKO, round 2.
That was a strange finish to the fight. The action was stopped based on an illegal but inconsequential blow. That would usually mean a disqualification if the fighter couldn't continue, but they basically decided more of the damage was done before the illegal blow. In any event, Blaydes deserved to win.
Aiemann Zahabi vs. Ricardo Ramos live round-by-round coverage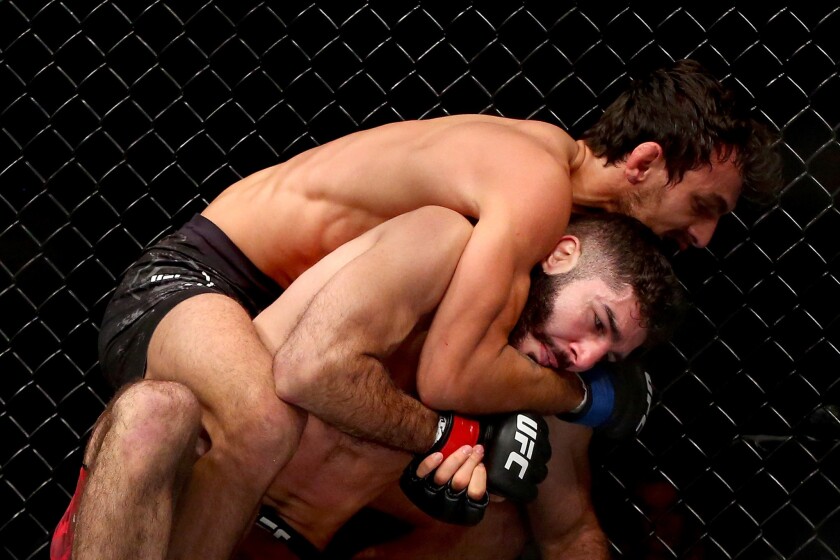 Aiemann Zahabi is the younger brother of Firas Zahabi, one of the most decorated trainers in MMA. He is 7-0 after making a successful debut in February. Ricardo Ramos is 10-1 with most of his wins coming via submission. He also picked up his first UFC victory in February.
Round 1. Zahabi comes in aggressively with strikes and clinches. He attempts a takedown but Ramos secures top position. A wild scramble ensures with both men looking to set up submissions but neither is able to get anything and they return to the feet. Zahabi lands some strikes from range and clinches again with Ramos. They trade knees to the body from the clinch. Ramos uses a trip takedown late and takes the back. He looks for a choke briefly and then lands punches from the back as the round concludes. 10-9 Ramos.
Round 2. Ramos looks to start the second with a few kicks. He adds a few jabs while Zahabi is primarily relying on his boxing. Zahabi lands a hard punch, one of the best shots of the fight, but Ramos quickly recovers. Zahabi lands a nice uppercut. Zahabi snaps Ramos' head back with a jab a little while later. He's controlling the standup. Zahabi follows with another uppercut. 10-9 Zahabi.
Round 3. Ramos is more active early, throwing a number of kicks and mixing in some straight punches. Zahabi is content to wait for his openings, and with good cause as his timing has been better than Ramos'. Zahabi moves in aggressively with punches punches. Ramos lands a back elbow in the process but Zahabi only becomes more aggressive. Ramos then knocks him out with another spinning back elbow.
Winner: Ricardo Ramos, KO, round 3.
MMA is a sport where small mistakes can have massive consequences. Zahabi appeared to be taking control of the fight but he got sloppy and Ramos made him pay for it in quick order. It was a very nice finish following a competitive fight.
Georges St-Pierre teams up with legendary boxing trainer Freddie Roach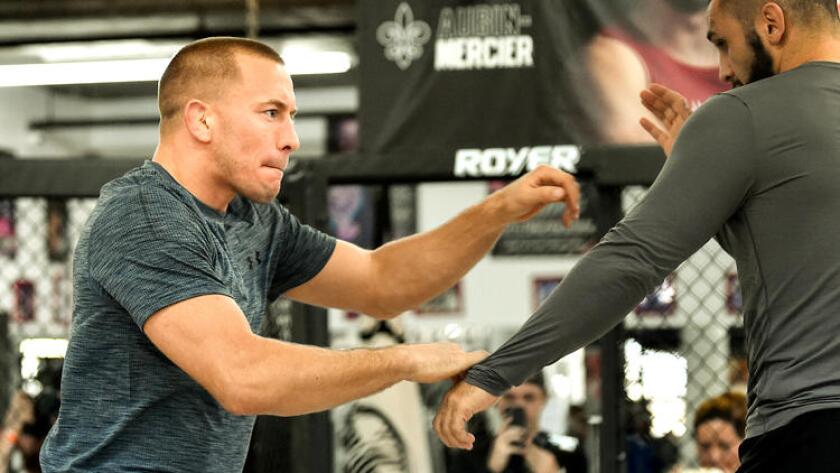 UFC women's strawweight champion Joanna Jedrzejczyk has thrown 2,085 punches and attempted just three wrestling takedowns in her rise to capturing the title. Men's bantamweight champion Cody Garbrandt was asked about an upcoming fight plan and held up his right fist.
And returning former welterweight titleholder Georges St-Pierre has hired seven-time boxing trainer of the year Freddie Roach to help plot a victory over middleweight champion Michael Bisping at Madison Square Garden in Saturday's UFC 217 main event.
It all points to the fact that striking has been unquestionably stamped as the most important of all disciplines in mixed martial arts.
"Before, Freddie was busy with [champion boxers Manny] Pacquiao and [Miguel] Cotto, but having him this whole camp is like a fighter's fantasy," St-Pierre said. "The way you prepare yourself is to always be an antagonist to your opponent. That's how you counter boxing."
Bisping ridiculed St-Pierre's past interest in takedowns, which have exhausted several minutes of mat-jostling appreciated only by the well-studied aficionados of MMA.
"You don't want to get hit. You don't want to strike. You're going to try to smother me and bore everyone to death," Bisping told St-Pierre at a UFC 217 news conference last month. "I don't know why you hired a really good boxing coach. I'm going to come out there, punch you in the face a few times and hopefully knock you out."
Michael Bisping looks to solidify claim as one of UFC's greatest with win over Georges St-Pierre
Michael Bisping and Georges St-Pierre meet in the UFC 217 main event Saturday night to settle both the middleweight championship and the matter of becoming UFC's all-time winningest fighter.
A stunning development considering where they were more than eight years ago on the landmark UFC 100 card.
Then, St-Pierre was the long-reigning welterweight champion in the process of a 12-fight winning streak that dated to 2007. Bisping was knocked cold by a Dan Henderson punch that night.
While St-Pierre, now 36, returns Saturday from a four-year hiatus from fighting, Bisping has since converted himself from frustrated perennial contender to champion at age 38.
"I've gotten to the tip-top of the mountain many times and I failed, but I kept coming back, kept fighting for it, and here I am," Bisping said.