'Matured' Michael Bisping vows to knock out Georges St-Pierre at UFC 217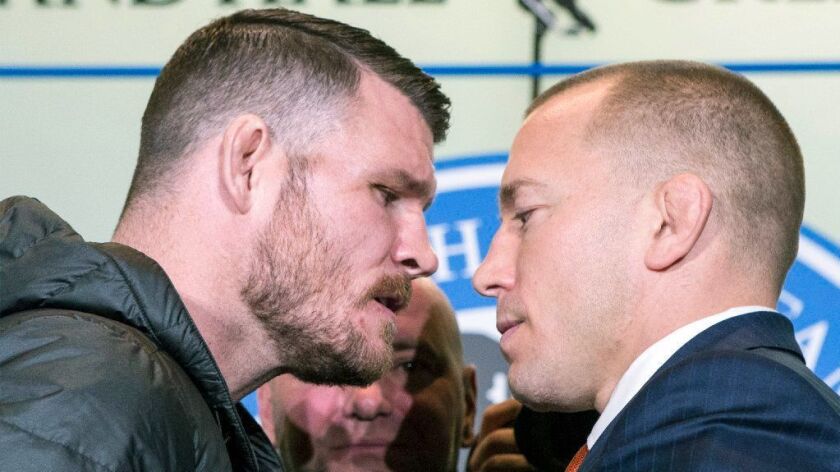 Reporting from New York City —
Michael Bisping and Georges St-Pierre meet in the UFC 217 main event Saturday night to settle both the middleweight championship and the matter of becoming UFC's all-time winningest fighter.
A stunning development considering where they were more than eight years ago on the landmark UFC 100 card.
Then, St-Pierre was the long-reigning welterweight champion in the process of a 12-fight winning streak that dated to 2007. Bisping was knocked cold by a Dan Henderson punch that night.
While St-Pierre, now 36, returns Saturday from a four-year hiatus from fighting, Bisping has since converted himself from frustrated perennial contender to champion at age 38.
"I've gotten to the tip-top of the mountain many times and I failed, but I kept coming back, kept fighting for it, and here I am," Bisping said.
Bisping has more UFC victories (20) than anyone, with St-Pierre tied with two others at 19. Bisping has the most middleweight triumphs (16), and he can pull within one fight of former light-heavyweight champion Tito Ortiz when he meets St-Pierre in his 26th UFC bout.
Since being submitted by guillotine chokehold in 2014 by Luke Rockhold, England's Bisping has won a narrow decision over former long-reigning middleweight champion Anderson Silva in England, knocked out Rockhold at the Forum last year to win the middleweight belt, and avenged the loss to Henderson in his first title defense.
Should he defeat St-Pierre, Bisping said he deserves to rightfully stand as one of the UFC's all-time greats.
"People say, 'Where are all these top 10 wins?' I've been in the UFC so long … there didn't even used to be a top 10," Bisping said. "I knocked out Rockhold. I sit here and joke around, and some people say that's the wrong way. But I'm serious about what I do, and I'm not here by mistake and this [belt] is not here by accident. It's been a lifetime of hard work. If down the line, you guys say something nice about me, that's great."
Now residing in Anaheim Hills and training in Costa Mesa, Bisping reverted to his jokester's role earlier this year when he and St-Pierre appeared at a news conference to promote a meeting that was subsequently delayed by a St-Pierre injury.
"I smell alcohol on your breath," St-Pierre told Bisping, a jab boosting the St-Pierre narrative that no one trains like him while seeking to reduce Bisping again to comic-contender status.
But when St-Pierre attempted to repeat the accusation at an October press gathering, Bisping laughed it off because he insists he's a changed man.
"I have matured. At 38, it had to happen sometime," Bisping said. "It's the mentality. I'm controlling this so much better. I used to carry anger with me the entire camp. Now, I'm as calm as possible. The mind controls everything.
"I'm not out of shape. I wake up and run four miles every single morning — eat, sleep, go train. I knock guys out every session, and while Georges is the biggest he's ever been [after both fighters met the 185-pound weigh-in limit Friday] he's the smallest guy I've faced. I'm the best version of myself. I believe I will knock Georges out."
Getting the bout to Madison Square Garden required great medical legwork from Bisping, too, as he endured extreme scrutiny from the New York Athletic Commission over his previously injured right eye.
The commission earlier this decade barely allowed Mexico's Antonio Margarito to fight a 2011 rematch with Miguel Cotto following a detached retina, and it told current featherweight champion Abner Mares he could not fight at Brooklyn's Barclays Center because of revised regulations that forbid fighters in the ring following eye surgery.
According to UFC chief legal officer and executive vice president Hunter Campbell, Kim Sumbler, the commission's new executive director, ordered Bisping to undergo independent follow-up examinations of his repaired right eye from USC and UCLA, with the assignment of a special eye expert from Cornell University to supervise Saturday's fight.
Campbell said Bisping's injury, suffered in a fight before he knocked out Rockhold, was deemed not as critical as the boxer's, with a nod to advanced current technology and treatment.
"They put Michael through what I feel may have been the most comprehensive, independent medical analysis for an eye issue that any commission has ever done," Campbell said.
The reports showed "he was at no further risk in fighting … his vision is not impaired," he added.
Bisping hasn't fought since October 2016 because of a knee injury. Then, the first effort to make the St-Pierre fight fell through, and "interim" middleweight champion Robert Whittaker injured his knee in defeating then-No. 1 contender Yoel Romero in July.
"They're saying I'm ducking contenders. I accepted Yoel and Whittaker. They're the ones who couldn't make it to the octagon, not me," Bisping explained.
So now, all these years later, Bisping and St-Pierre return to share an octagon — this time against each other.
"Georges says he's reinvented himself. I disagree. Under pressure, you go back to what your skill set is suited to. So when he gets jabbed, when he gets kicked, when he's wobbling around and thinking, 'I wish I was back in Montreal eating poutein,' he's going to go for the leg. That's the way he fights. I'm not terrified of that. I'll stand on my feet and knock him out."
Main Event: Michael Bisping (31-7) vs. Georges St-Pierre (25-2) for Bisping's middleweight belt
When: Saturday, 7 p.m. PDT
Where: Madison Square Garden
Television: Pay-per-view, $59.95; preliminaries begin at 5 p.m. on Fox Sports 1
Undercard: Cody Garbrandt (11-0) vs. T.J. Dillashaw (15-3), for Garbrandt's bantamweight belt; Joanna Jedrzejczyk (14-0) vs. Rose Namajunas (7-3) for Jedrzejczyk's women's strawweight belt; No. 2-rated Stephen Thompson (13-1-1) vs. No. 4 Jorge Masvidal (32-12), welterweights; Johny Hendricks (18-7) vs. Paulo Borrachinha (10-0), middleweights
Follow Lance Pugmire on Twitter @latimespugmire
---
Get the latest on L.A.'s teams in the daily Sports Report newsletter.
You may occasionally receive promotional content from the Los Angeles Times.