Lakers weren't strong enough to protect Kobe Bryant from himself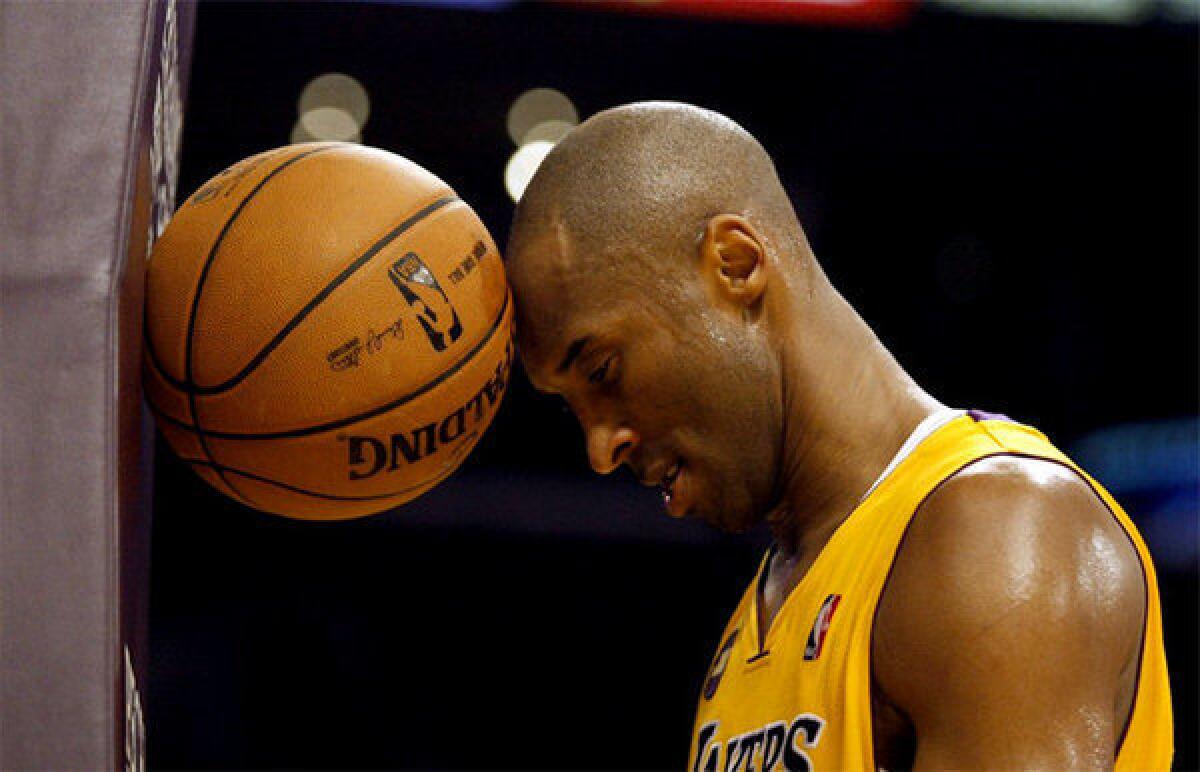 Earlier this season, when Kobe Bryant was in the middle of a mindless streak during which he played at least 40 minutes in 10 consecutive games, his coach could only laugh about it.
"I told him they'll put a statue of him at Staples [Center] but it might be literally me riding him to death," said Mike D'Antoni at the time. "They might just take him off the floor and bronze him right there. So be it. We need a win."
Earlier this month, when Kobe Bryant was in the middle of a streak of seven consecutive 40-minute games, his general manager could only shake his head.
"I spoke to Kobe about 10 days ago, about the 48-minute thing. … I said, I have concerns," said Mitch Kupchak. "His message to me was, 'Mitch, I hear what you're saying, but we've got to get into the playoffs and I'm playing and there's nothing you can do about it.' "
In the wake of a ruptured Achilles' tendon that has split an already shaky franchise, there are many objects of blame, but only one shameful truth.
Bryant was right. He was going to play his way into Friday night's saddest of shuffles, and there's nothing the Lakers could do about it.
The Lakers are paying Bryant $27.8 million this year, but there's nothing they could do about his destructive desire to pile every minute of every game onto a 34-year-old body that was weakening with every possession.
The Lakers have one of the strongest and most admired franchises in professional sports, but they are consistently held hostage by a single jersey with a singular vow to fly his team to the playoffs even as the strains of all 17 seasons dragged him to the floor.
In interviews a day after Bryant's season ended in the final minutes of a victory over the Golden State Warriors on Friday, it was obvious that important people on the Lakers were worried about him, yet nobody could stop him. It seems everybody saw an accident like this happening, but nobody was strong enough to throw their bodies in front of the dazzling No. 24 as it careened toward calamity.
In the end, Kobe Bryant's greatness became his curse. He had become so big, so influential, so admired, even the most powerful sports organization in Los Angeles was afraid to tell him no.
Bryant's resilience and relentlessness might make him this city's greatest competitor ever. His insistence on carrying the Lakers to the playoffs is to be admired, not scolded.
But at some point, competitive athletes need someone to protect them from themselves. The Lakers were too intimidated to do so. The irony is that while Bryant has taken nearly every important Lakers shot in the last decade, the Lakers were not there when Bryant needed them most.
"Even if you take Kobe out of the game, there's a lot of time he just gets up and puts himself back in the game," Kupchak said Saturday. "So just because you say you're out of the game, doesn't mean he'll come out of the game or stay out of the game."
And that's OK? In a world owned by Bryant and fueled by his desire for a sixth championship ring, it apparently has to be OK.
"He's a strong individual, no doubt about it," said D'Antoni.
Doctors are saying that Bryant's Achilles' tear, which will sideline him for at least six months and possibly threaten the end of his Lakers career, was a freak accident. But you don't need a medical degree to fairly wonder.
A tendon in his leg was torn at the end of a game in which he had twice been knocked flat with knee injuries, each time hobbling to his feet and remaining in the game.
An important bodily support system collapsed at the end of game in which Bryant had played every minute, at the end of a stretch in which he had played seven consecutive quarters, at the end of a period in which he had played at least 40 minutes for seven consecutive games.
Bryant is one of the league's most scarred veterans, yet this season, the only other NBA player to play an average of at least 38.6 minutes in at least 78 games was a rookie, Portland's Damon Lillard.
This season is the most minutes Bryant has averaged in six years. What 34-year-old NBA player stays on the court longer as he gets older?
"He's a warrior, all I do is respect him and what he does and want what he wants to do for the franchise," said D'Antoni. "He's earned the right to do certain things. I gave him leeway."
In the immediate aftermath of Friday's injury, it was easy to blame D'Antoni for refusing to bench Bryant when necessary. Upon further reflection, the coach is little more than a bystander in this long-running Lakers drama.
Seriously, what was he supposed to do with Kobe Bryant? How can a coach with no championship pedigree join a team after the start of a season and control a Hall of Fame star who admittedly cannot even be controlled by his longtime general manager?
"You always think, what if we did that, what if we did this, there's a lot of questions," said D'Antoni. "I feel awful about what happened, but you deal with the circumstances at the time."
One could also blame Kupchak, but he doesn't have the daily interaction that would give him the ability to shut down Bryant. Would any general manager other than Jerry West have that sort of power over him?
"Certainly, everyone could second-guess, looking back now," said Kupchak.
There was always only one person who could keep Bryant on the bench. If you want to blame someone here, blame the Lakers basketball boss who failed to bring this guy home.
Once again, if only Jimmy Buss had not snubbed Phil Jackson earlier this season before hiring D'Antoni. Those who say the former Lakers coach could not have kept Bryant rested and perhaps healthy are ignoring history.
Seven straight games of at least 40 minutes? When Jackson was coaching in 2008-09, Bryant needed three months to rack up seven games of 40 minutes. When Jackson was coaching in 2010, Bryant didn't even play seven straight games of 40 minutes in the seven-game Finals series against Boston.
The Lakers have long known they had a different sort of player in Bryant. They have long realized that only one man could truly handle him. When Buss failed to bring Jackson back this season, he not only let down Lakers fans, he also let down Bryant, who, for the foreseeable future, will sadly stay down.
twitter.com/billplaschke
Get our high school sports newsletter
Prep Rally is devoted to the SoCal high school sports experience, bringing you scores, stories and a behind-the-scenes look at what makes prep sports so popular.
You may occasionally receive promotional content from the Los Angeles Times.