Metta World Peace maintains Lakers are the best in the NBA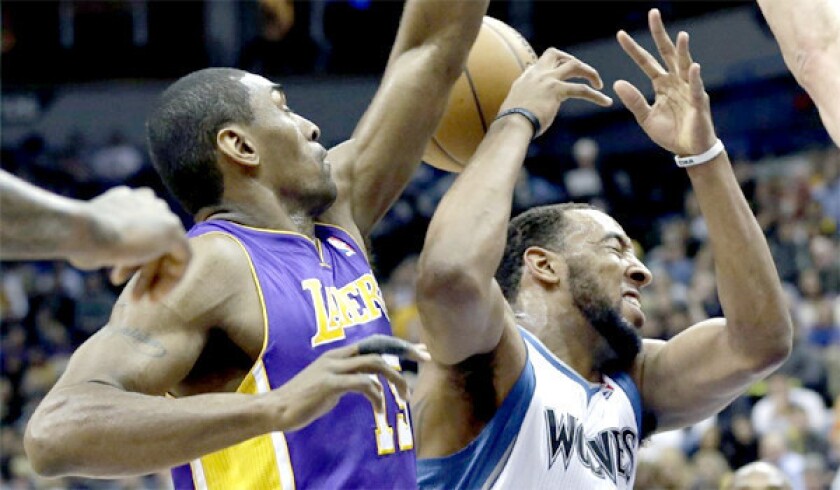 NEW YORK -- Metta World Peace can't be shaken. Or stirred up.
He has seen the Lakers lose way too many games for their pedigree and still thinks they're the NBA's top team. He's unshakable and he knows it.
He was at it again after the Lakers barely beat the well-under-.500 Detroit Pistons, losing an 18-point lead before winning, 98-97.
"When you've got the best team, you've got the best team. It's that simple," he said Sunday, talking as if the Lakers were 36-12 instead of 22-26. "I think we've been playing better for a long time. We've been giving up some leads. We're really that good. People forget that we're still that good and we're capable of getting up big."
World Peace's stats have jumped this season, though he is in a bad shooting slump (27%) over his last four games.
He's loving this, somehow. He believes when nobody else will.
He has accused local writers of being supporters of that other team ("All you beat guys have Clippers badges!") and he has harangued fans for not paying enough attention to the "little people" on the Lakers (i.e., anyone not named Kobe Bryant, Dwight Howard, Steve Nash or Pau Gasol).
That 7-16 road record the Lakers own? Utter deception.
He has been a part of one championship run and thinks another is on the way. To him, the Lakers' 5-1 mark since a 17-25 start says it all. Not that he hasn't felt this way from the beginning.
"I have every reason to feel good about this team," he said. "The proof is in the pudding right there for everybody to see when we play the right way and do amazing things. And I'm sure you all see it too.
"What if we had been playing that way for the whole season? We would have had an unbelievable record right now. But nothing to get really flustered about, or whatever you want to call it. It's a beautiful situation. This team could write a fun legacy."
You're forgiven
Earl Clark missed two free throws late in Sunday's game against Detroit. Not a good sign for a young player in clutch time.
But Coach Mike D'Antoni, who plucked him from the end of the bench and created a double-double type of player, quickly forgave him.
"He's never played a whole lot of minutes and probably never been in at the end of a game," D'Antoni said. "He's in a new role and he'll learn how to do it. I don't think this will affect him."
What about Dwight?
Howard is officially listed as day to day for Tuesday's game against Brooklyn after being a late scratch for Sunday's game.
He has missed five games and left two others early because of a torn labrum in his right shoulder. The Lakers are 2-3 when he doesn't play.
twitter.com/Mike_Bresnahan
---
Get the latest on L.A.'s teams in the daily Sports Report newsletter.
You may occasionally receive promotional content from the Los Angeles Times.