Dodgers' Adrian Gonzalez supports Yasiel Puig for All-Star team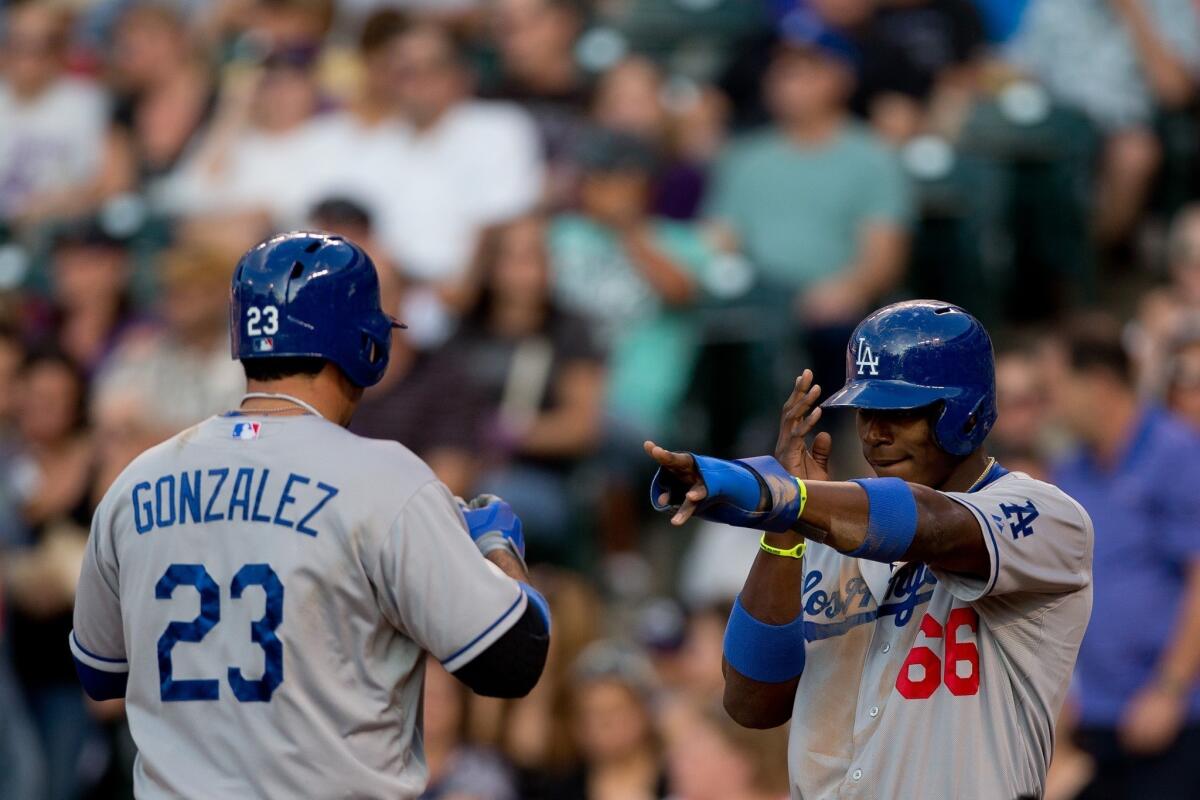 SAN FRANCISCO — Adrian Gonzalez endorsed Yasiel Puig's All-Star candidacy, ensuring there would be no discomfort between the fellow candidates who share a clubhouse. Gonzalez and Puig are among the five players in contention for the final spot on the National League team, which will be determined by an online vote.
"I'm voting for Puig," Gonzalez said.
Told of what Gonzalez said, Puig responded in Spanish, "And I'm going to vote for him."
Puig, who played in only his 32nd major league game Sunday, sounded appreciative of the fan support he has gained in such a short period.
"It's been a month and a couple of days, and there's a chance I can be in the All-Star game," he said. "That's something very big for me and my family."
Of those who say he hasn't played enough to merit All-Star consideration, Puig said, "If they vote me and I go, I'll be happy. If I don't go, I'll be equally happy. But that's up to the fans. Everyone has their opinion."
Gonzalez's view is that Puig should be in the game because fans want to see him.
Gonzalez acknowledged that if he hadn't ever played in an All-Star game, he might not be pushing for Puig.
"No, I would want to go," the four-time All-Star said. "That's why I want him to go."
Gonzalez said he found it strange that Major League Baseball would select two Final Vote candidates from the same team.
"I thought that was weird," he said. "It makes it tough on the team. How do they promote one and not the other? If you put out a promotion for one, then you have to do another for the other one. I just told them, 'Do it all for Puig and we're in good shape.'"
Capuano to the bullpen
Chris Capuano will be dropped from the rotation to make room for Ricky Nolasco, who was acquired from the Miami Marlins on Saturday.
Nolasco is scheduled to make his first start with the Dodgers on Tuesday in Arizona, which was previously Capuano's turn. Nolasco will join his new team Monday.
Capuano's move to the bullpen means rookie Stephen Fife will remain in the rotation. Fife lasted only 41/3 innings in the Dodgers' loss to the Giants on Saturday but posted a 2.21 earned-run average in June, which was the lowest on the staff.
"Really, it's taking all of your pieces and how do they fit," said Dodgers Manager Don Mattingly. "At this point, I really don't see him fitting into the bullpen the way Cappy does."
Of Capuano, Mattingly said, "It gives us another lefty, it gives us a guy that can be a long guy and has pitched out of the 'pen before."
This will be Capuano's second time in the bullpen this season. He was a reliever on opening day, when the Dodgers had a surplus of pitching.
Capuano is 2-6 with a 5.19 ERA in 12 starts. Consistency has been his problem. In his last two starts, Capuano pitched a combined eight innings and gave up 13 runs. In his two starts before that, he threw a combined 11 scoreless innings.
Kemp on the mend?
Matt Kemp sat out his second consecutive game because of irritation in the AC joint of his left shoulder, but Mattingly said he expects him back in the lineup Monday in Arizona.
"Everything I've heard, he's going to be ready to roll tomorrow," Mattingly said.
twitter.com/dylanohernandez
Get our high school sports newsletter
Prep Rally is devoted to the SoCal high school sports experience, bringing you scores, stories and a behind-the-scenes look at what makes prep sports so popular.
You may occasionally receive promotional content from the Los Angeles Times.