Juan Uribe appreciates support from Dodgers teammates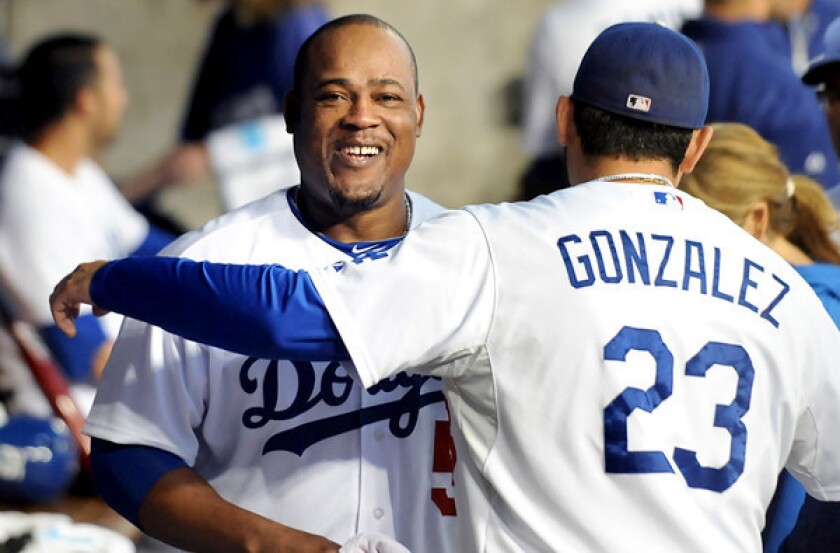 PHOENIX -- The highlight of Juan Uribe's off-season didn't come when the third baseman agreed to a two-year, $15-million contract with the Dodgers. It came in the days and weeks that followed.
Uribe heard from several teammates, either directly or through the media. They all expressed similar sentiments: How delighted they were he was returning. That he was a leader in the clubhouse and a key figure on their team.
"I was really proud of that," Uribe said. "That reinforced my belief that I made the right decision to come back."
Considering the changes in the Dodgers' clubhouse, the 34-year-old Uribe's ability to connect with virtually everyone on what is a particularly diverse team could be vital.
Several respected veterans have departed. Nick Punto is with the Oakland Athletics. Skip Schumaker is with the Cincinnati Reds and Mark Ellis is with the St. Louis Cardinals. Michael Young and Jerry Hairston Jr. retired.
"Uribe is a guy that has that same impact on the clubhouse," first baseman Adrian Gonzalez said.
Uribe batted a combined .199 in the first two seasons with the Dodgers. He was relegated to the bench, but his cheerful disposition never changed. Last season, he reestablished himself as the Dodgers' everyday third baseman, hitting .278 with 12 home runs and 50 runs batted in.
Along the way, he provided teammates with plenty of laughs.
"Uribe can say the same joke that I will say and everybody will laugh at Uribe's joke and everybody will look at me and say, 'Hey, you're dumb,' " Gonzalez said. "It's that type of personality he has."
Catcher A.J. Ellis said a large part of Uribe's likability has to do with his self-effacing nature.
"He's the target of a lot of fun in the clubhouse, but he gives it out as well," Ellis said. "It helps promote that attitude that this game is not serious all the time.
"You want to be serious and you want to be focused for the three hours of the game. But there's too much time here. You can't be locked in all day. Juan does a great job keeping things loose before the game, after the game, on team flights, on team buses."
Ellis described how Uribe often grabbed the microphone on late-night bus rides and poked fun at teammates.
"Nobody's off limits," Ellis said.
When Hyun-Jin Ryu arrived from South Korea last spring, Uribe was the player who most warmly welcomed him. When Cuban outfielder Yasiel Puig was trying to make sense of American culture, Uribe offered him advice.
The value of being a supportive teammate was something Uribe said he learned from his late cousin, Jose Uribe, an infielder with the San Francisco Giants from 1985 to 1992.
Uribe also recalled how when he was breaking into the major leagues with the Colorado Rockies more than a decade ago, Neifi Perez offered him guidance.
"For me, what's most important in this sport is to have discipline and to get along with your teammates," Uribe said. "Even if you're a great player, if your teammates don't like you, you're not in a good situation."
As likable as he is, Uribe manages to be taken seriously. He has two World Series rings, as well as defensive acumen.
"He's not dismissed as a clown because of the way he plays the game," Ellis said. "To me, there's no better defensive third baseman in the National League than Juan Uribe. He proved that last year."
Uribe was a finalist for the Gold Glove.
He also drew admiration for how he completely changed his offensive approach last season. A career-long pull hitter, Uribe learned to use the entire field. Uribe believes his new approach will allow him to avoid the kind of slump he endured after he signed his last multiple-year deal.
If hitting coaches Mark McGwire and John Valentin offered the expertise that made Uribe a viable offensive player again, his teammates provided him with the emotional fuel. Uribe described how well the other players treated him when he was a sub-.200 hitter.
"They supported me a lot personally," Uribe said. "That's all you want. Support."
Twitter: @dylanohernandez
---
Get our high school sports newsletter
Prep Rally is devoted to the SoCal high school sports experience, bringing you scores, stories and a behind-the-scenes look at what makes prep sports so popular.
You may occasionally receive promotional content from the Los Angeles Times.