How great is Anthony Davis? He's in a class with Wilt, Kareem, Shaq and Kobe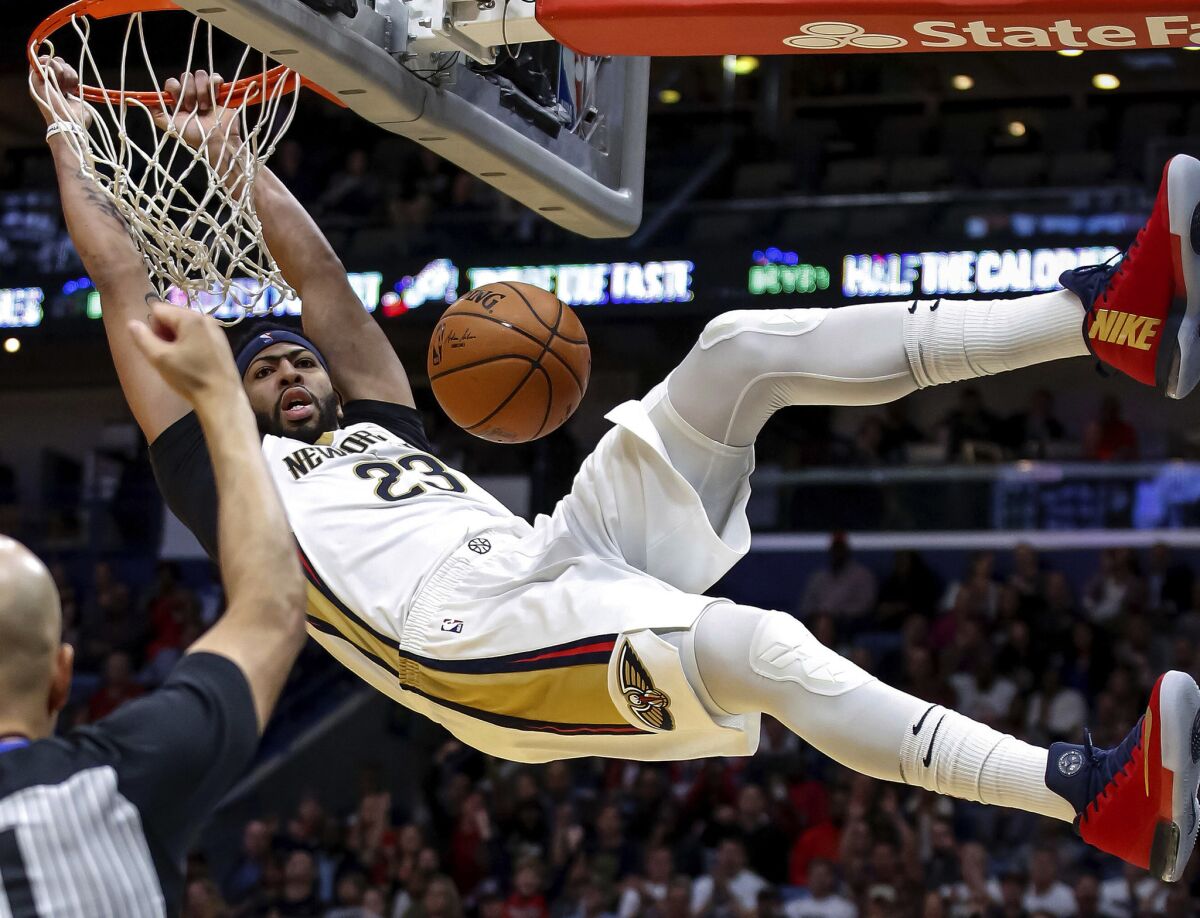 Anthony Davis will soon be the Lakers' next superstar big man after New Orleans agreed to a trade Saturday that will ship three young Lakers and three first-round draft picks to the Pelicans.
A look at the career highlights of the six-time all-star and three-time all-NBA player who played seven seasons in New Orleans.
— First overall draft pick in 2012 draft.
— NBA All-Rookie team (2013).
— All-NBA first team (2015, 2017, 2018).
— NBA All-Defensive first team (2018), second team (2015, 2017).
— Career averages for 466 games: 23.7 points, 10.5 rebounds, 2.1 assists, 2.4 blocks, 1.4 steals.
— From Dec. 1, 2018, to Jan. 2, 2019, he had 331 points and 157 rebounds to become the first player since Shaquille O'Neal in 1994 to have at least 325 points and 150 rebounds in a 10-game span within a single season.
— Became the first player with nine games of at least 45 points and 15 rebounds in his career since the NBA/ABA merger in 1976 with a 48-point, 17-rebound effort on Dec. 28, 2018, in a 114-112 win over Dallas.
— Set franchise playoff record with 47 points in a win over Portland on April 21, 2018. It was the most points scored in a series-clinching win since Kobe Bryant's 48 points in 2001 versus Sacramento.
— Recorded his first career triple-double with 24 points, 11 rebounds and a franchise-record 10 blocks against Utah on March 11, 2018.
— Became the first player in history with 53 points, 18 rebounds and five blocked shots in a game versus Phoenix on Feb. 26, 2018.
— Joined Bob McAdoo as the only player in history with at least 40 points, 15 rebounds and five steals in back-to-back games when he had 44 points, 17 rebounds and six steals in a double overtime win at Brooklyn on Feb. 10, 2018.
— Became the only player since 1983 to have 40 points, 18 rebounds and three blocked shots in less than 30 minutes during a game against the New York Knicks on Jan. 9, 2017.
— Had 45 points and 17 rebounds against Golden State on Oct. 28, 2016, making him the third player in the last 40 years to record back-to-back games with at least 45 points and 15 rebounds, joining Charles Barkley (1988) and Moses Malone (1982).
— Became the first player in history with 50 points, 15 rebounds, five assists, four blocked shots and five steals in a loss to Denver on Oct. 26, 2016.
Sign up for our Lakers newsletter »
— Set a franchise record for points in a game with 59 in a win at Detroit on Feb. 21, 2016, becoming the youngest player in history with that many points. Became the third player with 59 points and 20 rebounds in a game, joining Wilt Chamberlain (four times) and Shaq (2001).
— On Dec. 27, 2014, he played in his hometown of Chicago for the first time and had 29 points, 11 rebounds and six blocked shots in a 107-100 loss to the Bulls.
— Joined McAdoo, Chamberlain and Kareem Abdul-Jabbar as the only players to average at least 31 points, 11 rebounds, two assists and 1.3 steals in the first four playoff games during a 2015 playoff series against Golden State.
Sources: NBA.com, basketball.reference.com
---
All things Lakers, all the time.
Get all the Lakers news you need in Dan Woike's weekly newsletter.
You may occasionally receive promotional content from the Los Angeles Times.