Gregg Popovich praises Kobe Bryant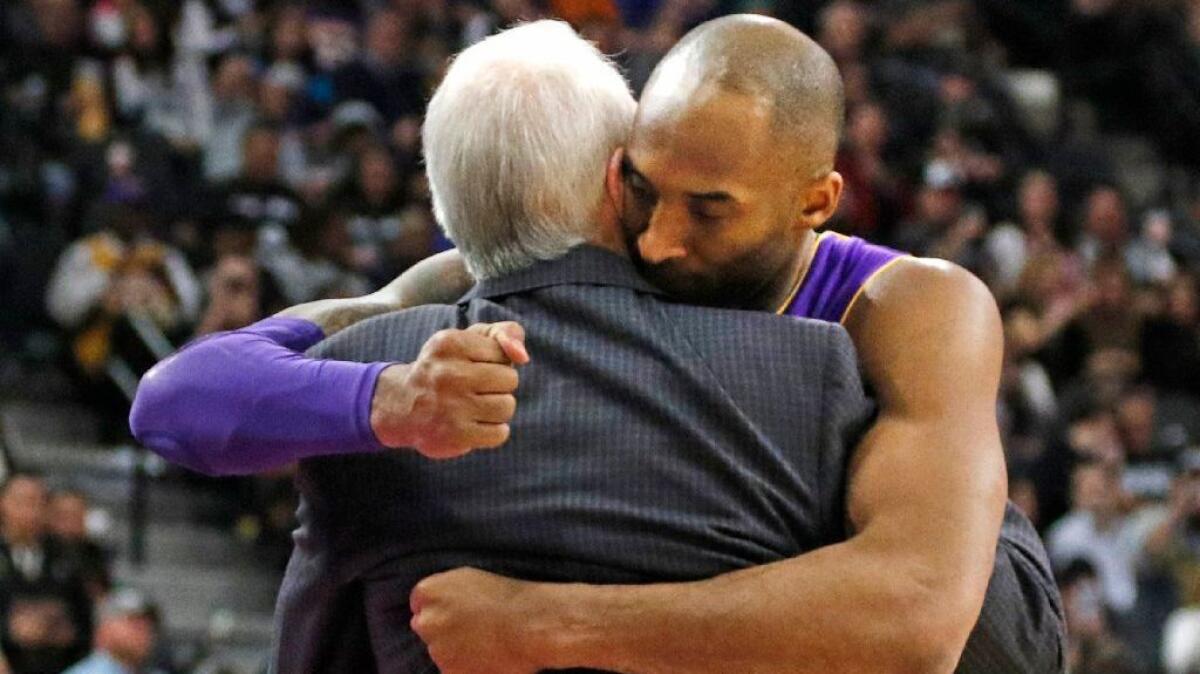 Reporting from SAN ANTONIO —
From 1999 to 2013, Kobe Bryant and the Lakers met San Antonio in the playoffs seven times and the games and series were always tense and tough.
When Spurs coach Gregg Popovich was asked Monday about Bryant having jerseys Nos. 8 and 24 retired in Los Angeles later that night, Popovich heaped praise on Bryant.
Bryant went 4-3 against Popovich and the Spurs in playoff series.
"Kobe is one of those guys that every coach in the world says, 'That would have been great to have an opportunity to coach that guy.' That's the best thing I can say about him. It says everything," Popovich said. "[He's] one of the greatest players of all time. It's not just his talent or his physical skills.
"His mind was on a par with Michael [Jordan] and Larry [Bird] and Magic [Johnson], guys like that. They thought the game. They knew what was going on. And then on top of that, he had a really phenomenal competitiveness. So it's not just the talent. It's the mind and the grit, the guts, the who he is and the way he wanted to compete night after night, which is what made him Kobe Bryant."
Twitter: @BA_Turner
All things Lakers, all the time.
Get all the Lakers news you need in Dan Woike's weekly newsletter.
You may occasionally receive promotional content from the Los Angeles Times.