Column: Jeanie Buss is ready to move past the drama and make the Lakers winners again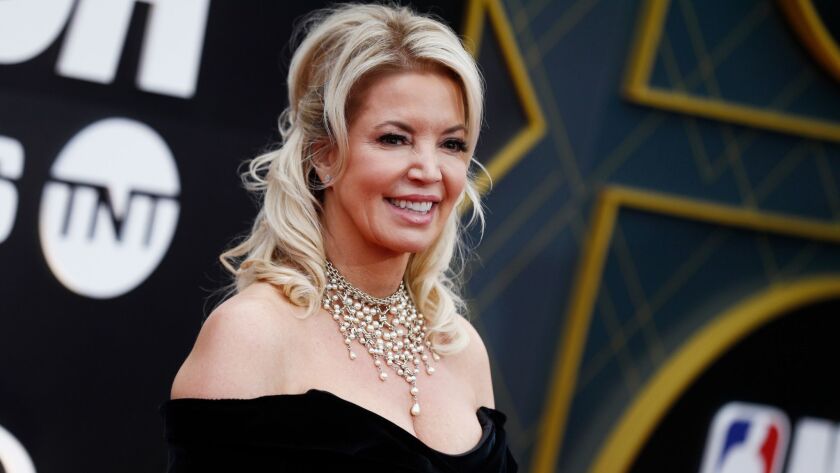 Jeanie Buss was at a loss for words, which wasn't entirely unusual when it comes to her 40-year relationship with Magic Johnson.
When Johnson abruptly resigned as the Lakers' president of basketball operations before the final game of the regular season without telling anyone in the organization, Buss found out like everyone else.
She wasn't sure how to react after having a three-hour meeting with him about the team's future the night before without any indication he was considering leaving.
"I can't really anticipate what he thinks," Buss said Monday in her first public comments since his resignation. "He has to answer those questions. He's always full of surprises. Like, as surprising as it was, it kind of reminded me of back in 1981 when he asked to be traded after winning a championship with the Lakers because he wasn't happy with the way the offense had changed.
"And that led us to getting Pat Riley as our head coach. So he's got good instincts. He's got to stay true to who he is and do what is right for him. I wish I would've had a little bit more notice, but I think we are going to be just fine."
Buss was more disappointed in the way Johnson explained his motivation for telling the media first than his decision to resign. Johnson said he couldn't tell Buss first because she would be in tears and try to convince him to stay. "I know her," Johnson said. "We would have cried and I would have felt guilty and I would have stayed."
That line bothered her more than the resignation, according to those close to her. He unintentionally fed into the sexist stereotype of a female owner who is incapable of accepting someone's resignation without bursting into tears. Buss rarely gets emotional and would have probably been the one handing Johnson the tissues if he had told her he was resigning the night before instead of talking about plans he had no intention of seeing through.
Instead of addressing reporters the next day during exit interviews, Buss kept silent outside of a complimentary tweet directed at Johnson. She continued to talk to Johnson regularly after his resignation and would tell people the Lakers were continuing with "Magic's plan."
Johnson never gave Buss an indication during this time he was unhappy with the power structure of the team or with general manager Rob Pelinka, whom he corresponded with as well. Once again, Johnson was apparently more comfortable doing that in public first as he went on national television and accused Pelinka of "betrayal" hours before Pelinka was set to introduce Frank Vogel as the Lakers' next head coach.
Buss should have addressed the media and answered questions after Johnson's resignation and his comments about Pelinka because this wasn't just some random disgruntled employee. It was arguably the most beloved figure in team history and someone she considers an older brother.
"There really wasn't anything to say," Buss said. "I think that when Magic decided that he didn't want to be with the organization any longer in an official capacity that took me off guard. So I needed time to figure out what the process was going to be. That's all. Just taking care of business and looking out after the organization."
The Lakers have posted the worst winning percentage in the league the past six years, and fans are yearning for action over words. They're tired of hearing about office politics. They want to see their team compete for a championship again. Right or wrong, Buss wanted that to be the focus the next time she stepped in front of the cameras and microphones.
"There's a lot of changes, Lakers fans; be patient," Buss said. "We're going to get there. We will not finish until we are all proud."
After signing LeBron James last summer, the Lakers began this summer by agreeing to a blockbuster trade for Anthony Davis, pairing two of the top five players in the league together. They made the move while keeping Kyle Kuzma, who averaged 18.7 points per game last season, and not taking on Solomon Hill's $12.7-million contract.
If the Lakers don't land another superstar, they should have enough cap room to sign three quality players and round out the roster with veterans looking to compete for a championship on minimum deals.
Buss couldn't comment about the Davis trade as the deal won't become official until next month. That move along with the injuries to Golden State's Kevin Durant and Klay Thompson and the turmoil in Houston have made the Lakers heavy 3-1 favorites to win the championship next season.
For the first time since the passing of former owner Jerry Buss in 2013, the Lakers are not just a playoff team but a championship-contending team again.
"Dr. Buss set the bar high for the Lakers," Jeanie Buss said of her father. "There's the gold standard, and then there's the purple-and-gold standard. Certainly, we are going to do everything we can to get the best players possible and to get the Lakers back to consistently be at that level. But we got a ways to go, and I think we are in the right direction, but at the end of the day, we will be judged by our wins and losses."
That's ultimately how Buss' tenure as the team's owner will be judged as well. Jerry Buss was inducted into the Hall of Fame after the Lakers won 10 championships and played in 16 NBA Finals over his first 30 years as owner.
The team dealt with its fair share of drama back then but if the Lakers are able to win their first championship next season under Jeanie Buss' ownership, no one will care about the office politics and impromptu news conferences that have plagued the team recently. The focus will be back on the court and perhaps in the rafters.
---
All things Lakers, all the time.
Get all the Lakers news you need in Dan Woike's weekly newsletter.
You may occasionally receive promotional content from the Los Angeles Times.