Column: What will Kobe Bryant do in his final NBA All-Star game?
As Kobe Bryant's farewell tour alternately limps and lopes into its final lap, the strangest thing is happening.
When he's not being showered with gratitude, Bryant is handing it out. He's not just receiving gifts, he's giving gifts. A man who spent most of 20 years openly dismissing opponents is now embracing them.
He's giving opponents his autographed shoes, which they are accepting with the smiles of children, and whose photos they are posting on Instagram like teenagers.
"Thanks for everything!" wrote the Indiana Pacers' Paul George. "YOU put that ball in my hand as a youngin!"
He's also handing out advice, having fatherly chats with young stars in quiet corners of opposing locker rooms, dishing with his best wildlife metaphors.
"Probably the best talk I've ever had," the Boston Celtics' Isaiah Thomas said after Bryant urged him to make like a lion.
Which brings this story to Sunday's All-Star game in Toronto, Bryant's last appearance on a worldwide stage, his own personal Finals, a glittering night framed by a simple question that his legacy desperately needs answering.
Now that he's finally decided to hug everyone, how much are they going to hug back?
He's weary, he's hurting, he's shooting a league-low 35%, he's starting Sunday only because the fans sentimentally voted for him. But he can still shine if his fellow stars — some of whom have previously been the object of his legendary chill — allow it.
This could be the defining final moment of Bryant's career, the moment when the love and admiration of his peers becomes official, a literally Magic moment that compares to the final 1992 All-Star game of Magic Johnson. But unlike in many of his other career highlights, he can't do it alone.
If Bryant is most valuable player, it will be his record fifth, moving him ahead of Bob Petitt. But this happens only if his West teammates can resist the coronation of league darling Stephen Curry.
If he isn't outscored by LeBron James, he will end his career as the leading scorer in All-Star game history, as he currently leads James by two points overall. But this happens only if James' East teammates get out of his way.
Shaquille O'Neal told reporters this week that, "If [Bryant] can find his stroke and get it going a little bit, I can guarantee you he's going to go for the MVP."
Bryant refuted that notion, saying, "Why? I'm good. I'm good. I'm good. I'll make a couple of jump shots and try to play the best I can. But I'm OK.''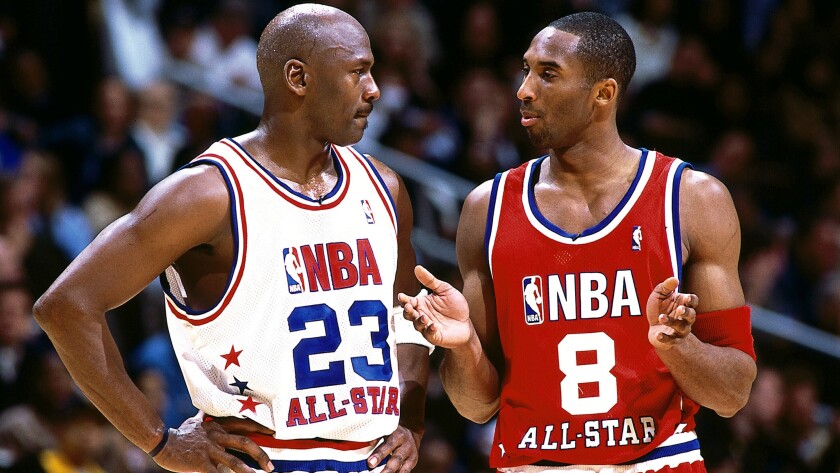 Those who know Bryant would agree with O'Neal. But Bryant will need help. The MVP has almost always been scripted by the players themselves, and the dynamics surrounding Bryant are fascinating.
While the rest of the league has always respected and even feared Bryant, there is little evidence that his peers have ever really truly liked him, and he has never truly cared. But for a couple of hours Sunday, in terms of his personal history and lasting memories, their opinion will matter deeply. Whether he likes it or not, in the number of passes and screens and step-aside defenders, Bryant will find out exactly what his world thinks of him.
He'll either be loved more than ever, or feel that he was never really loved at all.
"I did idolize Kobe Bryant, I studied him, I wanted to be like him, he was our Michael Jordan," Oklahoma City's Kevin Durant said this season.
Nice words, but All-Star game are where players put their feelings into action, and Bryant knows it. In his previous 14 All-Star games, Bryant has been both grandly ordained and subtly ostracized.
Remember the 2011 game at Staples Center? As if honoring him for leading the Lakers to consecutive NBA titles, the stars helped Bryant become the hometown hero, as he threw up 26 shots in 29 minutes and grabbed 14 rebounds in scoring 37 points and winning his fourth MVP award.
But remember the 2004 game at Staples Center? This occurred during the height of the feud between Bryant and teammate O'Neal. Their fellow players had long sided with the affable Shaq, and showed it when they stepped aside and allowed O'Neal to come off the bench and take 19 shots, leading to 24 points and an MVP award. Bryant started, played 36 minutes, but took only 12 shots and was not a factor.
History is filled with All-Star games that turned into Hollywood stories.
In 1987, Tom Chambers of the Seattle SuperSonics was a late addition to the team, but wound up throwing up 25 shots, scoring 34 points, and winning the MVP award for the hometown fans at the Kingdome. The following year, Michael Jordan won the dunk contest and MVP award in his All-Star coming-out party in Chicago. In 1993, it was no coincidence that Utah's John Stockton and Karl Malone became the first teammates to share the MVP award in a game played in Salt Lake City.
There was no greater example of an All-Star script, of course, than in 1992 in Orlando, when Johnson returned to the court for the first time since his HIV-induced retirement, scored 25 points, and was named MVP in a game that actually ended with 14.5 seconds left when Magic hit one last three-pointer and was swarmed by all the stars.
"It was the first game ever called on account of hugs," Johnson said later.
This surely would be Bryant's wish. He scored 38 points in 33 minutes a couple of weeks ago in Minnesota, so he can surely still make that shot. His opponents have seemed genuinely admiring throughout the season — his nightly postgame hug lines are endless — so it appears they would allow him that moment, and who wouldn't be cheering for it?
Then again, as with all things involving Bryant's farewell tour, there's the legitimate fear of karma.
In an aging Jordan's emotional final All-Star game in 2003 in Atlanta, he made the potential game-winning fade-away jumper with 4.8 seconds left in overtime, giving him 20 points and apparently sealing the MVP award.
"The script was written," Jason Kidd said at the time.
But with one second remaining, at the other end of the floor, some party pooper threw up a wild shot while falling out of bounds, was fouled, and converted two free throws to send the game to double-overtime, eventually costing Jordan his MVP and ruining his final great moment.
Yeah, sigh, it was Kobe.
Follow Bill Plaschke on Twitter: @billplaschke
---
All things Lakers, all the time.
Get all the Lakers news you need in Dan Woike's weekly newsletter.
You may occasionally receive promotional content from the Los Angeles Times.