Column: This is the wrong goodbye for Kobe Bryant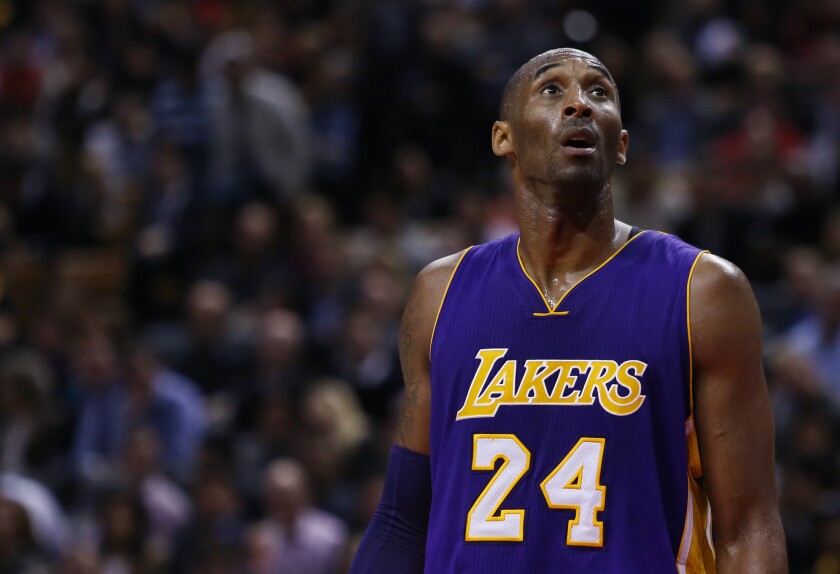 Barely a week into the Kobe Bryant Farewell Tour, the road has forked, the bus has split, and the Lakers have found themselves on two distinctly different journeys.
One path is being taken by Bryant, who is shooting and smiling and basking in nightly standing ovations.
The other path is being taken by his teammates, who idly stand, smolder and stagnate.
Bryant is playing big minutes, launching big shots, and hearing big cheers even as those minutes clearly strain and those shots loudly clank.
His teammates, meanwhile, are buckling against restricted minutes, stumbling through restricted space, and have generally become spectators to their own demise.
Since Bryant announced his retirement on the afternoon of Nov. 29, every game has become an meaningless exhibition game with only one exhibitor, a playful All-Star game with only one All-Star, a few shining moments surrounded by long, sad stretches that the Lakers franchise might come to deeply regret.
Bryant is the Harlem Globetrotters. His teammates are the Washington Nationals. Together, with three wins in 21 games, they are a joke.
Even on the night Bryant found his lost touch and led the team to a victory in Washington, it was as if the rest of the Lakers were just munching on popcorn and watching from the back row.
"It was like a movie, man," Jordan Clarkson said at the time.
Bryant has already made one movie, he's filming his final season for probably another movie, so he surely understands how his own story line is playing out.
The retirement poem was brilliant. The farewell letter to fans was memorable. The class and grace and real emotion he illustrated during that initial retirement bash was evidence of the depths of his personal evolution. In 20 years, Los Angeles has witnessed Bryant grow from a cocky and insecure kid to an insightful and embracing adult.
He deserved to be applauded by a nation of NBA fans who had once scorned him. He had earned a loud and loving goodbye, and it was neat to see and feel it, once-hostile folks everywhere suddenly chanting his name.
"I thought everybody hated me," Bryant said after hearing those cheers in Washington. "It's really cool, man."
It was indeed cool. But then it became chilling. Instead of being secure in his place as one of basketball's all-time greats and relaxing into his role as a mentor and facilitator for the next generation of Lakers, he has kept trying to score more and star more. Instead of slowly giving up the ball, he was gripping it even tighter. Instead of using his gifts to build a bridge between his teammates and the next Lakers era, he is crowding them out while crossing that bridge alone.
Since announcing his retirement, he has played all six games, which is understandable considering five of those games were in cities where he will never play again. Yet less sensible is that he has played more than 30 minutes in all but one of those games, even in back-to-back games, while dominating the floor with his struggles such that the development of the youngsters has completely stopped.
Bryant has taken 45 more shots than anyone on the team, including 49 more three-pointers than anyone else, yet he is shooting 30.6% overall, ranking him 117th among 117 NBA qualifiers. That's right, one of the greatest Lakers ever is the worst shooter in basketball.
Bryant has missed so much from beyond the arc that his number of three-point clanks — 107 — is greater than the number of three-pointers even attempted by anyone else on the Lakers.
There are some who are applauding Bryant for scoffing at conventional wisdom, ignoring the Lakers' private wishes, and ending his career the way he played it. Certainly that's an endearing narrative, the legendary gunner throwing up one last trey and walking away with the ball in the air.
But that's not how Bryant has portrayed his emotional growth. This is not who he has seemingly become. Every retirement interview has been filled not with a vow to keep shooting, but with a sense of appreciation and respect for the game and his place in it.
The teenage Bryant wouldn't get it, but this 37-year-old Bryant surely does. He has to know how this looks. He has to understand what this means. As someone who aspires to become part of both the Lakers and larger community upon retirement, he surely knows what he is doing is not building community. He has to know the optics on this just don't make any sense.
None of this feels right. And now that the tour has hit five visiting arenas, all of them filled with the same Kobe love and same Lakers angst, often at the same time, none of it feels like much fun.
The scene became even more absurd Monday night in Toronto when Lakers Coach Byron Scott announced he was benching two of the cornerstones of the team's future, D'Angelo Russell and Julius Randle, while Bryant continued to play unfettered.
In a 102-93 loss, both Russell and Randle played only 21 minutes while Bryant played 32, and isn't that completely backward? The theme went from anger to sadness when the idea arose that, hey, maybe the kids are being benched so they can play when Bryant doesn't play, on a court that is uncluttered with Bryant's streamers and balloons? Instead of the players learning from Bryant, they are being kept away from Bryant?
Russell acknowledged afterward that the court was much more free without Bryant, saying, "There's just more ball movement. No disrespect to Kobe, but you know you have more opportunity because of who he is."
There is only one person who can fix this, and it's not Scott, who has no choice but to cater to Bryant even if this could eventually cost him his job. It's not the Lakers front office, which has empowered Bryant for so many years that it has lost all control of his final chapter.
No, this one is on Bryant, and here's hoping he understands that only by humbling himself could he end his career in true greatness. Only by playing less, shooting less, and mentoring more can he transition to the next phase of his journey. He has intimated that he might become a producer; well, orchestrating a goodbye in which he slowly moves the spotlight onto the new Lakers era could be his best production yet.
Fans everywhere would accept fewer minutes as long as Bryant was on the court in the final ones to say goodbye. And the Lakers, all of them, even if they won't admit it, would love just a little less Kobe and a little more future.
"Quite frankly, I have to get more answers on our players going forward," General Manager Mitch Kupchak told Mike Bresnahan of The Times this week. "I want to see them develop and not only just get through the season averaging X-number of minutes and then next year we just figure it out.
We need answers this year."
Only one person can help the Lakers find those answers. Yet even in his final days, 20 years later, Kobe Bryant remains the Lakers' biggest question.
Follow Bill Plaschke on Twitter @billplaschke
ALSO
Trainer Gary Vitti is another longtime Laker who's retiring after the season
LAFC appoints John Thorrington to run the expansion team's soccer operations
Angels like Johnny Giavotella, but would like to upgrade at second base anyway
---