Kobe Bryant, Steve Nash to assist in pursuit of Dwight Howard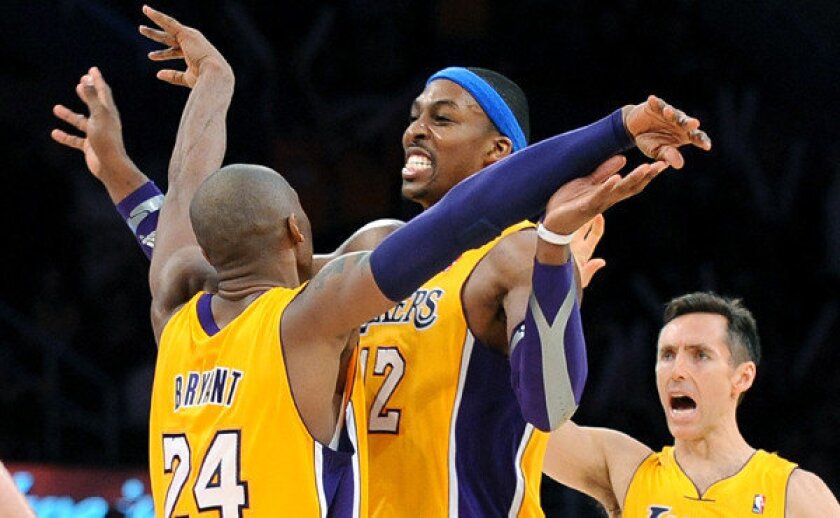 Without the reassuring voice of Jerry Buss, the late Lakers owner whose eleventh-hour phone call prevented Kobe Bryant from going to the Clippers in 2004, the Lakers are turning to two veterans to help keep Dwight Howard in Los Angeles.
Bryant and Steve Nash will be part of the Lakers' delegation that meets Tuesday with Howard to try to persuade him to sign a five-year, $118-million contract.
They'll be joined by Lakers General Manager Mitch Kupchak and Coach Mike D'Antoni. Team executives Jeanie Buss and Jim Buss are also expected to attend the meeting at an undisclosed Los Angeles location.
Bryant has been in the shadows, recovering from a torn Achilles' tendon and not courting Howard as aggressively as Houston's James Harden and, to a lesser degree, Dallas' Dirk Nowitzki.
But Bryant is stepping up his involvement by helping out with the Lakers' pitch Tuesday, the second full day of free agency. He wants Howard to return, thinking the center is key to the future championship hopes.
The Lakers' prevailing theme will be simple — they possess a time-tested championship pedigree that has led to 16 titles. And they'll be flush with spending cash in exactly one year, when Nash will be the only player currently under contract, a concept Kupchak recently referred to as a time of "an enormous amount of financial flexibility."
The Lakers made a point of contacting Howard when free agency began at 9:01 p.m. Sunday.
Kupchak met with Howard briefly in person shortly after free agency began, said a person with knowledge of the situation. It was unclear what they discussed, but the Lakers continued to line up Tuesday as their big day … they hope.
They are battling two other teams, Houston and Dallas, each with its own distinct drawing cards.
Dallas' intrigue is its owner, Mark Cuban, whose payroll is often among the NBA's highest and whose coach, Rick Carlisle, guided the Mavericks to a championship just two years ago.
It helps that Howard's agent, Dan Fegan, has always had a solid business relationship with Cuban, though there's not much on the Mavericks' roster beyond aging veterans Nowitzki, Shawn Marion and Vince Carter.
Houston has a strong young nucleus, one of the game's most dynamic players in Harden and an owner, Les Alexander, who is usually unafraid to spend top dollar on players, though not nearly in the financial stratosphere of the Lakers and Dallas.
The Rockets will also pitch their historically sound presence in China, which started with Yao Ming, continued with Jeremy Lin and could intrigue Howard as down-the-road economic potential, according to Yahoo Sports.
Howard's team has always been cognizant that Bryant, the Lakers and Staples Center are predominantly Nike-sponsored entities. Howard has long been endorsed by Adidas, and only late last season did Adidas spots with him start popping up on the scoreboard during timeouts at Lakers games.
The Rockets waived role players Carlos Delfino and Aaron Brooks on Sunday, freeing up a few million dollars to help pursue Howard. They also traded Thomas Robinson to Portland to free up an additional $3.5 million.
A large Rockets contingent piled into a Mercedes van Sunday night to meet with Howard in Los Angeles, the passengers including Rockets luminaries Hakeem Olajuwon and Clyde Drexler, along with Harden and Alexander, according to the Houston Chronicle.
Atlanta and Golden State will also meet with Howard over the next two days, though both are considered longshots to land him.
Howard cannot officially sign with anybody until July 10, but the speed with which he plans to take meetings with teams — sometimes twice a day — indicates he will decide before that actual date.
Former Lakers coach Phil Jackson added his opinion on Twitter, noting he was headed to his lakeside Montana home for a while but wanted to see Howard stay with the Lakers.
"While I'm there I expect to see you get on board," Jackson tweeted about Howard.
Meanwhile, the Lakers are interested in Delfino, a small forward with range, something they didn't exactly have last season. It's unclear, though, whether he'll sign for the mini-midlevel exception of a little over $3 million a season.
The Lakers also inquired about Chase Budinger, another small forward with nice touch from outside, but he was expected to command more than $3 million a season and was a longshot to join the Lakers, according to a person familiar with the situation.
mike.bresnahan@latimes.com
twitter.com/Mike_Bresnahan
---
All things Lakers, all the time.
Get all the Lakers news you need in Dan Woike's weekly newsletter.
You may occasionally receive promotional content from the Los Angeles Times.