Some mystery remains about Lakers' last three lottery picks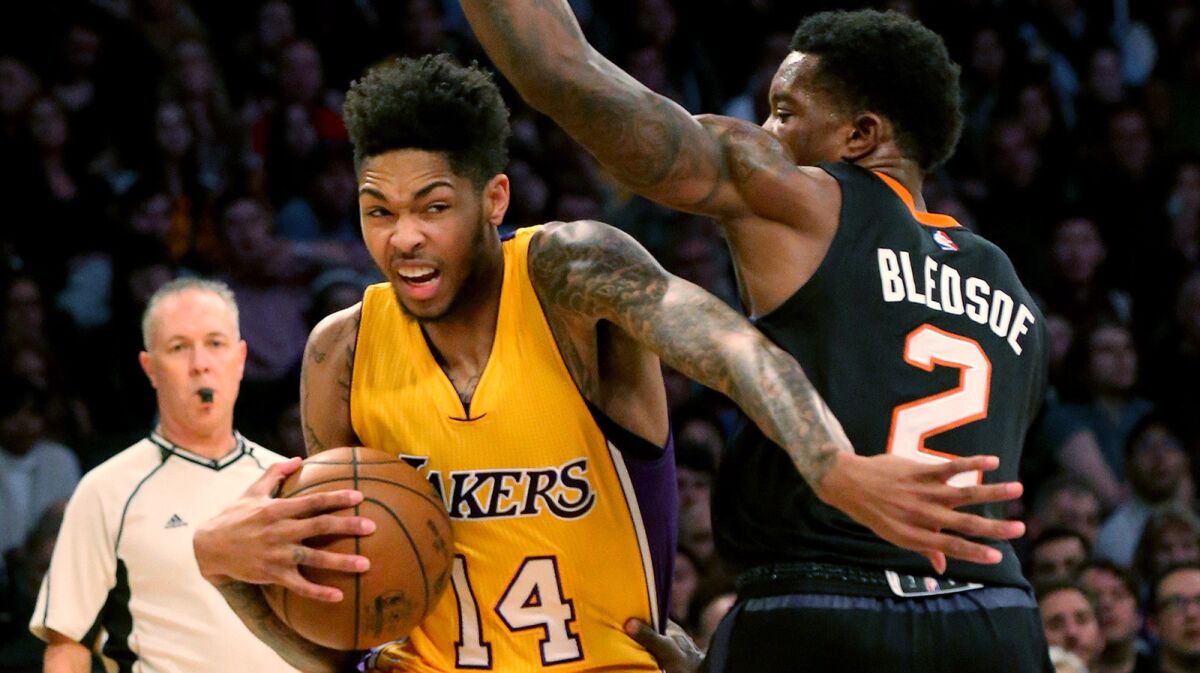 Brandon Ingram's serene, heavy-lidded look rarely changes, and neither does the quiet speech he's learning to amplify to better lead an offense.
The Lakers rookie's demeanor Thursday night after a 96-88 loss to the Utah Jazz — in which he was scoreless for the second consecutive game — betrayed little.
But last week represented a valley in the No. 2 overall pick's season.
"Shot's just not falling," Ingram said. "I just can't get into an offensive rhythm."
The games in which Ingram has struggled often have followed games in which his play seemed to have reached a new height. It's another sign the Lakers will need patience with Ingram — and they are fully willing to give it to him.
As the Lakers move through the latter half of another season that could produce a lottery pick, some mystery remains about their last three lottery picks. Game to game, they can't be sure what they're going to get from Ingram, Julius Randle (seventh overall in 2014) and D'Angelo Russell (second overall in 2015).
All three have at times been pulled late in games in reaction to their earlier play. But all three have also shown the Lakers reasons for optimism.
Randle has produced moments of brilliance, giving them a toughness they otherwise lack, making plays for his teammates and demonstrating a mental edge to dominate defensively.
"Sometimes I'm like, holy Lord, he's figured it out, and the rest of the league is in trouble," Lakers Coach Luke Walton said. "And there are other times when it's like, wow, what was he looking at right there?"
Randle this season has started all but the six games he's missed due to minor injuries or illness. He's played through a sleep schedule unsettled by the arrival of his first child last month, nagging injuries at times and an illness this week that didn't keep him out Wednesday against Portland but did sideline him the next night against Utah.
Walton believes Randle can be great if he can consistently play with the focus, effort and attention to detail he shows on occasion.
Randle's field-goal percentage has improved from 43% last season to 49%, although that, too, has been inconsistent. He's had six games this month in which he shot better than 50%, but also five games in which he's made no more than 30% of his shots.
Russell has been hampered by injuries for part of the season, and a shooting slump that preceded his most recent physical issues. He missed 13 games earlier due to a left knee injury, and the last three due to a mildly sprained knee ligament and a calf strain in his right leg.
The injuries aside, Walton has spoken positively about Russell's progress as an NBA point guard.
"I know he was shooting a pretty crappy percentage from outside, but I thought he was really starting to get a good feel for how he needs to play the point guard position as far as attacking downhill, getting in the paint, defensively fighting over screens, staying with it, getting back in front of his guys," Walton said. "I thought he really made some big improvement in those categories."
Ingram had been showing the most potential — perhaps even All-Star potential once his body fills out — until a tough stretch lately. In the last three games, he has only made two of 23 shot attempts.
On Thursday at Utah he hesitated at some open looks.
"I know I had a couple open shots that I thought I wasn't ready for or I didn't just shoot," Ingram said. "I think that's maybe part of the problem forcing some of those shots, of course. But just trying to get back to it. Looking at film, see where I can get my shots and where I can affect the offense."
Walton wants Ingram to keep shooting. The coach feels confident he will be a solid NBA three-point shooter.
If his rough outings lately are affecting Ingram's confidence, they aren't affecting that of his teammates.
"Ain't no dip, it's just a long season," Lakers guard Nick Young said. "This is game 50 for him. He's used to playing 30-something games [in college]. … You just can't get down on yourself. He's still one of most talented guys in his league. He'll be all right."
This summer, the Lakers might have their fourth lottery pick in as many years. It's again a top-three protected pick — if they fall out of the top three on lottery night, their pick goes to the Philadelphia 76ers and they are left without a first-round selection.
"I would prefer not to be stuck in the lottery for very long," Walton said.
The picks themselves can be a way out, depending on how they grow.
Follow Tanie Ganguli on Twitter @taniaganguli
All things Lakers, all the time.
Get all the Lakers news you need in Dan Woike's weekly newsletter.
You may occasionally receive promotional content from the Los Angeles Times.