Lakers' hot start in final game of road trip carries them to 122-114 win over Bucks
Reporting from Milwaukee —
Nick Young drained a three-pointer and took contact, rolled into a backward somersault and then lay sprawled face first on the court for a few seconds.
He got up, made the free throw, and gave the Lakers a season-high 76 first-half points. It capped a remarkable start for a team that was itching to get home.
Buoyed by that blistering opening, the Lakers beat the Milwaukee Bucks, 122-114, on Friday night at the BMO Harris Bradley Center. Despite having trailed by 27 points in the first half, and 19 after three quarters, the Bucks roared back to make the game competitive late. They got as close as within five, but the Lakers held them off.
"It's hard to be on the road this long, and then obviously All-Star break right around the corner, and you're not a playoff team, so everything you're bringing is what you're just mustering up from within because it matters and you care," Lakers Coach Luke Walton said. "To be at the end of a road trip like this, as hard as we worked them in practice today, for them to come out and give that type of effort from the jump, I was very, very pleased with the overall game."
The Lakers (19-37) finished their 10-day road trip 2-3, with their other win coming against the New York Knicks, to go along with losses to the Washington Wizards, Boston Celtics and Detroit Pistons.
Young finished the game with 26 points, making eight consecutive shots in the first three quarters. Milwaukee's Giannis Antetokounmpo scored a career high 41 points, making 18 of 21 free throws. The Lakers had seven different players reach double figures.
Friday's game was played a day after Walton put the Lakers through a tough practice, with more running than he'd typically like to do at that point in a road trip. On Thursday, Walton said if the Lakers play Friday suffered because of the taxing practice, it would still be worth it to further the team's long-term goals.
It had the opposite effect.
"Yesterday's practice translated," Lakers forward Julius Randle said. "After getting our butts kicked in Detroit, not showing up, we came out and blew it out. It translated to today."
To start, their 47 first-quarter points were the most by any NBA team in a quarter this season.
"We were sharing it, trusting each other," forward Larry Nance Jr. said. "It was just beautiful basketball."
Lakers forward Julius Randle drives to the basket against Bucks center John Henson during the first half.
(Jeffrey Phelps / Associated Press)
Lakers forward Brandon Ingram drives the baseline past Bucks center Thon Maker during the first half.
(Jeffrey Phelps / Associated Press)
Lakers guard Nick Young drives down the lane against Bucks guard Khris Middleton during the first half of their game in Milwaukee on Feb. 10, 2017.
(Jeffrey Phelps / Associated Press)
Lakers guard Jordan Clarkson blows past Bucks guard Malcolm Brogdon on a baseline drive during the first half.
(Jeffrey Phelps / Associated Press)
Bucks forward Giannis Antetokounmpo (34) discusses strategy with center Thon Maker after a timeout during the second half of the game against the Lakers.
(Jeffrey Phelps / Associated Press)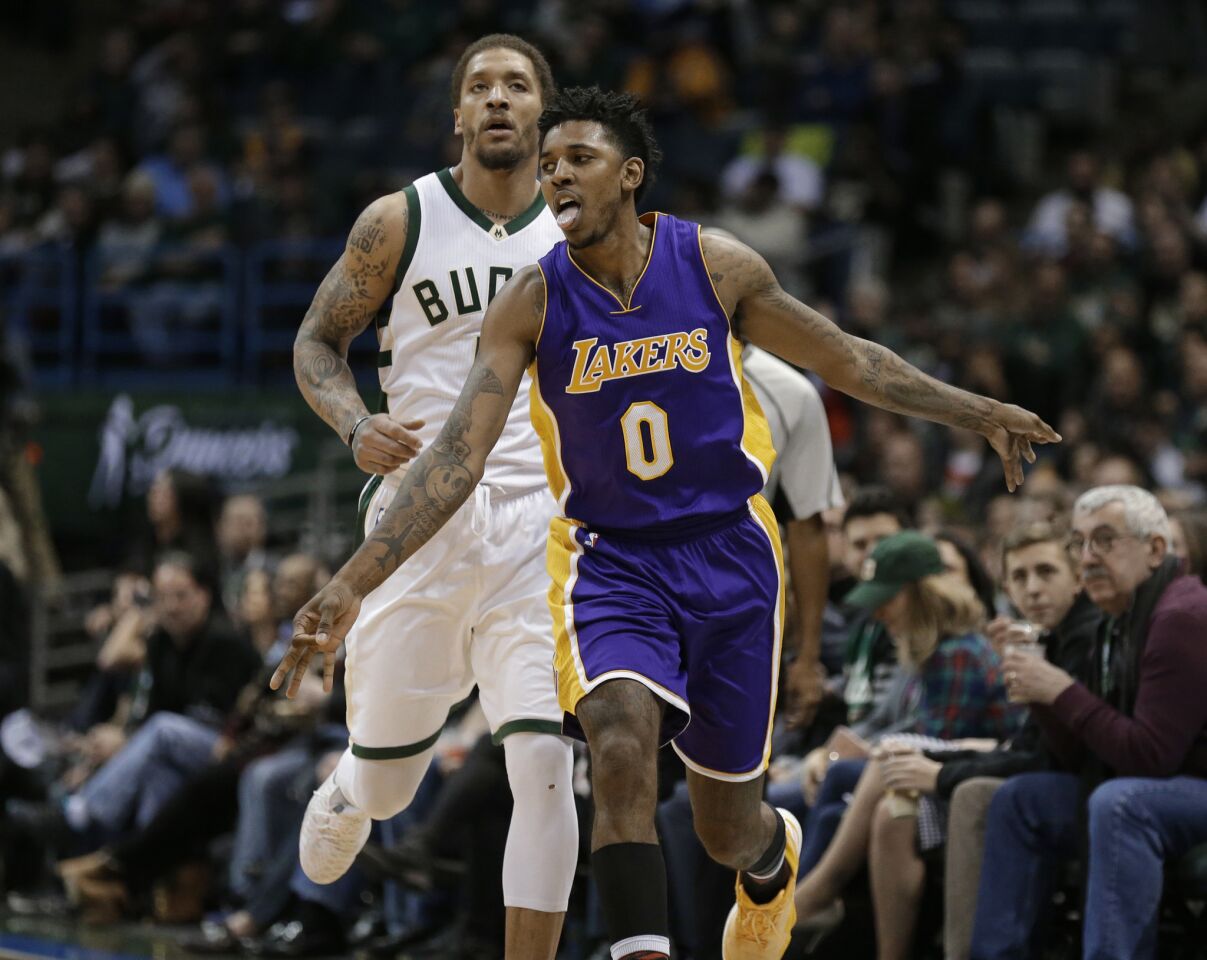 Lakers guard Nick Young (0) reacts after making a three-point basket against Bucks forward Michael Beasley during the second half.
(Jeffrey Phelps / Associated Press)
Bucks forward Giannis Antetokounmpo collides with Lakers forward Brandon Ingram on a drive to the basket during the second half.
(Jeffrey Phelps / AP)
It was the first time they had 13 assists in a quarter, and their 47 first-quarter points marked the most points in a quarter since they had 51 in the third quarter against the Knicks on March 25, 2014. Friday, the Lakers made 11 of their first 13 shots, and shot 82% from the field the first quarter.
The Bucks (22-30) also shot well in the quarter — making 57% from the field — but it wasn't close to enough to keep pace.
"They were hot," Bucks Coach Jason Kidd said. "They were getting shots they wanted. They made some shots and we fouled some three-point shooters."
At halftime the Lakers had a 21 point lead. Young, point guard D'Angelo Russell, Lou Williams and Ivica Zubac all reached double figures by then.
Sometimes this season, the Lakers have faded after halftime. They didn't on Friday. Despite Antetokounmpo's 14 third-quarter points, the Lakers scored enough to sustain a 19-point lead.
Then, the week began to catch up to them. Milwaukee went on a 14-2 run to open the fourth quarter.
"We were trying but we didn't make some shots," Zubac said. "We didn't get some stops that we should get. It just goes point by point. You don't even notice and there's a 10-point difference."
The Lakers made only 21% of their fourth-quarter shots, had one assist and three turnovers in the game's final frame and were outscored 30-19.
It wasn't pretty, but it was enough for the Lakers to end their last long trip of the season on a happy note.
Now they get go home.
Said Zubac: "Finally."
Follow Tania Ganguli on Twitter @taniaganguli
---
All things Lakers, all the time.
Get all the Lakers news you need in Dan Woike's weekly newsletter.
You may occasionally receive promotional content from the Los Angeles Times.