Lakers can't stop Bulls' Jimmy Butler and can't stop fouling either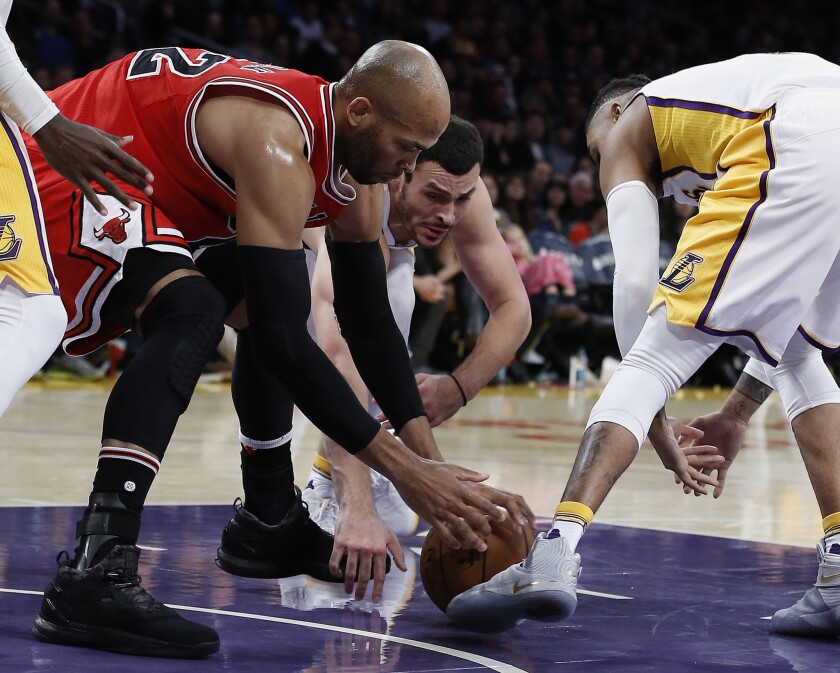 When a star sets his mind to something in the NBA, that star will often get what he wants.
Before the Lakers' 118-110 loss to the Chicago Bulls even began, Jimmy Butler told Bulls Coach Fred Hoiberg that he planned to score 40 points.
Butler, who has scored at least 20 points in eight consecutive games, did exactly that. Still, the plucky Lakers might have overcome even that had they been able to stall more of Butler's teammates. Instead, they fouled too much, especially early, and struggled defensively throughout the game.
"Jimmy Butler had a pretty fantastic game; he's a pretty fantastic player," Lakers Coach Luke Walton said. "But, you know, if he's going to do that we have to shut down the rest of the guys. We let him get his and the role players all chipped in and do their part as well. So, you know, you either take away the star or you take away the role players. You can't let everyone have a night."
The Lakers' starters were outscored 86-51, and the Bulls won the rebounding battle, 56-37. Chicago had more points in the paint, more second-chance points and more fastbreak points. Butler finished with seven rebounds and six assists to go with those 40 points.
Backup guard Lou Williams led the Lakers with 25 points, forward Larry Nance Jr. had 18 and guard Nick Young added 15.
"Luke came in here and said that's two teams that have shot above 50% on our home court," Nance said. "Our interior defense is something that we've obviously got to get better."
An old nuisance returned right from the start of the game.
Throughout the preseason, Walton harped on his team's penchant for fouling too much and allowing too many free throws.
By halftime Sunday, the Lakers had committed 12 personal fouls. In the first quarter alone, Butler took eight free throws, making seven.
Despite that, the Lakers fought back from an eight-point deficit, and a 37-foot heave by Williams as time expired in the first quarter tied the score at 30.
The second quarter mostly belonged to the Lakers. They led for nearly all of it, on the strength of quick passes, dunks by Nance and ball security.
That changed as halftime approached. On three consecutive plays to end the first half, the Lakers committed turnovers by way of offensive fouls, first by forward Julius Randle, then center Timofey Mozgov, then Williams.
By the time the buzzer sounded, the Bulls led, 62-61.
"We had an eight-point lead and turned the ball over three straight times," Williams said. "They made us pay three straight times."
The game remained close early in the third quarter, but a disparity in offensive rebounding eventually hurt the Lakers. The Bulls took a seemingly insurmountable 13-point lead with a hook shot by former USC forward Taj Gibson with 2:55 left in the game.
Even then, however, the Lakers refused to go quietly.
Young hit a three-point shot to cut their deficit to eight. D'Angelo Russell hit a three-pointer to cut it to five. Then the Lakers got the ball back with less than a minute remaining and one of their best shooters could feel himself rise to the moment.
Young raced down the court and pulled up for a three, but the shot rimmed out.
"I thought it was in," Young said. "I ain't gonna lie to you. Fighting, hit back-to-back threes. Momentum was our way. . . . When you're at home, you feel the atmosphere changing, you feel the crowd getting into it, the energy change. It just didn't go in today."
Twitter: @taniaganguli
---
All things Lakers, all the time.
Get all the Lakers news you need in Dan Woike's weekly newsletter.
You may occasionally receive promotional content from the Los Angeles Times.