Lakers reach the All-Star break on another low after 120-111 loss to the Cavaliers
It's time for the All-Star break. The Lakers obviously need it.
Kobe Bryant's last trip here didn't produce many memories in a 120-111 loss Wednesday to the Cleveland Cavaliers.
It didn't seem like a fair fight with Kyrie Irving scoring 35 points and LeBron James adding 29 for the Cavaliers while Bryant scored 17 on erratic shooting.
See the most-read stories in Sports this hour>>
One play crystallized the Lakers' long, painful runway to the All-Star break. James rifled a pass intended for Iman Shumpert but hit D'Angelo Russell in the groin in the third quarter.
Russell was down for a couple of minutes before walking gingerly to the bench. Three replays were shown on the scoreboard as fans squirmed in their seats. Bryant was caught chuckling on the Lakers' bench a minute after playfully rubbing Russell on the head at Quicken Loans Arena.
"It was hilarious. Once I knew he was OK, the jokes write themselves," Bryant said.
Russell was fine. The Lakers (11-44) weren't. They've never been this bad going into All-Star weekend.
Bryant missed 11 of 16 shots, Julius Randle cooled down (seven points, eight rebounds) and there was a lot of Metta World Peace for the first time in a long, long while. Cleveland's Kevin Love re-injured his left shoulder late in the first half but said afterward he didn't expect to miss any time.
It allowed everybody to focus on the non-rivalry between Bryant and James. Ask Bryant about him and you'll get a shrug.
He doesn't hate James. Nor does he seek him out for brunch, dinner or anything in between when the Lakers are in town.
Kobe Bryant and LeBron James embrace before the Cavaliers hosted the Lakers on Thursday in Cleveland.
(Jason Miller / Getty Images)
Cavaliers forward LeBron James is guarded by Kobe Bryant during the first half of a game on Feb. 10.
(Jason Miller / Getty Images)
Lakers guard Jordan Clarkson drives to the basket in front of Cavaliers center Timofey Mozgov during the first half of a game on Feb. 10.
(Tony Dejak / Associated Press)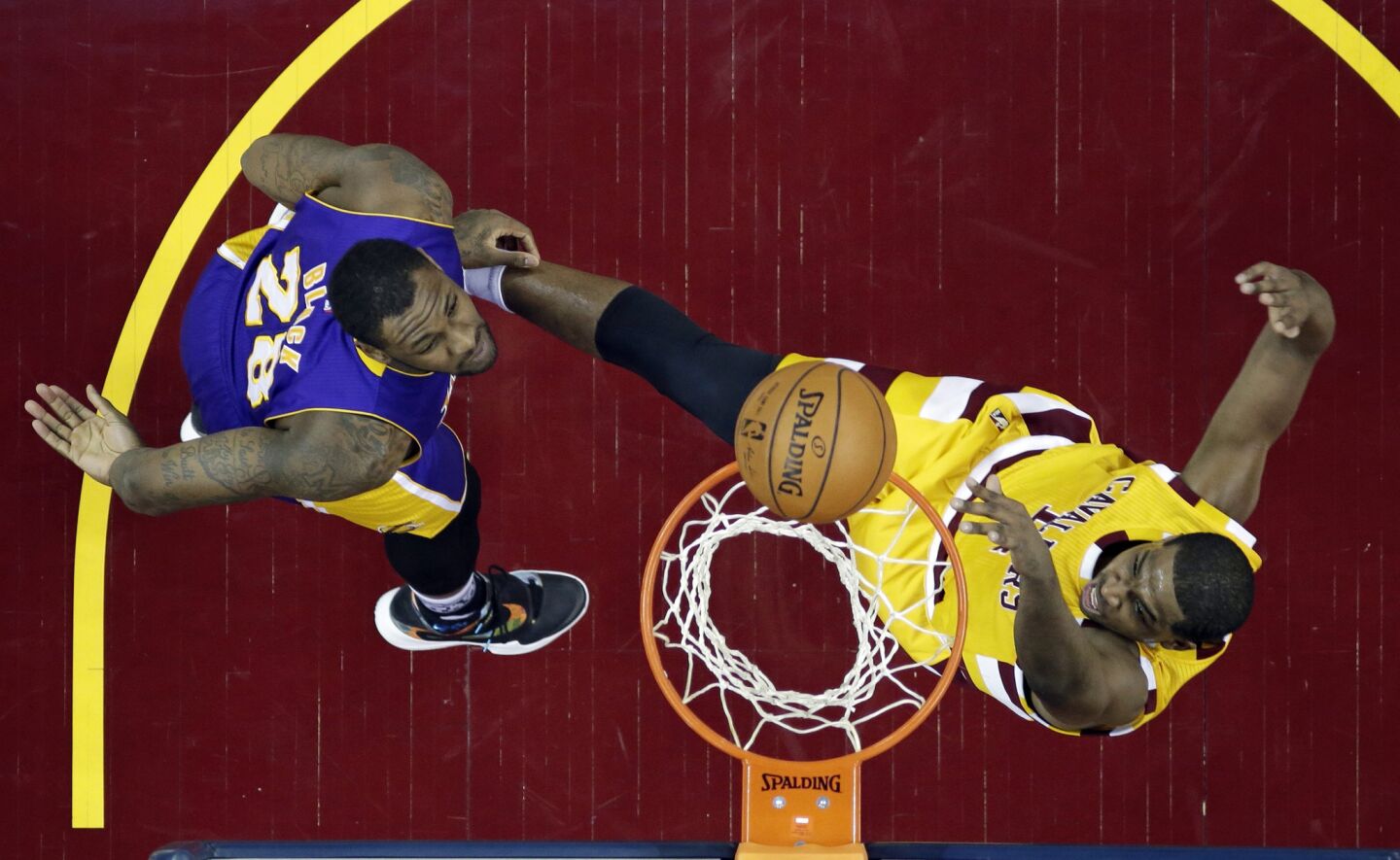 Cavaliers forward Tristan Thompson dunks the ball against Lakers forward Tarik Black during the first half of a game on Feb. 10.
(Tony Dejak / AP)
Kobe Bryant passes around Cleveland forward Kevin Love during the first half of a game on Feb. 10.
(Tony Dejak / Associated Press)
Cavaliers guard Kyrie Irving warms up before a game against the Lakers on Feb. 10.
(Jason Miller / Getty Images)
Lakers guard Nick Young warms up before a game against the Cleveland Cavaliers on Feb. 10.
(Jason Miller / Getty Images)
Kobe Bryant speaks at a news conference before a game against the Cavaliers in Cleveland on Thursday.
(Jason Miller / Getty Images)
"I never looked to see what he was doing as something to push me. I just feel like we were completely different generations, not like we were a Magic-Bird type of thing," Bryant said.
In other words, Bryant didn't have the same fascination with James that he did obsessing over Michael Jordan's six NBA championships.
Part of it was the odd circumstances that they never met in the NBA Finals despite Bryant or James making it nine consecutive times, from 2007 to 2015.
The closest they came was 2009. The Cavaliers had the NBA's best record (66-16) and James was the league MVP but Orlando upset them in six games of the Eastern Conference finals. The Lakers then beat Orlando for the championship.
Bryant frowned when asked if it was weird that they never intersected on the big stage. He didn't care.
"I just wanted to win the damn thing," he said. "For fans, it probably stinks."
Bryant, 37, said he talked on the phone with James "more than people know," but passed off the non-rivalry as a generational thing, even though only six years separated them.
Bryant, in fact, didn't know how long James had been in the league.
"Is it his 10th year?" he asked reporters before being told it was longer than that. "Thirteenth?! He's a vet — a true, true vet. To me it still seems like he's just gotten to the league."
Bryant played like an old, old vet in the first half Wednesday, making only two of nine shots as the Lakers trailed, 64-47. He seemed to be drifting into his 18th All-Star game, which will be Sunday in Toronto.
It wasn't all bad for the Lakers.
They forced the Cavaliers to bring their starters back in the fourth quarter as a 22-point lead was sliced to eight. Lou Williams had 28 points. Bryant even had a nice fourth-quarter spin move against James that ended with a reverse layup.
Bryant said he felt "horrible" and reassured everyone he wouldn't try to get the All-Star game MVP.
"My ankles, knees, everything [hurts]. This stretch couldn't come at a better time," he said, just as easily speaking for all the Lakers.
Follow Mike Bresnahan on Facebook and Twitter @Mike_Bresnahan
---
All things Lakers, all the time.
Get all the Lakers news you need in Dan Woike's weekly newsletter.
You may occasionally receive promotional content from the Los Angeles Times.