Lakers' TV ratings on pace to break record low; Clippers see decline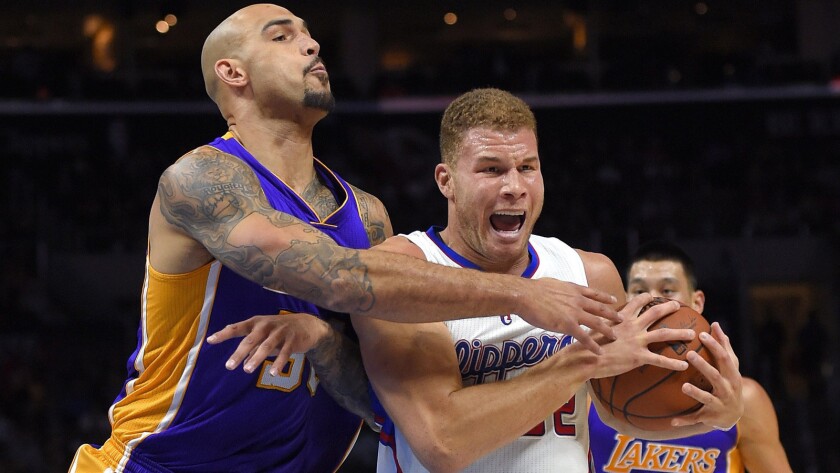 The Lakers will start play after the All-Star break two games ahead of the Minnesota Timberwolves for the worst record in the Western Conference.
Quantifying where the Lakers' television ratings could bottom out is a bit harder.
Nielsen ratings for the Lakers in the Los Angeles market are at an all-time low, dipping below a 2.00 rating for the first time, according to the ratings firm.
The Lakers' 1.95 rating on Time Warner Cable SportsNet is down 25% from this point last season and puts the team on pace to break the record low 2.11 figure it posted for the 2013-14 season.
The Clippers are averaging a 1.10 rating on Prime Ticket, a drop of 13% from the same point last season. The ratings gap between the Lakers and Clippers is the lowest on record.
David Carter, executive director of the USC Sports Business Institute, said the Lakers have not reached the point in which their ratings decline is irreversible.
"As long as the fans believe that the Buss family is doing everything it can to put a winning product on the court, they will allow them some time," Carter said Tuesday, referring to the team's owners. "A major injury and maybe some bad bounces, I think fans understand that.
"But if fans believe there is an ongoing issue with draft selections and trades and player personnel overall that results in consistent 25-win seasons or the like, then I think the fans become really concerned."
The Lakers (13-40) are on pace for the worst winning percentage in the franchise's 66-year history. Making them all the harder to watch has been the absence of veteran stars Kobe Bryant and Steve Nash and rookie Julius Randle.
Nash has missed the entire season because of nerve irritation in his back and hamstrings, Randle broke his right leg in the season opener and Bryant tore his rotator cuff late last month.
TNT, ABC and ESPN have dropped one Lakers game each from their broadcast schedule this season, though ESPN picked up the Lakers-Oklahoma City game March 1 that had been discarded by ABC.
The Lakers' TV ratings have declined in each of the three seasons they have partnered with TWC, which is paying the team $5 billion over 25 years. The team's ratings are down 57% from only two years ago, when it posted a 4.63 during Dwight Howard's one season in L.A.
"We are proud of our extensive partnership with the Lakers as we continue to offer all Lakers fans the most comprehensive live game coverage and Lakers-centric original programming ever," a TWC spokesperson said.
Carter said the Lakers benefit from a brand that remains strong with season ticket-holders, insulating them from a ratings drop.
"It's still a hot property to attend whether you're from L.A. or coming to town, so they have some things going for them that really help them protect the floor, if you will, in terms of ratings," Carter said.
"But the other side of it is what happens if these ratings continue to fall? What is that doing to advertising rates? The Lakers are certainly guaranteed a payment from Time Warner, but to what extent is Time Warner going to be compromised if the ratings continue to drop and they've dropped by more than half over a couple of years?"
The Clippers (35-19) are only one game worse than they were at this point last season on the way to a franchise-record 57 victories. They also had avoided injuries to top players before All-Star forward Blake Griffin was diagnosed last week with a staph infection in his right elbow that required surgery.
Griffin is expected to be sidelined for at least two more weeks.
The Clippers are in the next-to-last season of their contract with Prime Ticket.
"The schedule has presented several challenges thus far, including fewer prime-time games and multiple matchups versus marquee events such as Monday Night Football," said Steve Simpson, senior vice president and general manager of Fox Sports West and Prime Ticket. "That said, with the exciting brand of basketball the Clippers play, we are optimistic as we head into the second half of the season."
Carter said the Clippers are not going to enjoy a ratings boost simply because their cross-town rival is having another bad season.
"The Clippers are playing very, very well throughout the course of the season, but I don't think just because they are likely to win 60 games that people necessarily just say, 'Oh my God, I'm going to become a Clippers fan,'" Carter said.
"This is really a Lakers town, so for the Clippers to pick up fans, they have to pick up new fans, the next generation of fans who isn't aligned yet with a team, that likes the pomp and circumstance of [owner Steve] Ballmer, the energy that [point guard Chris] Paul and Griffin and others bring to the team. If they can build that fan base among younger fans and viewers, then as they grow up they become long-term customers of the Clippers."
Follow Ben Bolch on Twitter @latbbolch
---