Five takeaways from the Lakers' 118-107 loss to the Clippers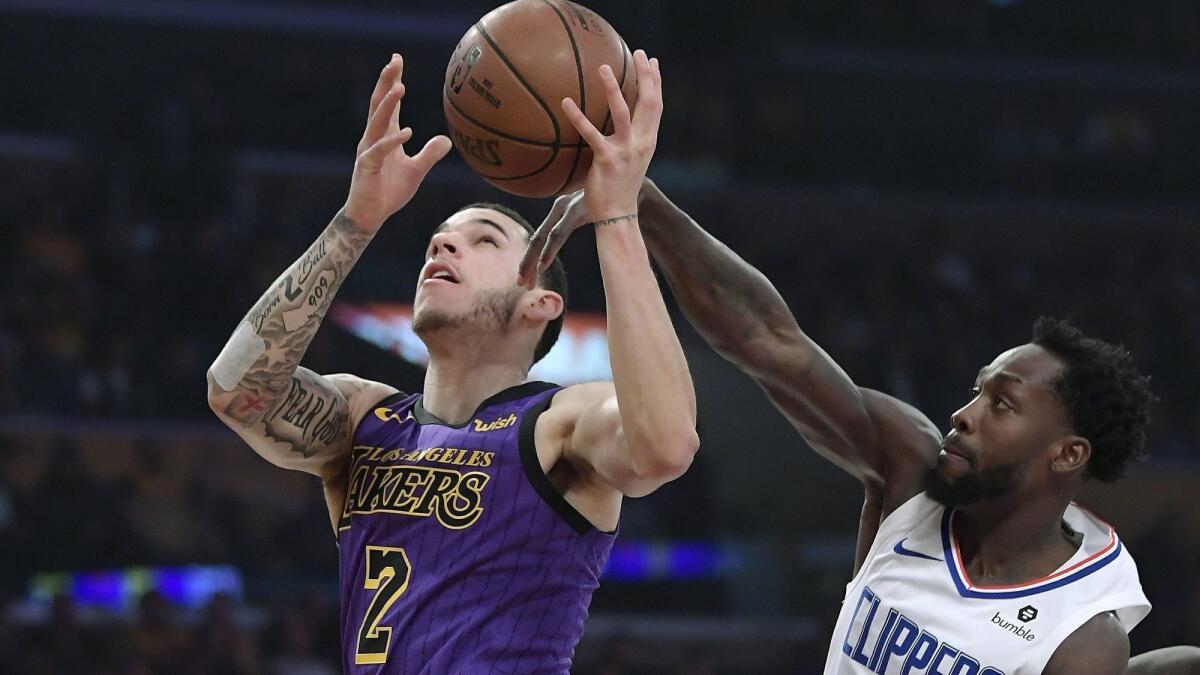 Five takeaways from the Lakers' 118-107 loss to the Clippers on Friday night at Staples Center.
1. All the isolations and one-on-one plays that developed among the Lakers essentially doomed them against the Clippers. It came on a night that called for unity in the absence of LeBron James and Rajon Rondo.
The Lakers' unwelcoming style of play began to take shape late in the third quarter and carried over into the fourth when the Clippers began to apply more defensive pressure.
The Lakers started to see Brandon Ingram dribble way more than he usually does, his attacks to the basket with no particular purpose. The Lakers saw Lonzo Ball and Kyle Kuzma and Lance Stephenson try to take it upon themselves to be the man.
Obviously, it did not work, especially with James (groin) and Rondo (finger surgery) both out.
"We got to stick together," Kuzma said. "We can't be a front-running team. When things are up, we can't just all be happy. And then when things are down, we're just separate from each other. The biggest thing for us is to just always be together.
"Every team has rough patches in the season. We've been down bodies all year, different lineups all year. We can't let those things affect us. It's all about us sticking together and keeping it like a fist."
2. It was not a good night for center Ivica Zubac. He missed seven of his eight shots, finished with seven points and a minus-14 in the plus-minus category.
The 7-1 Zubac had difficulties trying to score and, at times, shoot over Clippers 7-3 center Boban Marjanovic.
Frequently, Zubac found himself in awkward positions down low, unable to get off a clean shot.
3. The season-long issues the Lakers have had with making free throws continued. They shot just 68.6% from the line (24 for 35).
Ingram made only six of his 12 free-throw attempts. Tyson Chandler was worse, making two of six free throws.
4. By turning the ball over 17 times, the Lakers limited their scoring opportunities.
Kuzma, Ball and Stephenson each had four turnovers.
5. The Lakers never got a grip on how to do anything with Lou Williams, the Clippers' outstanding scorer.
Williams burned the Lakers for a game-high 36 points, 23 in the second half.
All things Lakers, all the time.
Get all the Lakers news you need in Dan Woike's weekly newsletter.
You may occasionally receive promotional content from the Los Angeles Times.