Column: Lakers' coaching search is more proof Jeanie Buss' team is lost without a leader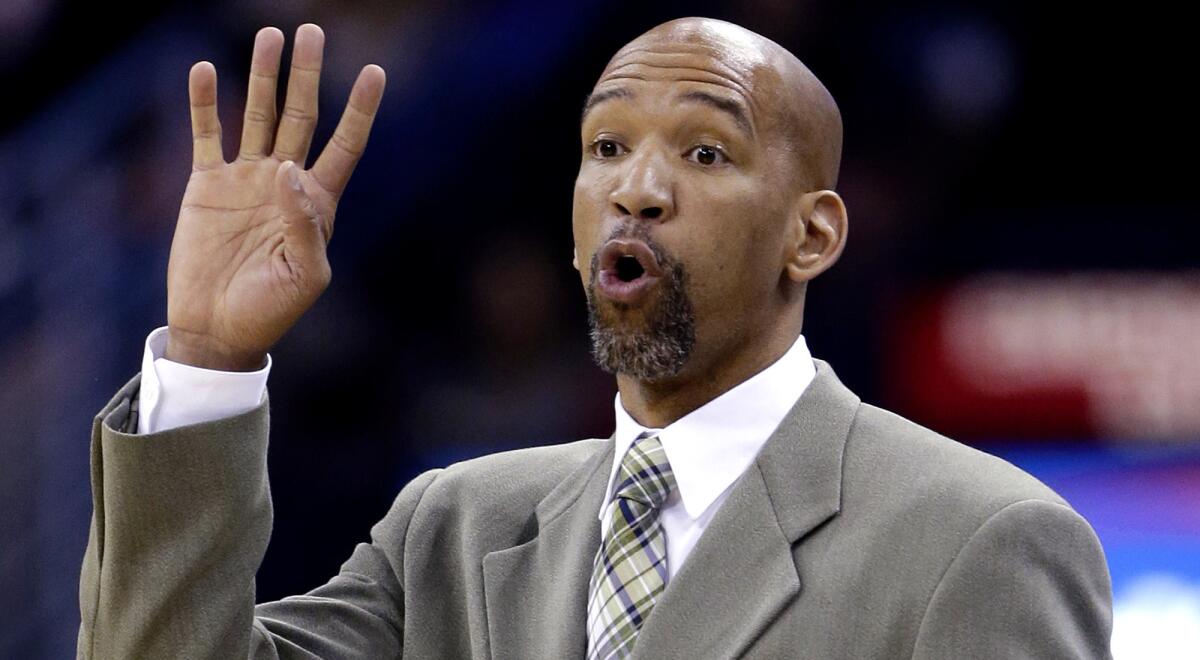 It should have been a sophisticated, exhaustive search for the basketball leader of the NBA's most celebrated franchise.
It has, instead, been just another Lakers pie fight.
It's messy, it's farcical, and the winner could be whoever has the foresight and gumption to turn the job down.
So, you want to be the Lakers' next head coach? If you are buddies with LeBron James, or are connected to the Rambis family, or maybe played college basketball with Rob Pelinka, you've got a chance!
Monty Williams, a Philadelphia 76ers assistant coach and former assistant on a James-led Team USA, is the leading candidate, but he has been warned by at least one advisor that the organization is a mess and he shouldn't go anywhere near the place. He also is being pursued by the circus that is the Phoenix Suns, who confidently and perhaps justifiably are selling themselves as a more stable option.
Tyronn Lue, the unemployed former Cleveland Cavaliers coach, is the No. 2 candidate. He is a LeBron whisperer, which would be great, except the Lakers don't want to be seen continually kowtowing to James, although they have no problem being perceived as kowtowing to Linda Rambis. There is another problem with Lue's candidacy. He already has a coaching staff intact, which would leave no room on his bench for front office advisor Kurt Rambis, which might knock him off the list, seriously.
Juwan Howard, a Miami Heat assistant, is the third candidate. He actually might be the most impressive of the three men, smart and savvy and engaging. He played collegiately at Michigan with Pelinka, and professionally in Miami with James and he's played on the same court as Rambis, so those family boxes are all checked. But this would be his first head coaching job of any sort, and wasn't that the issue with Luke Walton? Do the Lakers really want to throw another rookie at James?
There was a fourth candidate to emerge Tuesday with the news that Jason Kidd, who lobbied for the job even while Walton held it, was interviewed. But apparently the Lakers were just doing it as a favor to his agent, Jeff Schwartz, who is also the agent for Lakers forward Brandon Ingram. Kidd doesn't seem to have a chance at the gig, for which he should be eternally grateful.
So, there are three serious candidates, and one serious question: Is there nobody else out there? How did they come up with only these three? With access to every great basketball mind in the world, why are the Lakers limiting themselves to these three names, only one of whom has had any success as a head coach?
Are there no other sharp assistant coaches out there? Nobody from Gregg Popovich's staff in San Antonio? It's easy to dismiss college coaches, but maybe there is another Brad Stevens available somewhere? Did the Lakers even look?
Their only bold move in this search was to walk down the hall and try to steal Doc Rivers from the Clippers. Even after he announced he was signing an extension, they kept trying. But Rivers kept saying no, partially because a brighter future is in his locker room, and also because there was no way owner Steve Ballmer was getting outbid.
Sign up for our daily sports newsletter »
What the Lakers are searching for, and why they haven't been more thorough in their search, are questions for owner Jeanie Buss. But during a time when Lakers fans and sponsors and partners are all pining for signs of her leadership, she has avoided media transparency or accountability.
In this toughest stretch of her two-year stint as the controlling owner, she has shrunk from the moment, sending ominous signals across the NBA landscape about the future of her organization.
She has spoken only through her inaction, and the message has been clear. Buss will continue to play checkers while the rest of the basketball world plays chess. She will continue to rely on friends and family to solve a problem that has far outgrown them all.
She has no plans to replace Magic Johnson with a fresh and embraceable basketball mind who can infuse the Lakers culture with new ideas. She is instead giving the top basketball job to the widely criticized Pelinka, whose demeanor as Kobe Bryant's agent made him one of the league's more unlikable figures.
She has no plans, at least not yet, to support Pelinka with bright, young personnel folks. He is instead being assisted in this coaching search by Kurt Rambis, who had a 65-164 record as an NBA head coach. The goal is seemingly to move Rambis to the bench as an associate head coach. But if that doesn't work, he could become the assistant general manager.
Of course, Rambis is the husband of Linda Rambis, the shadow owner and advisor of Buss who has apparently surpassed even the other Buss children in terms of organizational power. Her chief qualification for the position seems to be that she is Buss' longtime friend, which, with today's Lakers, is the most important line on a resume.
There is one more voice in Buss' ear, and you're not going to believe this one. She still listens to the departed Johnson. He is telling people he still will be available to recruit free agents this summer. But, seriously, how adeptly can even the charming Magic persuade someone to join an organization that he recently quit on thespot?
The carnival coaching search is just the tip of a very dangerous and fast-moving iceberg. If the Lakers aren't careful, they could destroy themselves from within.
Ticket business is still booming on the fumes of last summer's signing of James, but if Pelinka and Rambis can't hire a coach who can inspire a big free-agent signing, or if they can't help pull off a trade that would bring in someone like Anthony Davis, they could miss the playoffs for a seventh straight year, and the brand will begin to seriously suffer and ownership's power could become fragile.
The Lakers need more than a promising new coach, they need a powerful new vision. As it stands, the prospects aren't great for either.
Get more of Bill Plaschke's work and follow him on Twitter @BillPlaschke
All things Lakers, all the time.
Get all the Lakers news you need in Dan Woike's weekly newsletter.
You may occasionally receive promotional content from the Los Angeles Times.