Column: The future looks bright for the Lakers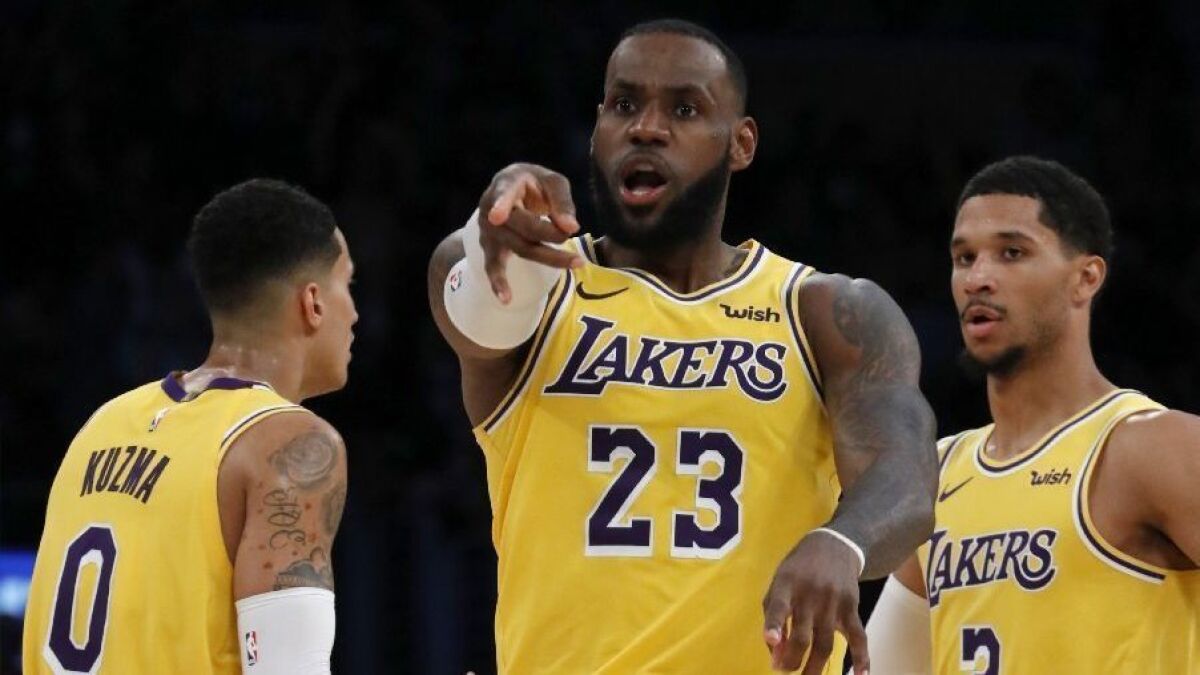 The Lakers' past, present and future converged Thursday at Staples Center, creating a vivid backdrop to their first two-game winning streak.
Kobe Bryant represented the past. He was featured in a tribute video played on the scoreboard above center court, shown hitting impossible shots, winning games and clinching championships while fans roared.
Bryant, making a rare visit, stood at courtside to acknowledge the live cheers and hugged old friends as they made the pilgrimage to his seat, including Lakers controlling owner Jeanie Buss.
LeBron James represented the present, electrifying as he recorded his first triple-double as a Laker by scoring 28 points, grabbing 11 rebounds and earning 11 assists in the Lakers' 121-114 victory over the previously unbeaten Denver Nuggets.
His adjustment to the Lakers — and theirs to him — is ongoing, but he and they made a persuasive case that it won't be long until winning back-to-back games will be a starting point for them, not a noteworthy occasion.
The Lakers' future is still taking shape, but it's increasingly certain that guards Josh Hart and Lonzo Ball will play big roles.
Hart made his second straight start Thursday, scoring 12 points with five rebounds and two steals, bringing enough intensity and intangibles to show he should stay in the starting lineup.
The only question is why Hart, who started 23 of the 63 games he played last season, didn't start the first three games this season and sat while Kentavious Caldwell-Pope started.
Ball, starting at point guard Thursday, also scored 12 points, on five-for-10 shooting, with six rebounds and eight assists.
"His instincts for the game, when he's aggressive and active, he changed the game," coach Luke Walton said of Ball. "He's a big-time game-changer when he's aggressive."
Hart, who proved his commitment to improving his game by being voted the most valuable player in the Las Vegas summer league this year, had excelled as a reserve in the first three games and had 15 points, two rebounds, two assists and two steals in 26 minutes in his first start, at Phoenix on Wednesday.
He and Ball were a solid duo that night too.
"It was good. They have size, they both push the ball for us. In my opinion, they're two of the better perimeter rebounders in our game," Walton said. "They add to our versatility and they played well."
Hart deserves to keep a starting spot.
"Josh did what he does," Walton said before the game when asked what he liked in Hart's first start. "Whether he's starting or coming off the bench we like the way he competes. We like the way he defends. We like the way he rebounds — the little things he does. He's a winning player. He makes winning plays.
"I've been saying all year it doesn't matter who starts and who doesn't. We just want guys who are playing the right way. And Josh does that. And to him, it doesn't matter if he's starting or not. …If we decide to change later on he's still going to play the same way. That's the type of attitude and culture we like to have."
James' performance Thursday wasn't a statement game.
"That's a LeBron game," Walton said. "He's really good. He's been great for us. In the games we lost he still put up incredible numbers and we were in those games and had a chance to win, we just weren't getting any stops defensively. But tonight he definitely turned it up."
What the Lakers are now is far from what they hope to be in a month, or two, or three.
There's still more improvement to be done defensively — they're giving up an average or more than 122 points a game — and even in these early, high-scoring weeks of the season that's too loose.
The four-game suspension of Brandon Ingram and three-game banishment of Rajon Rondo stemming from last Saturday's melee against the Houston Rockets took away time the Lakers needed in order to enhance their chemistry. Rondo is eligible to return at San Antonio on Saturday, and Ingram can return at Minnesota on Monday.
There are more lineup changes in store and more wins too, thanks to James and a young core that's catching on.
And thanks also to Ball and to Hart, who hit a pair of free throws to bring the Lakers even at 108 on Thursday before James' dunk put them ahead for good.
Bryant brought an undeniable buzz to the building. "I think everyone gets excited when Kobe's around," Walton said. But there was a buzz generated by the players who are the Lakers' present and their future, and that hasn't been true for a long time.
Follow Helene Elliott on Twitter @helenenothelen
All things Lakers, all the time.
Get all the Lakers news you need in Dan Woike's weekly newsletter.
You may occasionally receive promotional content from the Los Angeles Times.