Kobe Bryant has no doubt LeBron James can bring another championship to the Lakers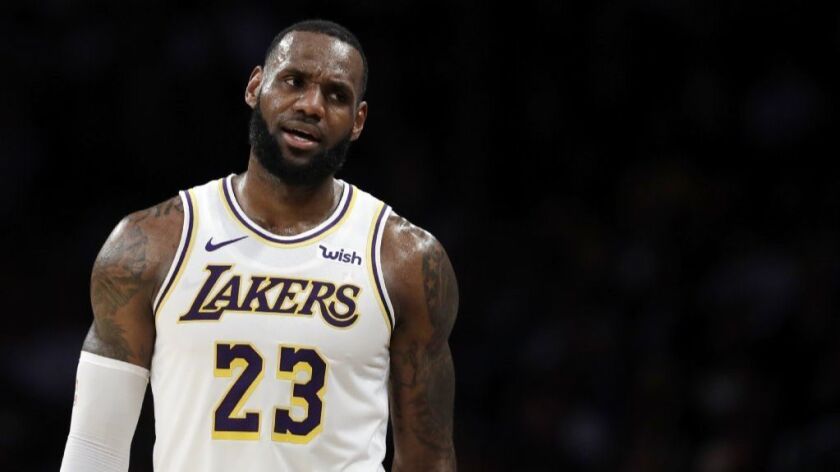 When Kobe Bryant eventually shifted from how wondrous his life has become after a sensational and championship-filled career with the Lakers, he talked about how the franchise will become champions again while in the capable hands of LeBron James.
To reach the mountaintop in the NBA again, Bryant said it will "test" James' "patience" along the way.
And at some point, Bryant half-joked, the Lakers will take down the Golden State Warriors, who have won three of the last four titles.
But if anybody is prepared for the attention that comes with playing for a famed franchise like the Lakers that has 16 league championships and in a championship city like Los Angeles, Bryant said it's James.
"Coming in here, this organization, this city, it's not anything that is new to him," Bryant said Monday night at Lakers All-Access at Staples Center. "He's always had the spotlight, right? He's been able to deal with that gracefully. I think the difference here is that you have a collection of players with a lot of talent all young. And so the challenge is, can they figure out what their games are individually, sooner rather than later?
"Because at the beginning of the season, you saw a collection of individual talent trying to figure out what they can do and where they can do it on the floor. What about their games? But at the same time how to figure out how to make those games blend in as a group. You can't have one before the other, see what I'm saying? So it's a test of Bron's patience, and also doing what he needs to do to keep the team's head above water. So it's a balancing act."
Bryant noted how when the Lakers struggled this season, James dominated the ball and took control of the game.
Bryant said "that's not the recipe to win a championship, by no means, but it is a recipe to keep your head above water."
But Bryant said young players such as Lonzo Ball, Kyle Kuzma, Brandon Ingram and Josh Hart give the Lakers hope for the future.
"Unbelievable talents," Bryant said. "The patience is on all of us. We have to be patient. But as players, you're never patient with yourself. You're patient with each other, but not with yourself. You want to be there now and you work to be there now with the understanding that it is going to take time. But you want to be there now. That's the way that you accelerate growth. They have a lot of potential, man. They'll figure it out."
Bryant was the guest of honor at the event that was sponsored by the Los Angeles Sports & Entertainment Commission. Lakers owner Jeanie Buss, coach Luke Walton and general manager Rob Pelinka also talked about the state of a team that is 14-9 and in fifth place in the rugged Western Conference.
Just before he finished his interview in front of about 700 people, Bryant was asked by Bill Macdonald, the team's play-by-play announcer and the emcee for the event, if the Lakers will win a championship.
"Of course they will. Of course they will," Bryant repeated. "They have determination to figure it out. They will figure it out. They have talented pieces …. So enjoy the journey because we'll be champions before you know it. Then we'll just be laughing at all the Warrior fans. ...
"I remember going there to play, looking around and seeing a lot of Lakers jerseys in the stands. Now all of a sudden, I'm like, 'What the…?'"
Twitter: @BA_Turner
---
All things Lakers, all the time.
Get all the Lakers news you need in Dan Woike's weekly newsletter.
You may occasionally receive promotional content from the Los Angeles Times.