Paul George's trade to Thunder puts a new variable in Lakers' 2018 free-agency plans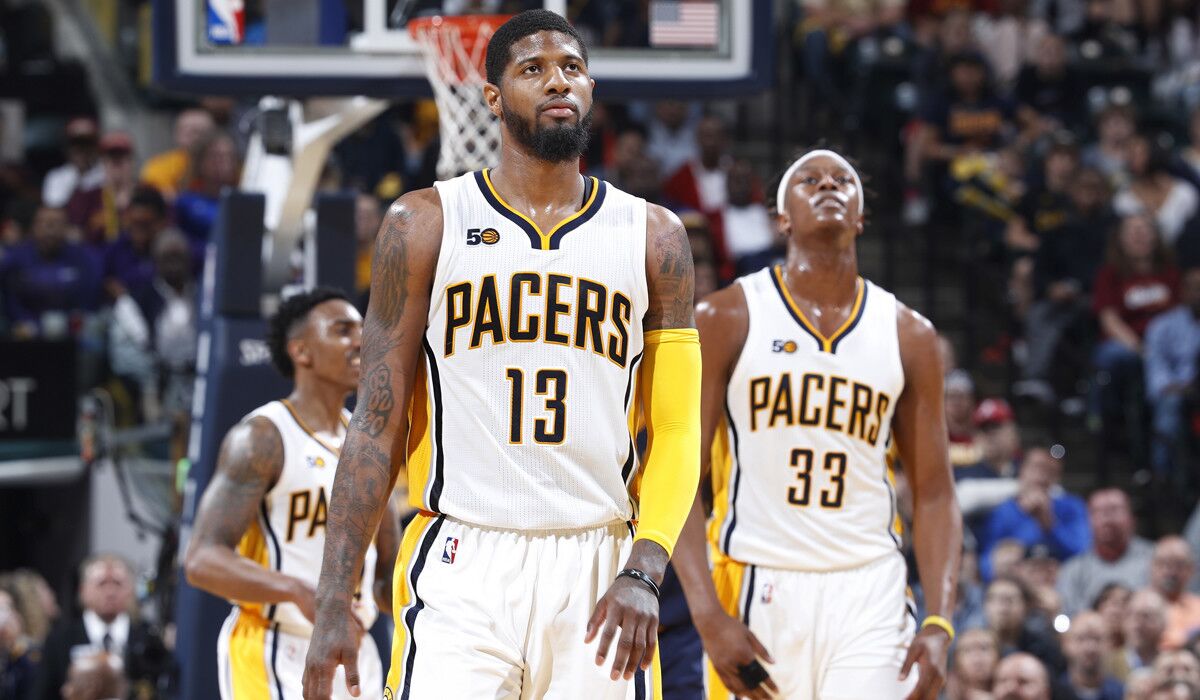 Two hours before NBA free agency opened, the Indiana Pacers knocked over a domino that will impact the Lakers' 2018 free agency plans.
The Pacers traded All-Star forward Paul George to the Oklahoma City Thunder, sending him away from their conference, in exchange for guard Victor Oladipo and forward Domantas Sabonis. George is on the final year of his contract after which he plans to become a free agent.
On June 17, George's agent told the Pacers that he planned to depart in free agency in 2018 and that his preferred destination was to the Lakers. The Pacers, who drafted him 10th overall in 2010, began searching for a trade partner after that meeting.
The Lakers were measured in their approach to making a deal. They offered the 28th pick in this year's draft and either Jordan Clarkson or Julius Randle to the Pacers for George. Indiana had interest in Lakers forward Brandon Ingram, but the Lakers consider Ingram to be off limits in trades.
George recently told some friends that he planned to wind up with the Lakers in 2018 regardless of what happened this summer. Despite that, the possibility remained that George might feel at home with whatever team traded for him and agree to a longer-term deal. The Thunder will have his rights next summer under the Larry Bird exception with the ability to offer him a longer-term contract at a maximum salary.
George, a Palmdale native who starred at Fresno State, will now join former UCLA star and reigning MVP Russell Westbrook on the Thunder. Both players can opt out of their contracts next summer and become free agents. That year's free-agent class is also expected to include LeBron James.
It is a summer for which the Lakers are already planning. They traded veteran center Timofey Mozgov and second-year guard D'Angelo Russell to the Brooklyn Nets for Brook Lopez and the 27th overall pick in last week's draft. The move opened up about $23 million of salary cap space in 2018 and gave the Lakers the ability to sign two maximum contracts during that summer.
Lakers general manager Rob Pelinka and president of basketball operations Magic Johnson have made clear that they need to acquire two stars in order to reverse the team's fortunes.
The Lakers went 26-56 last season and earned the No. 2 pick in the draft, with which they took former UCLA point guard Lonzo Ball.
Since Johnson and Pelinka took over the Lakers' front office, they have talked about feeling a renewed energy around the organization. Ball said before the draft that he wanted to be a Laker felt like an example, as did George making his desire to be a Laker well known.
The Lakers are essentially sitting out this year's free agency for a chance, next year, to show that.
Follow Tania Ganguli on Twitter @taniaganguli
ALSO
Lakers are gearing up for NBA free-agency period — in 2018
Brook Lopez is happy to get his shot with the Lakers
LaVar, Lonzo and LaMelo Ball appear on WWE's 'Monday Night Raw' and learn about the dangers of a live microphone
All things Lakers, all the time.
Get all the Lakers news you need in Dan Woike's weekly newsletter.
You may occasionally receive promotional content from the Los Angeles Times.