LaVar, Lonzo and LaMelo Ball appear on WWE's 'Monday Night Raw' and learn about the dangers of a live microphone
LaVar Ball took part in what was supposed to be a fun segment with his sons Lonzo and LaMelo on WWE's "Monday Night Raw" TV show, but the segment quickly went off the rails in more ways than one.
"Monday Night Raw" was broadcast live from Staples Center on the USA Network, and the Balls appeared on Miz TV, the in-show interview segment hosted by WWE heel The Miz.
The ring had four mannequins wearing "Big Baller" T-shirts. Miz introduced LaVar Ball and his son, LaMelo. LaVar got booed as he ran down and slid into the ring. LaVar started hyping the Big Baller brand and got booed again. LaMelo didn't say anything, but seemed to be having the time of his life.
LaVar then introduced Lonzo, who came down to cheers. He said he was happy to be in Staples Center for the first time as a Laker, which also drew cheers. That was the end of Lonzo's participation in the segment.
Miz said he was happy to announce a partnership between himself and the Big Baller brand, and it was at this point that the segment went off the rails. LaVar took over, said Miz wasn't big enough for them and then proceeded to say things like, "There are only two dudes better than I am and I'm both of them," and then ripped off his T-shirt and challenged Miz to a fight. This was met with laughter from Lonzo and LaMelo, a junior-to-be at Chino Hills High . Then LaVar ran around the ring.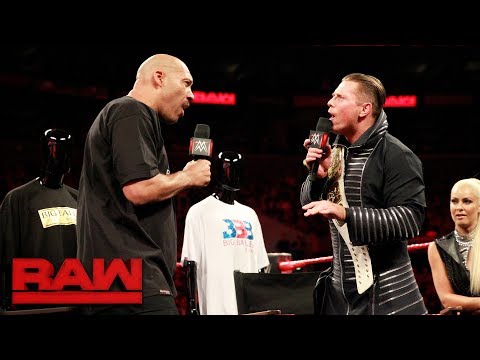 LaMelo, had a live microphone in his hand and said, "Beat that --- " using a pejorative for African-Americans. He was laughing when he said it and was having fun watching his dad go crazy in the ring. But social media is already picking up on it, so the Ball family may have some explaining to do Tuesday.
WWE responded to what happened with the following: "The inappropriate language used by a guest during the 'Miz TV' segment was not scripted nor reflects WWE's values."
Twitter: @latimeshouston
ALSO
A look behind the scenes as the Lakers prepared to draft Lonzo Ball
Bill Plaschke: As Lonzo Ball's play does the talking, his dad LaVar needs to quiet down
Lonzo Ball is introduced as a Laker with the highest of expectations
All things Lakers, all the time.
Get all the Lakers news you need in Dan Woike's weekly newsletter.
You may occasionally receive promotional content from the Los Angeles Times.