NBA free agency: Lakers seek meeting with Nets' D'Angelo Russell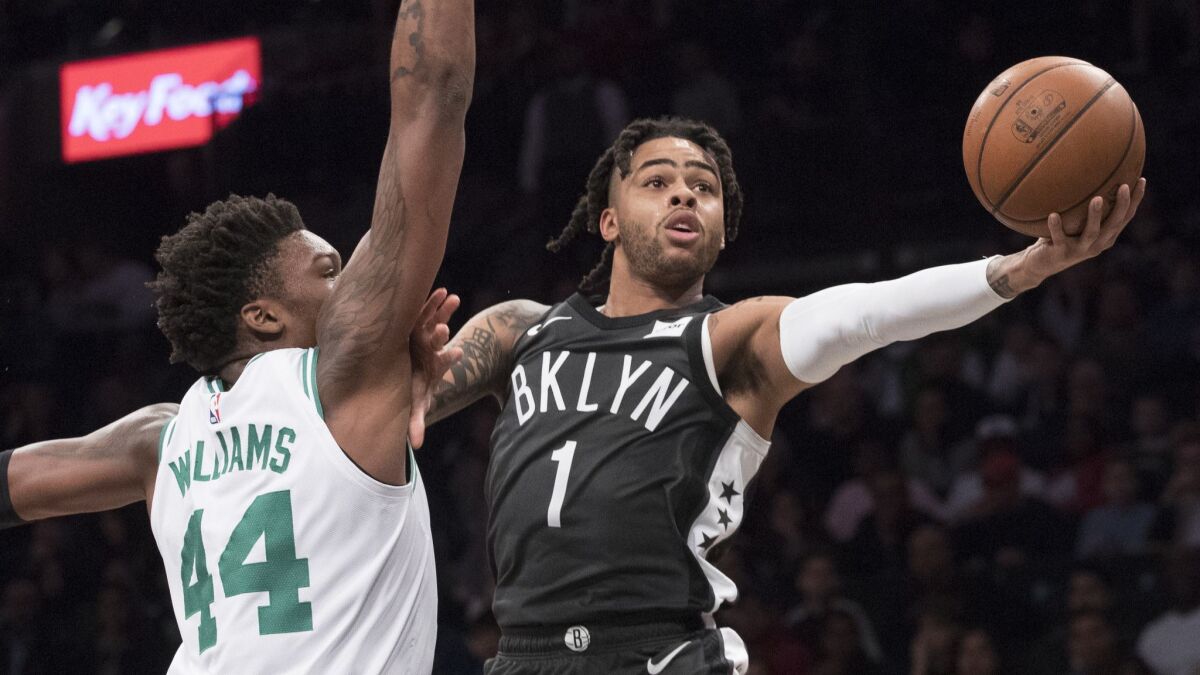 With plans in place to meet Kawhi Leonard next week, the Lakers set to work getting in touch with other free agents in whom they have interest on Saturday when the NBA's window for arranging meetings opened.
Among them three guards: D'Angelo Russell, Patrick Beverley and Seth Curry.
Russell is a restricted free agent with the Brooklyn Nets, finishing the rookie contract he began with the Lakers as the No. 2 overall draft pick in 2015. Russell and the Lakers have mutual interest in a reunion and both sides plan to meet next week, but other factors are at play.
Your Lakers free agency guide »
Several reports indicate the Nets are on the verge of a deal with All-Star point guard Kyrie Irving, which means Brooklyn could renounce its rights to Russell, opening the door for another team to sign him outright.
With about $32 million of salary cap space, the Lakers have the money to sign Russell. That space will evaporate if they succeed in luring Leonard in the next few days. Leonard, who just won a championship as the star of the Toronto Raptors, would garner a maximum contract.
The Lakers aren't likely to offer Russell a maximum contract, which would be $27.285 million per year, but they could get close.
The point guard entering his fifth season is meeting with the Minnesota Timberwolves, according to people familiar with his plans. That meeting is expected to happen late Sunday or Monday. His meeting with the Lakers will be at least a day or two later.
Russell was drafted by the Lakers and spent two tumultuous seasons with the organization. His rookie year was Kobe Bryant's final season, and the development of the team's young players took a backseat to Bryant's farewell tour. Toward the end of the season, a video Russell recorded of teammate Nick Young discussing his infidelity leaked, causing discord in the locker room. None of the players involved remain with the Lakers.
Sign up for our Lakers newsletter »
The Lakers traded Russell to the Nets in the summer of 2017 to clear cap space. With plans to draft Lonzo Ball, then-president of basketball operations Magic Johnson said, "I needed a leader."
While in Brooklyn, Russell developed into an All-Star. Last season he made his first All-Star team, averaging 21.1 points and seven assists. The Lakers traded Ball this month as part of the deal to acquire Anthony Davis.
The NBA announced Saturday that the salary cap will be $109.14 million, up from $101.9 million last season. If the Lakers don't sign Leonard, they likely will spread their cap space among other players. Their roster is in dire need of guards.
Beverley reportedly is looking for a deal worth $12 million to $13 million per year. He spent the last two seasons with the Clippers after arriving in Los Angeles as part of the trade that sent Chris Paul to Houston. He is known for his defensive tenacity and averaged 8.2 points, 3.7 assists and 4.9 rebounds with the Clippers.
Curry, the younger brother of Golden State star Stephen Curry, shot 45.6% from the field last season with Portland and 45% from three-point range.
With free agency set to start, the Lakers will be active, though maybe not as much after dark.
Whereas last season Johnson waited outside LeBron James' Brentwood home on the eve of free agency to meet with him at 9:01 p.m. PDT, no such activity will be necessary this year. The NBA moved up the opening of the negotiating period, so teams will be allowed to meet with players Sunday starting at 3 p.m. PDT.
Follow Tania Ganguli on Twitter @taniaganguli
All things Lakers, all the time.
Get all the Lakers news you need in Dan Woike's weekly newsletter.
You may occasionally receive promotional content from the Los Angeles Times.