Lakers' Steve Nash tweaks his back but could play Friday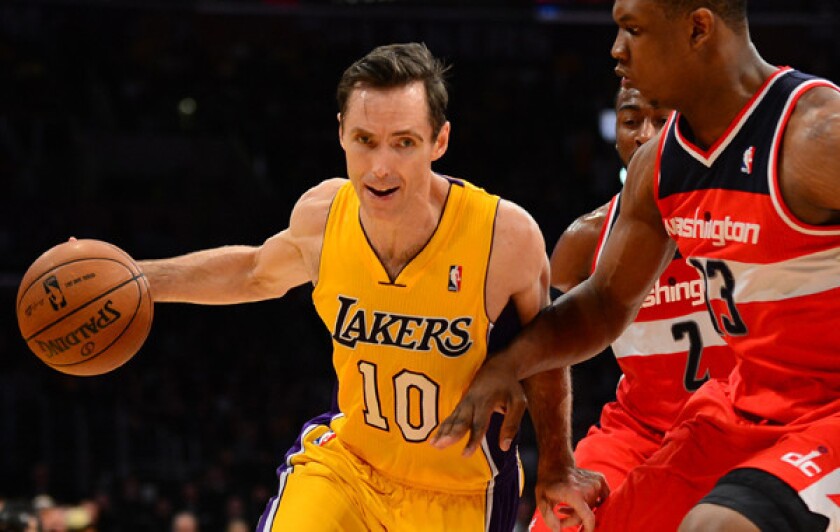 The Lakers, who have been riddled with injuries at point guard, expected veteran Steve Nash to practice Monday. But that plan was pushed back when Nash tweaked his back getting out of bed in the morning.
"I'm fine," said Nash later in the day. He last played Nov. 10 and has played in only six games this season, while battling through nerve damage in his back and hamstring injuries.
The Lakers now expect Nash to practice Thursday with a possible return Friday at Staples Center against the Charlotte Bobcats.
"I have no idea what's going to happen, but I've done all the work and I feel ready to practice again," said Nash, who has been rehabilitating away from the team in Vancouver, Canada. "I'm really excited, just to be part of the team again."
Nash, who turns 40 on Feb. 7, is the oldest player in the league.
He has spent most of his time with the Lakers on the mend, after breaking his leg only two games into his Lakers career in October 2012. He missed 30 games last season.
Nash isn't expecting to retire — his guaranteed contract runs through the 2014-15 season — and the Lakers are doing whatever they can to help him return to full strength.
However, if his attempt to rejoin the Lakers fails again there are some financial implications for the team.
Should a doctor determine that the only solution to Nash's chronic back issues is retirement, and an NBA-appointed physician agrees, the two-time NBA most valuable player's entire $9.7-million salary for the 2014-15 season will come off the Lakers' books in late April — provided that Nash plays fewer than 10 games this season for the Lakers.
Of course, none of that matters if Nash is healthy. He is averaging 6.7 points and 4.8 assists this season.
Walking wounded
The Lakers welcomed Steve Blake (elbow) and Jordan Farmar (hamstring) back to practice Monday. Both were cleared to ramp up their basketball activities, though neither will play this week. Blake has been sidelined since Dec.10, Farmar since Dec. 31.
"It's just a matter of going a little while without any setbacks," Farmar said. "I've been bored ... with this injury, you don't feel too injured. It's not painful. You don't feel hurt."
Meanwhile, Kobe Bryant is also hoping to return soon after suffering a fracture in his left knee Dec. 17. Bryant will be evaluated Tuesday by Dr. Stephen Lombardo of the Kerlan-Jobe Orthopaedic Clinic.
Forward Xavier Henry, out because of a bone bruise in his knee, was examined Monday by Lombardo. Henry will be reevaluated again next week.
Etc.
Jodie Meeks missed practice Monday because of a sore foot. An MRI exam showed no fracture and he's listed as probable for Tuesday's game against the Indiana Pacers at Staples Center.
Pau Gasol also sat out Monday, nursing a sore toe, but is expected to play against Indiana.
Twitter: @EricPincus
---
All things Lakers, all the time.
Get all the Lakers news you need in Dan Woike's weekly newsletter.
You may occasionally receive promotional content from the Los Angeles Times.