After many breakdowns, a four-day break for Lakers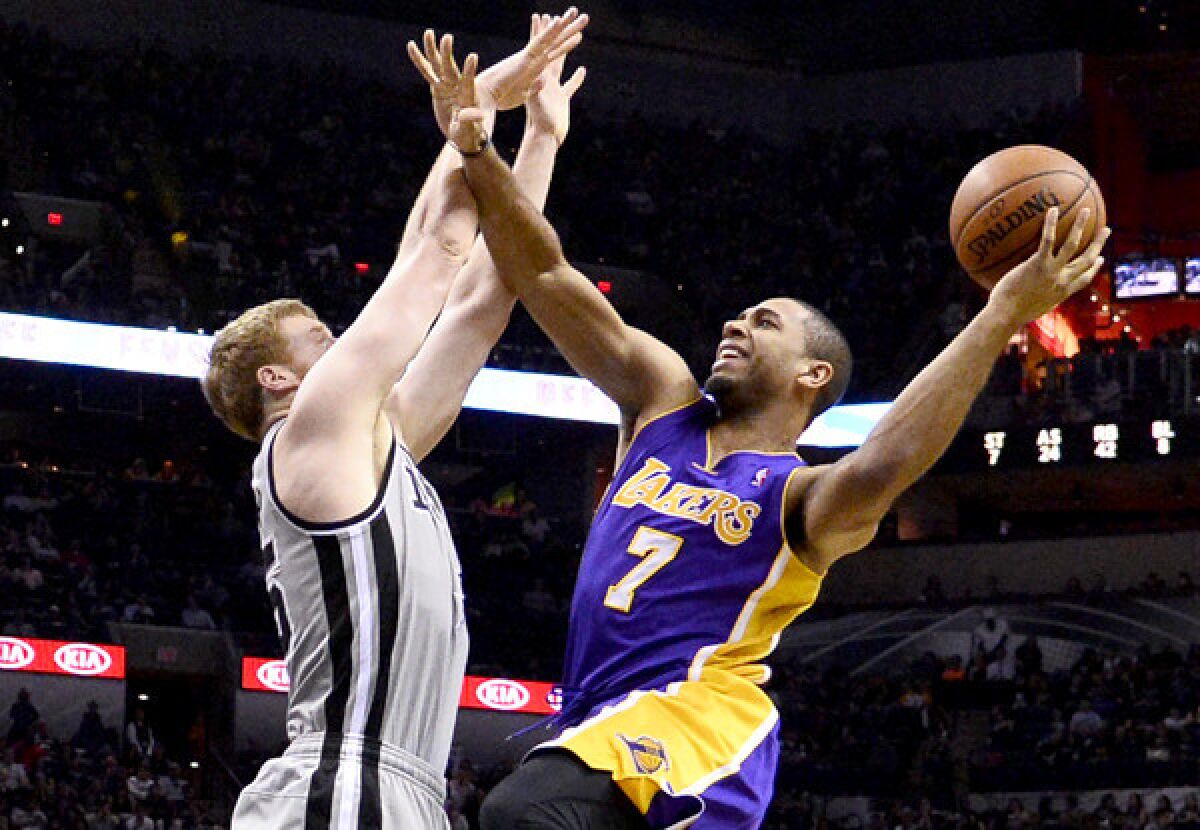 These four-day breaks used to be the ones the Lakers loved, whether they came late in the regular season or after knocking out another playoff opponent.
Now they're merely called prolonging the inevitable.
The Lakers don't play again until Wednesday and it happens to be against San Antonio, the same team that pounded them Friday by 34 points and officially eliminated them for playoff contention.
The Lakers (22-44) used to be concerned with the records of Oklahoma City and San Antonio. The top seeding in the Western Conference playoffs was always a big goal of theirs.
Now they're keeping an eye on the progress, or lack of, by bottom feeders Utah and Sacramento. Not to mention Boston, a lottery brother from the Eastern Conference with a similar record.
Milwaukee, Philadelphia and Orlando appear to have run away with the NBA's three worst records, so everybody else is playing for fourth and an 11.9% chance at winning the top pick at the May 20 lottery.
The fifth-worst record has an 8.8% chance at No. 1 and the sixth-worst has a 6.3% shot.
The Lakers, though, keep trying to sound like they care about winning games. Especially with Wednesday's game approaching. Slowly, of course.
"That's got to be a playoff game for us," Coach Mike D'Antoni said. "We've got to attack it that way."
Or, really, try not to get attacked as badly as they just were, suffering their largest loss ever to the Spurs. They've been playing San Antonio since 1976.
D'Antoni said the players hadn't given up.
"They care a lot. We're just sometimes outmanned and out-physicaled and 'out-athleticism' and a lot of things," he said.
Tough times
It wasn't a good trip for Xavier Henry. Or fellow free-agent-to-be MarShon Brooks.
Henry made only four of 21 shots (19%) in losses Thursday and Friday at Oklahoma City (by 29 points) and San Antonio, often forcing things while possibly trying to make up for lost time. He missed more than two months because of a bone bruise and cartilage abnormality in his right knee.
At least Henry played both games. Brooks didn't get off the bench against San Antonio and logged five scoreless minutes against Oklahoma City. Brooks was acquired with Kent Bazemore in the Steve Blake trade with Golden State.
Bazemore, 24, has been hot and cold since joining the Lakers. He is averaging 14.3 points in 12 games, a big jump from the 2.3 he averaged in 44 games with the much deeper and more talented Warriors.
But his last four games show a slowdown — a 10-point average on 40% shooting.
"We really want to look at Bazemore," D'Antoni said. "You want to see if these guys get better. There's a lot of guys we want to look at."
Twitter: @Mike_Bresnahan
---
All things Lakers, all the time.
Get all the Lakers news you need in Dan Woike's weekly newsletter.
You may occasionally receive promotional content from the Los Angeles Times.