Kobe Bryant can pass Michael Jordan but is a long way from the top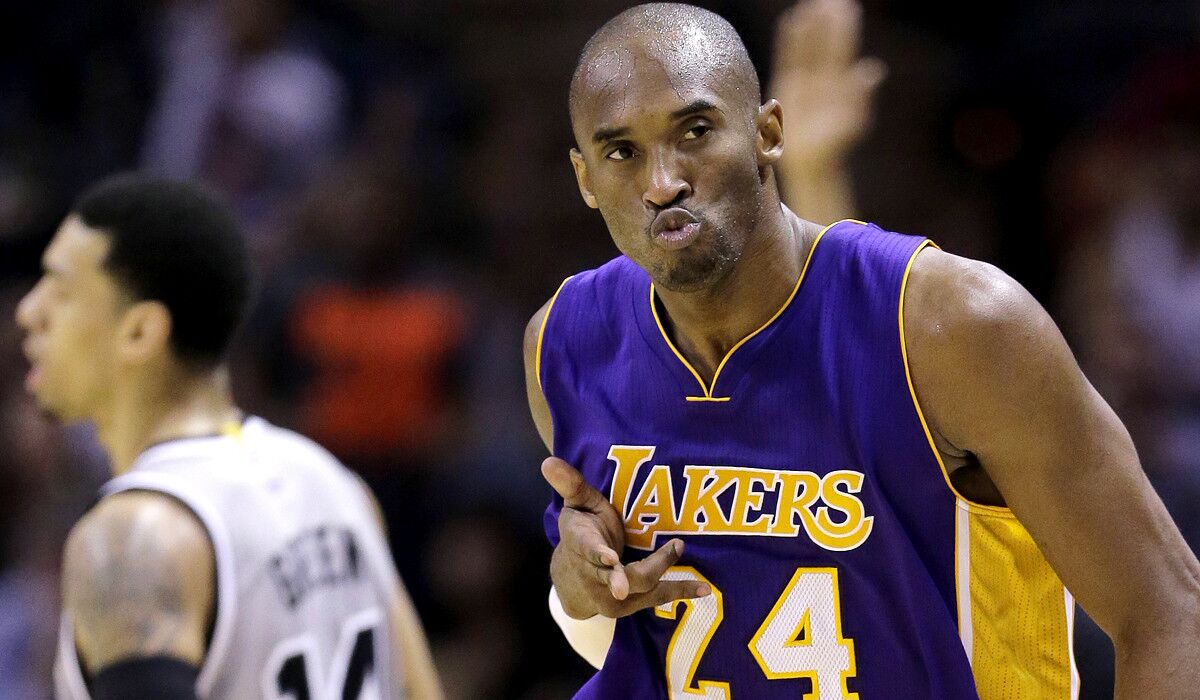 Reporting from San Antonio —
Kobe Bryant will almost surely pass Michael Jordan on Sunday in Minnesota.
There's a lot of territory to cover after that.
Bryant's 32,284 career points are nine shy of topping Jordan, an accomplishment that needs no explanation.
But then would come Karl Malone (36,928 points) and, finally, Kareem Abdul-Jabbar (38,387).
Abdul-Jabbar's record seemed as indelible as ever, Lakers Coach Byron Scott said Friday.
"I think that's going to stand for a while. I don't think in our lifetime we're going to see it being broken," said Scott, who played six seasons with Abdul-Jabbar on the Lakers. "It's going to be hard. They're going to have to play 20-something years, I think, to get that one."
Any tips for Bryant, more than one-fourth through his 19th season?
"I'm sure [Abdul-Jabbar] would probably tell you yoga and his martial arts, all that stuff kind of kept him flexible," Scott said. "And his meditating and things like that.
"But he was just a freak of an athlete as well. At 7-2, the way he could run, especially when he was young, and how wiry he was. He was an unbelievable athlete. I think a lot of people tend to forget that about 'Cap.'"
Another key was health. Abdul-Jabbar played less than 74 games in only two seasons, and even then he played 65 and 62 games. He averaged 24.6 points in 1,560 games over 20 NBA seasons.
They'll be back?
The Lakers will not always struggle, says San Antonio Coach Gregg Popovich. And that was before they beat the Spurs in overtime Friday, 112-110.
"There's always a cycle. I'm sure at some point we'll probably feel it just like everybody else," Popovich said. "The [Boston] Celtics went through a period like that, the [Chicago] Bulls went through a period. The Lakers are going through it.
"You don't stay at the top forever in any business. Everything changes. They'll get it right again at some point."
The Spurs and Lakers have each won five NBA titles since 1999, though San Antonio's path has been less extreme than the Lakers.
Bryant even said he was "extremely jealous" of the Spurs when asked about their formula last month. He admired how they kept Tim Duncan, Tony Parker, Manu Ginobili and Popovich together all these years.
"Like, I can't even … I can't express to you how jealous I am of that. Not all this up-and-down stuff," he said wistfully.
One man's envy is another's man's success.
"We've been pretty fortunate," Popovich said. "When you follow David [Robinson] with Tim, that's a pretty good deal. That equals a couple of decades."
---
All things Lakers, all the time.
Get all the Lakers news you need in Dan Woike's weekly newsletter.
You may occasionally receive promotional content from the Los Angeles Times.