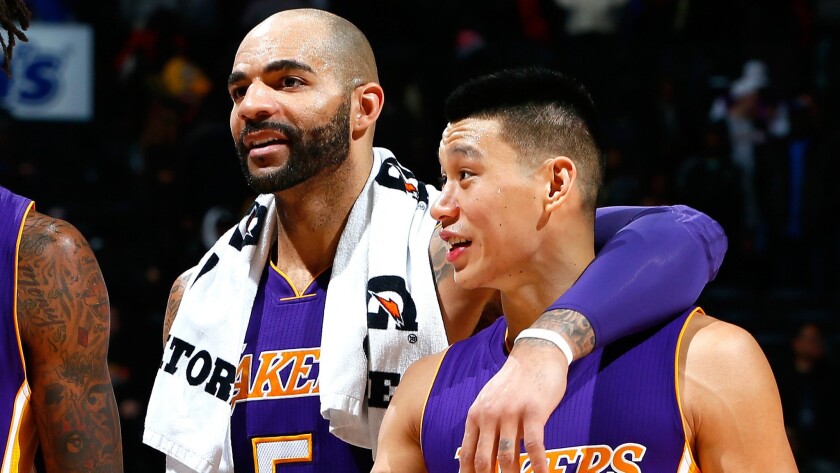 It wasn't a pretty sight when Jeremy Lin and Carlos Boozer lost their starting jobs.
Lin was crushed, immediately requesting a sit-down with Lakers Coach Byron Scott and morosely calling the demotion "one the toughest situations I've been in."
Boozer went the other direction, angrily ditching a postgame interview session with reporters and subsequently bending the ear of Lakers General Manager Mitch Kupchak about Scott's decision.
Their on-court contributions have also been at opposite extremes since the change.
Boozer has improved radically, averaging 15.2 points and 10.2 rebounds while shooting 54.2% and earning praise from Scott.
Lin has slumped badly, averaging six points and 4.6 assists while shooting an abysmal 28.6%.
Even Scott didn't have an answer for Lin's inconsistency, which hit another low Monday when he missed all six of his shots in a 110-91 loss to the Indiana Pacers.
"I don't know. He's just been up and down," Scott said. "Sometimes he has nights like this."
Lin, 26, feels more and more like a one-year rental for the Lakers. Hailed as a possible solution to their point guard woes when he was acquired in July, a lot would have to happen for him to return after becoming a free agent next July.
The Lakers knew they weren't acquiring a defensive stopper from Houston but were willing to put up with Lin's weaknesses as long as he looked OK on offense. He hasn't.
"This is one of those games where you kind of wish you had it back," Lin said after Monday's loss. "My regret isn't with my effort. My regret is with the performance, whether it's hitting shots, making plays, all those things."
Not that his replacement is doing better on offense. Ronnie Price is averaging 2.4 points and 2.8 assists since joining the starting lineup. Price's defense is superior to Lin's, though.
Despite paying Lin $14.9 million this season, the Lakers aren't completely bereft if he doesn't pan out. They also acquired Houston's 2015 first-round pick in the trade.
Boozer not blamed
Despite his initial outburst, Boozer answered his benching with a boon.
"That's exactly how you want him to respond," Scott said. "After a game or so, it seemed like he just said, 'OK, this is how it's going to be. I'm going to roll with it.'
"He's doing those [little] things better, especially on the defensive end. Making that change helped. It helped us. It helped him."
Boozer has been outplaying Ed Davis, who is averaging 6.4 points and 5.4 rebounds since replacing Boozer in the Lakers' lineup.
"Getting minutes in this league is a very precious thing," Scott said. "Once they're taken away from you, or a position is taken away, sometimes it takes guys a little bit to realize that, hey, man, I've got to get my act together and start playing a little better."
Scott said he would not reevaluate the starting lineup for at least 10 more games.
Twitter: @Mike_Bresnahan
---