Derek Fisher tries to hang tough through Knicks' woes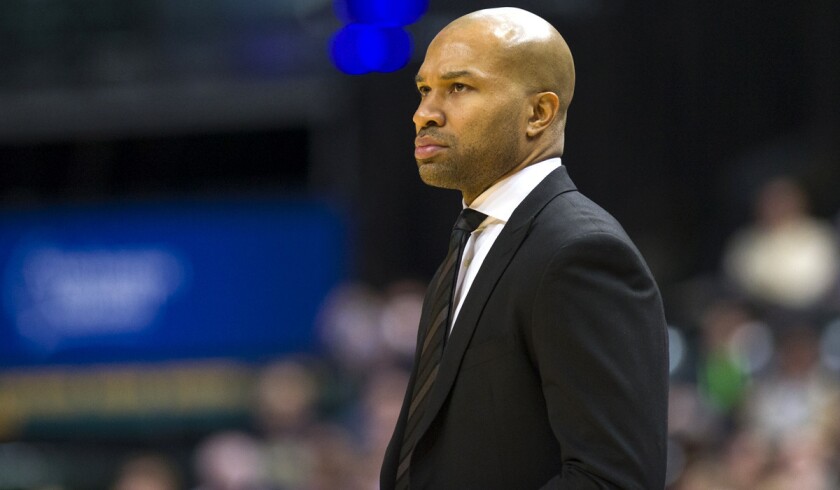 Reporting from New York —
Derek Fisher used to wipe celebratory champagne from his eyes. Now he surely wishes he could close them until mid-April.
His first season as New York Knicks coach has been surreal, in case a .191 winning percentage somehow misses the point.
Those sunny days in Los Angeles — five championships as a player — couldn't be further away, but Fisher tried to sound brave when talking about a lost season.
"I think in a lot of ways that's what leadership is, not to gloat and smile and be happy when things are going well and take all the credit but still be consistent in who you are even when things aren't going well," he recently told reporters. "We're going through this together. I'm not going to step back and say it's on them. It's on all of us."
The Fisher-as-coach story starts with him as a silver medalist.
Phil Jackson, the Knicks' team president, wanted Steve Kerr to coach the team. But Kerr demurred and took the job in Golden State, where a superior roster has shot to the top of the Western Conference standings.
So Fisher, the second choice, received a coaching job without any experience. Knicks fans are looking for a scapegoat, unsurprisingly.
"The fans, I want them to leave Derek alone in this regard," Jackson recently said. "He's doing the best job possible. It's not his fault."
The Lakers look like championship contenders stacked up next to the Knicks as they get ready to play each other Sunday.
At least one longtime Fisher friend wasn't predicting a bleak Knicks future.
"I don't worry about their struggles to be honest with you because I know one of those guys extremely well and that's Derek," Lakers Coach Byron Scott said. "I don't know Phil that well, but I know Phil's a winner and so is Derek.
"And I don't think it's going to take them long in that city to get that thing turned around either. So I have a lot of faith in Derek. I love Derek. He was another one of my rookies [in 1996] when I was here with Kobe [Bryant] as well."
More Jordan Clarkson
Julius Randle has been sidelined since the season opener, leaving Jordan Clarkson as the only Lakers draft pick with any future promise.
He has delivered in four starts, averaging 13.8 points and 3.3 assists in 34.3 minutes against some very good point guards — Tony Parker, John Wall and Derrick Rose.
Can last year's 46th overall pick keep it up?
"I saw him play last summer in Las Vegas and there were signs of what Jordan Clarkson can do on the court where you raised an eyebrow to his potential," said TNT analyst Brent Barry, who played 14 seasons in the NBA. "Can he find his way to be a point guard in this league where most of them dominate the game? I'm not sure if he is ready for that test but this season will pay some dividends."
Times staff writer Zach Helfand contributed to this report.
---
All things Lakers, all the time.
Get all the Lakers news you need in Dan Woike's weekly newsletter.
You may occasionally receive promotional content from the Los Angeles Times.