Lakers' schedule fairly easy rest of way, for those eyeing draft picks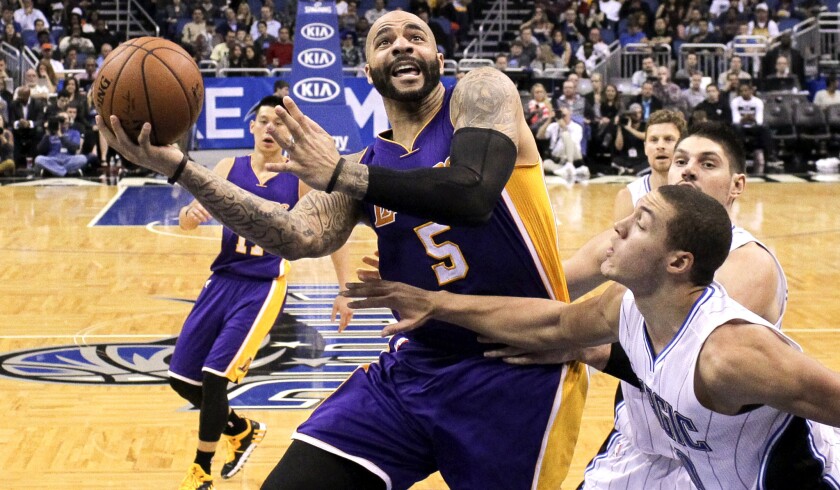 Reporting from Cleveland —
Not that anyone asked, but the Lakers' schedule is fairly easy the rest of the way.
Tanking proponents would sigh. Seventeen of the Lakers' final 32 games are against teams with losing records. Not the greatest news for a team that surely wouldn't mind keeping its top-five protected draft pick.
The Lakers (13-37) have lost 11 of their last 12 and settled into the NBA's fourth-worst record, currently good for a 10.4% chance at the top pick in the June draft (Duke's Jahlil Okafor, until further notice).
Their, ahem, competition the rest of the way: New York (10-41 record, currently a 25% chance of winning the top pick), Minnesota (10-40, 19.9%) and Philadelphia (12-40, 15.6%).
Minnesota has the toughest schedule to go, with only 11 games against teams with losing records. Philadelphia, like the Lakers, has 17 games against sub-.500 teams while the Knicks have a treacherous road to hang onto the top spot — 19 games left against losing teams.
The Lakers, for the record, insist they are trying to win. (Games, not a higher draft pick.)
It's a bad idea to bring up the concept with Coach Byron Scott.
And most, if not all, players feel like Ryan Kelly, who had a team-high 20 points in the Lakers' overtime loss Friday to Orlando.
"I prided myself in my high school and at college, in the games I played I'm one of the most winning players that's ever played at Duke in terms of winning percentage," he said. "I don't accept losing."
Just the same, the Lakers still play Philadelphia twice, Minnesota two more times and New York one more time.
Remember him?
Intriguing question: What if the Lakers still had Pau Gasol?
TNT analyst Grant Hill couldn't help but deliver praise for him in his first season with Chicago. Gasol was recently voted an Eastern Conference starter for next Sunday's All-Star game.
"When we watch and see what he's done this year, we are all kind of shocked," Hill said on a recent conference call with reporters. "In reality, the talent has been there, but Gasol wasn't used properly the last few years in Los Angeles. He was an afterthought. Some may even say he was marginalized a little bit. We forgot his talent level.
"Gasol has certainly delivered and reminded everyone of truly how talented he is."
Twitter: @Mike_Bresnahan
---
All things Lakers, all the time.
Get all the Lakers news you need in Tania Ganguli's weekly newsletter.
You may occasionally receive promotional content from the Los Angeles Times.