Five takeaways from the Lakers' 107-102 win over the Memphis Grizzlies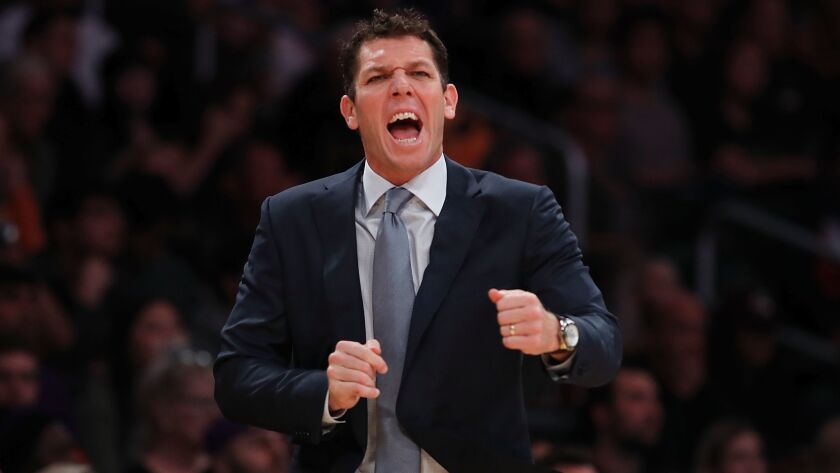 With their Sunday night win, the Lakers have now won three home games in a row. It's something they did only once last season — in April as they went on their surprising five-game winning streak.
The Grizzlies were on the second game of a back-to-back. It's not insignificant that Memphis played a day game on Saturday and then had the night off in Los Angeles before playing Sunday.
But the Lakers played with some fight and withstood a late push from a veteran Memphis team that came into the game 6-3.
Here are five takeaways from the game.
1. This was a pre-game takeaway, but a funny line from Memphis coach David Fizdale about the Lakers. "Attacking, fast, disruptive. Man, arguably the fastest team in the league. I thought I would never say that with a Brook Lopez team. But they fly and Brook is the perfect complement to them." We'll excuse him for not realizing that Lopez's last team, the Brooklyn Nets, were first in pace with him on the team last year.
2. Luke Walton saw the game as another chance for Lonzo Ball to learn from a successful point guard, Mike Conley. "Conley to me is one of the smartest point guards in the game," Walton said. "He is capable of doing everything but he is always under control. He shoots 3s when he needs to, he gets guys involved when he needs them to, he's got floaters that he can get to in the paint. He kind of takes on whatever his team needs. He has been one of the more underrated point guards in the league the last five or six years. Just another chance to play against a great player for Zo in my opinion will help him grow and grow quicker than if he wasn't playing against great players."
3. Ball had another bad shooting night. After the game he repeated that he believes his shots will start falling eventually. Against the Grizzlies, Ball made only 3 of 13 shots and 1 of 8 three-pointers.
4. We'll eventually stop being so stunned the Lakers are playing defense on a consistent basis, but for now there is still an element of surprise with that. Kentavious Caldwell-Pope is loving seeing this spread through the team. "We've been taking pride in it," Caldwell-Pope said. "We've been stopping our man one on one matchups. We've been helping each other. We continue to do that. If we want to win games, defense is going to win games for us."
5. Julius Randle scored 12 points, 10 of them in the first half, and reached a milestone. He's now eclipsed 2,000 career points and is the 10th member of his draft class (2014) to have done so. It's more impressive if you consider that Randle missed an entire season with a broken leg. He would rank fifth among players drafted in 2015 after Karl-Anthony Towns, Devin Booker, Kristaps Porzingis and D'Angelo Russell.
Follow Tania Ganguli on Twitter @taniaganguli
---
All things Lakers, all the time.
Get all the Lakers news you need in Dan Woike's weekly newsletter.
You may occasionally receive promotional content from the Los Angeles Times.