Five takeaways from the Lakers' 107-99 loss to the Memphis Grizzlies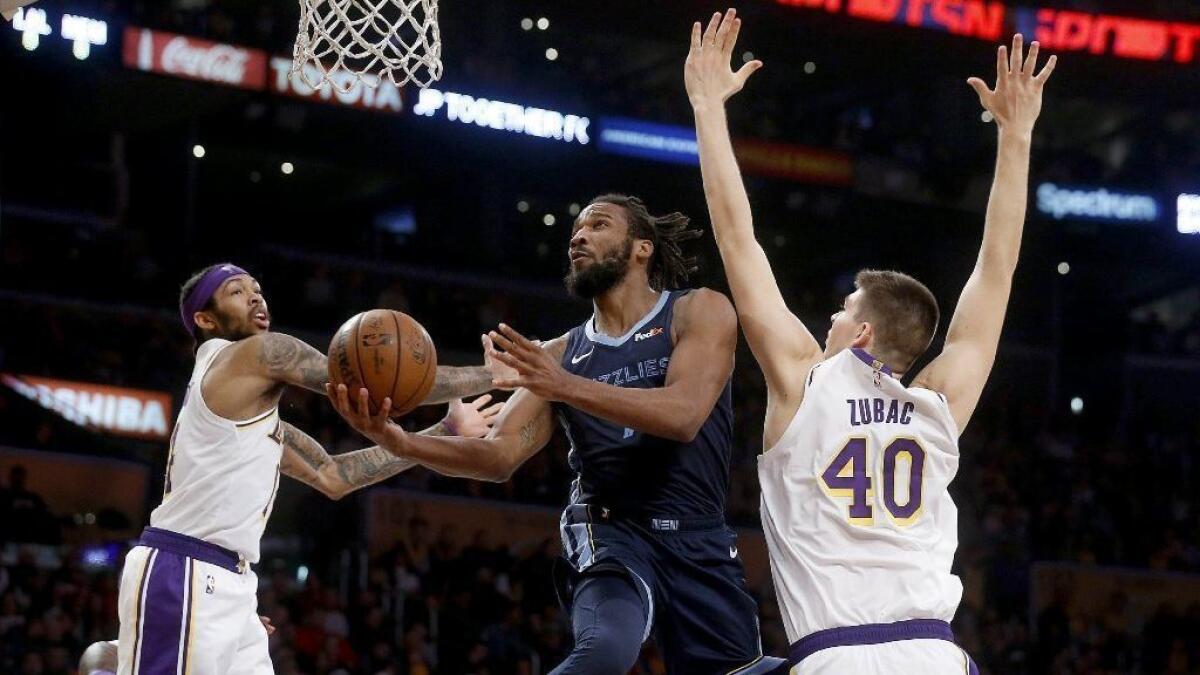 Five takeaways from the Lakers' 107-99 loss to Memphis on Sunday night at Staples Center:
1. The Lakers were at their worst on defense when the game required them to be their best.
They were bystanders in the fourth quarter with the game on the line, letting the Grizzlies do as they pleased. The Lakers' defense was riddled by the Grizzlies, who shot 60% from the field in the final 12 minutes and scored 35 points. Memphis made eight of 10 three-point shots, often with the looks open and little resistance from the Lakers.
The Lakers went under screens while defending certain shooters when they were supposed to go over the screens. The Lakers went over screens while defending other shooters when they were supposed to go under them.
Mike Conley had his way with the Lakers in the fourth quarter, scoring 11 points while making three of four shots from three-point range.
For the game, the Grizzlies made 53.8% (14 for 26) of their three-pointers.
2. In what has become the norm for the Lakers, they shot poorly at the free-throw line, just 68.2% (15 of 22).
The Lakers, though, showed they can be good at the line. In the fourth quarter, they made all five of their free throws.
3. The Lakers blocked eight shots against the Grizzlies.
Starting center Ivica Zubac had four of the blocks. Lonzo Ball had two, and LeBron James and Josh Hart had one each.
4. The Lakers actually shot the basketball well from the field, making 49.3% (37 for 75) of their shots.
Sharing the basketball was a big reason. The Lakers had 27 assists on 37 field goals.
5. Hart and Kentavious Caldwell-Pope gave the Lakers a boost off the bench.
Hart had 11 points, and Caldwell-Pope 10. Caldwell-Pope was four-for-five shooting from the field, two of three from three-point range.
All things Lakers, all the time.
Get all the Lakers news you need in Dan Woike's weekly newsletter.
You may occasionally receive promotional content from the Los Angeles Times.